by Philippa Kiraly
Published May 31, 2021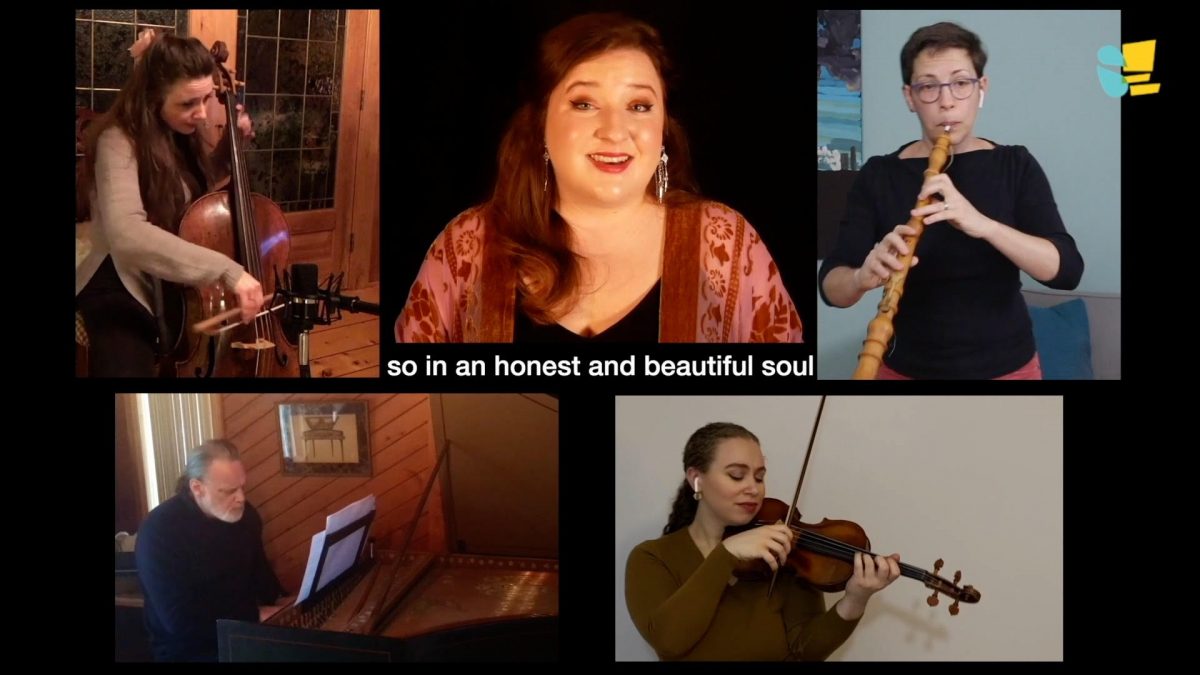 If you were feeling starved for a really arresting musical experience online in recent months and caught an episode of SalonEra, you were in luck. Every two weeks from September to May, Cleveland's baroque chamber ensemble Les Délices presented 16 lively episodes of wide-ranging period music from medieval days to the early 19th century with performers from far and wide.
Fine-arts organizations have been among the hardest hit by COVID-19 restrictions since March 2020. To stay alive, many musical ensembles turned their creative minds to remote performances to keep their musicians fed, their audiences engaged, and everyone provided with music they crave. Imagine what this past 15 months would have been like without music for our souls!
SalonEra has succeeded in its aim. Devised and hosted by oboist and Les Délices director Debra Nagy, SalonEra produced such programs as All Bach to Folk Influences, Jewish Diaspora, La Folia, Schubertiade, Strike the Viol, and Afro-Caribbean Roots. One of the advantages of remote performances, Nagy says, has been the ability to include musicians from everywhere, and SalonEra has taken full advantage of that, with some 50 top-flight musicians and several scholars contributing to the series.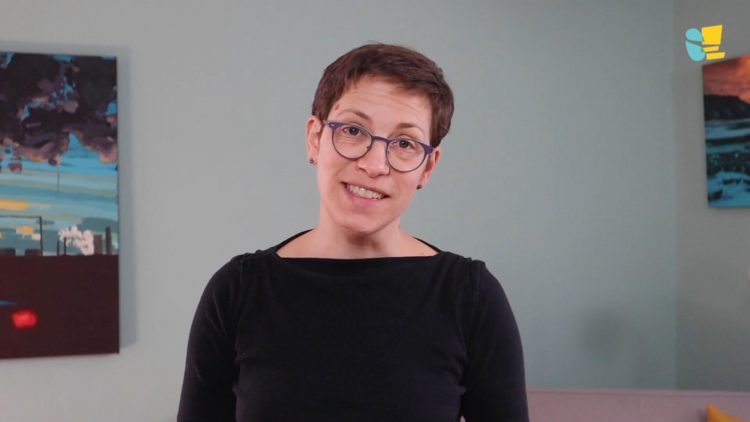 From the start, the episodes, as SalonEra calls them, have been engaging and enlightening. Nagy's introduction for each begins with her statement that since the programs are remotely produced, the participants are not subject to geographical limitations or conventional programming, and that SalonEra has sought to create new opportunities for artists to collaborate.
Each episode comprises several musical excerpts or movements on a specific theme interspersed with conversation between the artists and sometimes background from a music historian. At the end, there is a Q&A between the audience and the performers through a chat room.
Presenting these episodes live would be no big deal — the artists playing on stage and then sitting around to discuss the music, the big effort being hiring the space, engaging the artists, and bringing them in. Doing this remotely means recording a group of musicians who are working separately in different locations and time zones, creating the audio and video themselves, and sending the results to a central producer to meld them and make sure the resulting work sounds as though all the musicians were together.
Nagy has achieved astounding results with a small staff of performers. As the producer, she plans the programs with a lot of input from artists she engages, coordinates all the tracks, and masterminds the timeline. Violinist Shelby Yamin, who lives in Palisades, NY, came on last summer as assistant producer to team with Nagy on the visual side. Artists-in-residence are harpsichordist Eric Milnes and cellist/gambist Melisande Corriveau, both of Granby, Quebec. Milnes usually puts the audio together. Chicago-based soprano Hannah De Priest takes care of communications and design.
At the start, Nagy relied greatly on Milnes, with whom she has played for years. "He's the complete package, does a lot of audio editing for us, and was learning video editing on the fly. He's a really inspiring musical partner and the underpinning of remote performance. I trust him completely."
For a live chamber performance, professional musicians might meet for a few rehearsals, sorting out tempi, expression, tuning, etc., and watch each other's body language throughout, taking cues from whatever musician has the melodic lead at that moment. But this isn't possible remotely. Nagy says it takes three to four weeks to mount one of their presentations. "By the beginning of May, we will have presented almost 70 remote collaborations," she said in April. "We are always learning."
The episodes are built in layers, after the musicians agree on temperament and a fixed pitch. Each excerpt starts with a "scratch" tape. For that, "We rely heavily on whoever has the rhythmic and harmonic part — that's what everyone hears," says Yamin. "This track is very basic, a bit clunky, with the emphasis on laying the groundwork with rhythmic and harmonic indicators, but not necessarily the expression."
To make sure that entries begin together, harpsichordist Milnes will often add a lead-in he can erase later. As he put it in one of the online conversations, remote players can't see the "sniff" before a da capo or an entry after a pause — or the "One, two, you know what to do" of a jazz ensemble.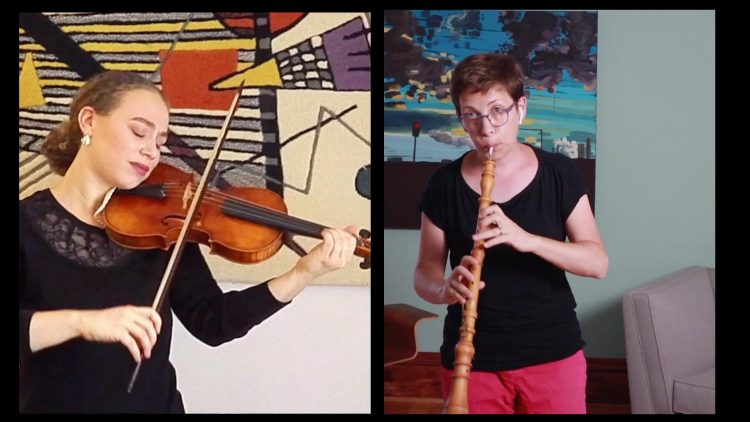 This track goes to Nagy, who sends it out to the musicians one by one, the order according to the work. Each adds his/her performance, returning it to Nagy, who then sends it on. If there is a continuo part, it goes lastly to the anchoring performer, who ties together the combined audio file.
"I have really the smallest role of all," says Corriveau, who plays cello, viola da gamba, and treble pardesuss de viol, "just the pleasure of playing." She's used to accompanying everybody — the glue, she says. "It's simplest to add the cello last. I can't say why, but it seems to work best. I can respond in a way that is musical and logical." It frames the painting, she suggests.
Finally, the harpsichordist, or whoever made the scratch tape, rerecords. "When we sent out the files for the Monteverdi duet in the La Folia episode, it required two sopranos, two recorders, and Arash Noori, a theorbo player in Texas," says Nagy. "I gave the theorbo player a sample from soprano Sherezade Panthaki. He recorded the bass line first, I listened to it, then added myself on first recorder and sent it to the second player, then to the first soprano to record with the instrumental ensemble, and then to the second soprano."
It sounds simple, but it's a complicated, arduous process. Microphone placement makes a difference, as do video lighting and background. "We send some recommendations and advice on their recording," Nagy says, but not everything comes out right the first time, and it gets sent back to be redone. "Sometimes the audio is not useful, or the video is terrible, and all I can see is the top of someone's head or the ceiling, or there is an incandescent lamp in the wrong place. It's all happened!"
The audio and video files get sent separately. "That way we can ensure the audio is the highest quality," Nagy says. The audio then goes to Milnes, who has the challenge of trying to make it sound as though everyone is in the same room in terms of echoes and background noises. "Somehow, he makes it sound quite amazing," says Yamin.
A lot of experimentation goes on. Nagy assembles all the audio; final audio editing and mastering are done by Milnes. While SalonEra's production team debated sending the same recording equipment to every performer, that would have been prohibitively expensive, and it turned out that many were familiar with their own equipment, and things worked well.
"We've come a long way since the beginning," says Yamin. "It's an evolving process, and each piece is different and requires a different perspective. There's no one size fits all. Our skills have been stretched. I've become a much better listener, relying on certain skills much more."
They've discovered that it works best to record in a dead space, as far as possible, and with a fairly simple background. "I'm still trying to figure out the best place to record. I use a corner of my living room," says Nagy. All of the musicians have to experiment with where best to place the mic plugged into the computer, the video recorder, and the lights, not to mention the music stand, and get everything started and begin playing at the same time as the background track.
"It's a feat of coordination," says Yamin. "It takes practice." All are using one or two earbuds or a wire. Nagy uses one so she can hear herself at the same time as the recording.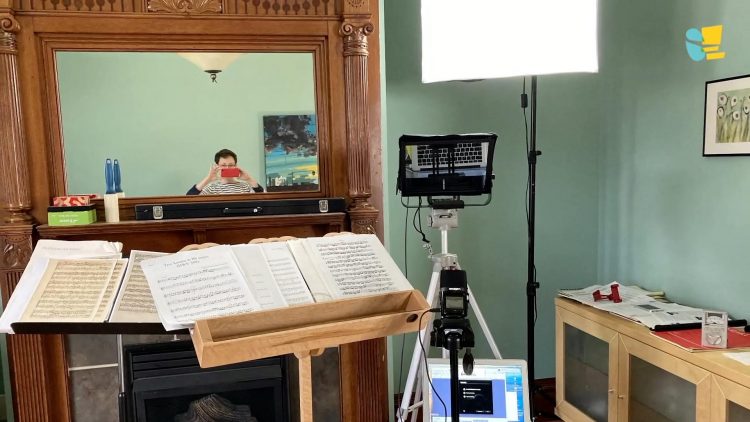 In January, SalonEra presented a "Behind the Scenes" episode, perhaps to answer the many questions that flooded in on how they did this. It has been hard, each musician says, to play alone to a recorded tape. "I find it hard to play the music alone and be musical," Milnes says in that episode. He plays the scratch track several times until he is satisfied it will accommodate all the other players before sending it to Nagy for distribution. Without being able to hear colleagues at this point, he is also thinking of ornamentation and obbligato parts. Several performers comment on how self-critical they become recording alone and what a relief it is to hear the complete recording with everyone.
"It's hard enough knowing you left something messy on stage in a live performance, but it's different in a recording," says Yamin. "There's an added layer of pressure in representing who I am as an artist." She became more comfortable with Nagy's decision that each episode would only be available for 48 hours. "It makes it feel more like a real performance — a snapshot."
Once Nagy is satisfied that the audio is the highest quality, the rest doesn't take that long, says Yamin. They record the final parts of the episode and the conversations with the artists, meeting on the platform StreamYard. "Debra does a huge amount of research," says Yamin. "When you think of the amount of music we've played this year, it takes a huge amount of dedication." After that, she and Nagy divide up the visual side, with Shelby responsible for bringing people on and off screen during episodes.
Never having been interested in the technical side before, Yamin found herself deeply involved. "Half necessity, half opportunity!" Although she had no background in design or in video editing, she says she found herself thinking of it in a musical way, which she considers gave her an advantage. Nagy feels the same, and the results support the effort. There is a flow to each episode, the lengths between each segment just right. The overall show takes about an hour.
After the audio and video are finished, the program is prepared to go to the audience. Soprano De Priest posts the finished episodes to YouTube, Facebook, and Instagram. As the communications person, she sends out press releases and announcements and designs SalonEra's title page, and she's the primary person engaging in the chat for premieres and Q&A sessions. Nagy and Yamin add the titles and performer credits for all works played and insert the subtitles in translation for all the vocal content. Typically, artists contribute translations, with Nagy adding the French and De Priest's fiancé the Italian.
"We try to make SalonEra as accessible as possible," De Priest says. "People like my parents are incredibly curious but not musical. We've had to put a lot of time into making people comfortable being online."
The amount of work is a heavy lift, she says, "but when we are in the trenches, there is no one as inspiring as Debra. She's incredibly gratifying to work with. She's demanding of self, exacting, and with a real sense of purpose for Shelby and me as young performers in a year which could have been so depressing. It's been wonderful."
Financially, Nagy has been buoyed by the support from SalonEra audiences. "We made a suggested donation of $10 per episode, or a $75 subscription to the whole series. We've had a few larger underwriters and season sponsors for each episode." Performers have been paid since the outset, and fees increased as time went on.
As Nagy says, it's all been a big hassle, but the end is magic. The enthusiasm and willingness of members of her small team to work extremely hard are obvious in the finished result. And it's a bonus that SalonEra will return next season with 12 new episodes from September through April, when this past season's presentations will be available to subscribers.
Philippa Kiraly has been a freelance classical music critic since 1980. She has written for the Akron Beacon Journal, the Seattle Post-Intelligencer, City Arts, and The Sun Break, and now contributes to BachTrack and Sybaritic Singer.
Recent EMA Features
Meet Nuova Pratica, a stylish ensemble with a progressive-retro attitude. They reject the notion that everything's already been said in the Baroque language. By re-opening the book on Baroque composition, their new works are at turns fresh, varied, and imaginative.
The innovative, cross-cultural work of Salamone Rossi, a Jewish musician at the Gonzaga court in Mantua, has long stirred controversy and strong opinion. The Bay Area's Philharmonia Baroque Orchestra will perform Rossi's 1623 'Songs of Solomon,' a set of Psalm settings in Hebrew in the Italian polyphonic style.
With the season in full swing and the holidays fast approaching, it's a good time to revisit one of the most-read EMA stories of 2023. First published in January, it's a top-10 list of "home stay" dos and don'ts. An early-music host shares his tips for making a home stay easy and low-stress for everyone. Share it with anyone who invites musicians into their house...and traveling musicians will be grateful.