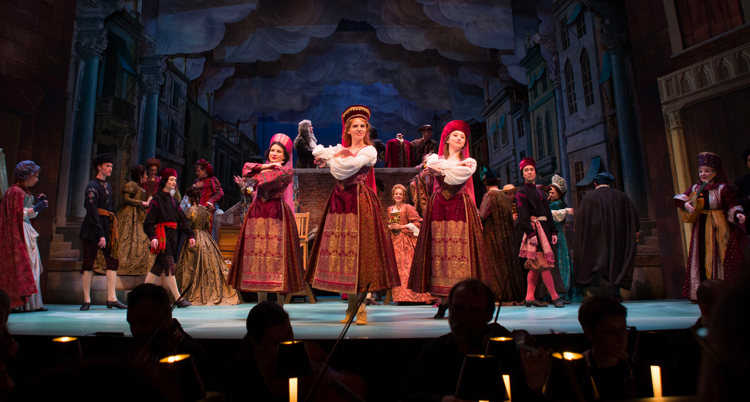 By Benjamin Dunham
BOSTON — I sometimes forget what it must be like to attend the Boston Early Music Festival for the first time. How strange to hear panelists talk about musical personalities from the distant past as if they were reading their daily tweets. Or to witness performances of centuries-old works so fresh you would think they were written yesterday.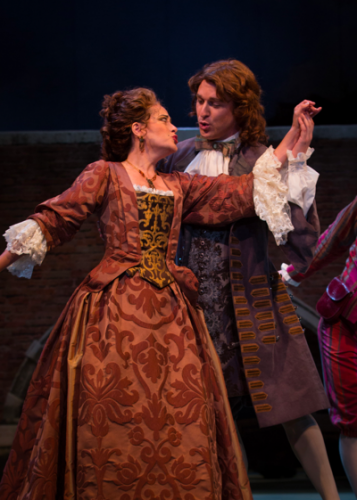 For the 2017 event, which ran June 11-18, BEMF headquarters and its exhibition of early-music goods and services had been moved to a new hotel, but even so, for those of us who have been coming to these events for decades, the festival seemed frozen in time. Since the first BEMF in 1981, it has settled into a reassuring pattern that has proven to be successful in presenting both major and overlooked operas and other works with both scholarship and flair. All credit is due to its consistent administrative leadership (under Kathleen Fay) and perceptive artistic guidance (under Paul O'Dette and Stephen Stubbs).
The secret of BEMF's success is an ensemble framework that radiates throughout the festival from the centerpiece opera. Le Carnaval de Venise by André Campra (1660-1774), an opera-ballet described by annotator Rebecca Harris-Warrick as "a fantasy voyage to 'la Serenissima'," provided not only a thematic focus for the festival but also the structural resources for many of its other events.
The production of this opera within an opera (within an opera) was glorious entertainment for all. Some voices in the talented cast may have been weary by the end of its four-performance run, but Karina Gauvin's sumptuous soprano was in excellent shape for the role of Léonore, and Jesse Blumberg's baritone was totally effective in portraying the dashing Leandre. Soprano Amanda Forsythe shone as his beloved Isabelle, and Teresa Wakim's limpid soprano held up well through a stratospheric cadenza as "A Happy Shade" in the underworld setting for the "Orfeo nell'inferi" scene. Bass Christian Immler was superb as the Manager and sepulcral as Plutone. In the well-researched choreography of Caroline Copeland (presented under the direction of Melinda Sullivan), dance, mime, and acrobatics were central both to the opera's overall narrative and to its evanescent sense of humor.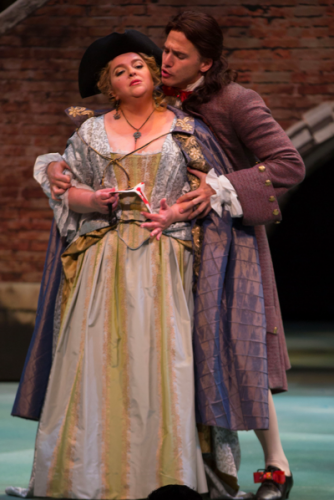 Gauvin, Wakim, and Immler (as Lucifer this time, not Pluto) also sang impressively in Handel's La Resurrezione, a calling-card extravaganza aimed at making the young composer's fame in Rome. Tenor Aaron Sheehan and mezzo-soprano Kelsey Lauritano also made stand-out contributions, as did the BEMF orchestra conducted by Stubbs from the harpsichord and lute.
Blumberg, this time showing wonderful comic timing, and Forsythe were also among the starry cast for the twin-bill revival of La Serva Padrona and Livietta e Tracollo by Giovanni Battista Pergolesi (1710-1736). Pergolesi's life was cut off early by tuberculosis, but his music, in Faulkner's words, not only endured but prevailed through most of the 18th century. This was a magical production created by the customary BEMF artistic team that included the imaginative stage director Gilbert Blin and Anna Watkins, who can be depended on for appropriate and sometimes resplendent costumes. The two works were presented in alternating scenes, as if the scores had been jumbled and sometimes conjoined, and the audience laughed all the way through.
The musicians of the BEMF orchestra paid dividends throughout the week. Concertmaster Robert Mealy's Quicksilver group, which contributed many members to the orchestra, gave a late-night performance. Earlier in the evening, cornettist Bruce Dickey's wind and string band Concerto Palatino played a bracing "Echoes of St. Mark's" concert in the clear acoustics of NEC's Jordan Hall (why not in the cavernous Emmanuel Church?).
The supporting cast for the Concerto Palatino concert included orchestra violinist Julie Andrijeski, who also was a co-director of the Quicksilver concert. Gambist Philippe Pierlot, who was featured in the La Resurrezione orchestra, gave a late-night concert, "A Strange Style." Violinist Miloš Valent, a staple for many years in the BEMF orchestra, was the life of the closing BEMF Pub Party at the Jake Wirth Restaurant, and his Solamente Naturali group from Bratislava, Slovakia, lent an international flavor to BEMF's opening instrumental concert.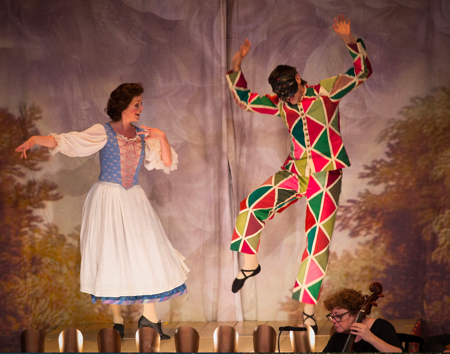 Debra Nagy played taille d'hautbois in the Campra and oboe in La Resurrezione. When recorderist Han Tol was held up by visa problems, she replaced him for a recorder master class, giving excellent musical advice to Teresa Deskur, the 2016 winner of Piffaro's National Recorder Competition for Young Players. And quite spectacularly, when Tol's first replacement broke his wrist in a biking accident, Kathryn Montoya was pulled out of her second-chair oboe seat to wow recorder enthusiasts at a midday recorder concert. On a Von Huene Denner recorder that showed symptoms of saturation (not surprising, given the many hours of extra practicing and rehearsing during the days leading up to the performance), she offered stimulating interpretations of sonatas and suites by Philidor, Bach, Leclair, and Corelli (accompanied by the sensitive harpsichord of Kristian Bezuidenhout). Montoya interspersed these works with unaccompanied variations by Jacob van Eyck; her rippling runs were pearly.
Other concerts had no particular connection to the core ensemble principle. A presentation by the Mexican group Tembembe Ensamble Continuo was easy to enjoy for the vigorous strumming of multiple varieties of guitar, baroque and otherwise, in music drawn from Spanish, African, and indigenous roots and for the joyful playing of Leopoldo Novoa as he sat on his marimbol, a greatly enlarged thumb piano. He made it look like fun; I think I want a marimbol for Christmas.
The five men whose distinct voices blended beautifully in the a cappella group Cinquecento gave a vocal tour of Florence, singing popular Italian street and carnival songs together with more serious works like the Kyrie à 4 from Dufay's Missa "Se la face ay pale," the chanson it was based on, and "Nuper rosaum flores," the work Dufay wrote for the dedication of Florence's Duomo. Some in the audience noted the difference in approach between this more scholarly group and the latest incarnation of The King's Singers, who earlier in the week delivered one of their usual show-stopping shows, "Worlds Colliding: Renaissance Heavyweights."
Italian and Venetian-themed concerts were presented by Micrologus ("Carnivalesque: Sex, Lies, and…Musical Tales in 16th-century Venice") and Concerto Romano (the oratorio Il San Vito by Bernardo Pasquini). Other festival concerts included performances by Ayreheart, Béatrice Martin, Ensemble Correspondances, Dialogos, and Nevermind (featuring flutist Anna Besson, who also joined the BEMF orchestra for an exquisite solo turn in La Resurrezione).
For me, the most memorable evening featured violinist Rachel Podger and fortepianist Bezuidenhout, who gave quintessential performances of four Mozart sonatas. Perhaps if Mozart had been present — playing either violin or piano — there would have been more brashness, but on this occasion I was happy to hear Podger, the graceful conversationalist, never strident, even in her bravura moments, and always ready to let the attentive Bezuidenhout make his musical arguments. This was chamber music at its very best.
During the week, mini-festivals celebrated the organ (with support of the Boston Chapter of the American Guild of Organists) and the keyboard (featuring a clavichord, fortepiano, and harpsichord in the collection of Boston's Museum of Fine Arts). The American Recorder Society and the Viola da Gamba Society of America put on their Recorder Relay and Gamba Gamut, respectively. And three events organized by Tina Chancey (happily recovered from a serious health scare) focused on the pardessus de viole. One concert involved gambists Simone Eckert, Myrna Herzog, Catharina Meints, Annalisa Pappano, John Mark Rozendaal, and Chancey, supported by harpsichordist Webb Wiggins in original music and arrangements for one to five pardessus. This was the kind of enlightening event you could only hope to hear at an international festival like BEMF.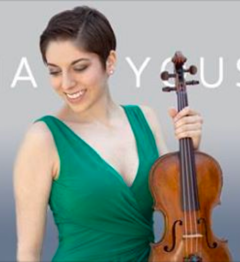 The mix-and-match principle carried over to the fringe events, where the university groups that traveled to Boston for Early Music America's Young Performers Festival (itself becoming a fixture at BEMF) spun off much young talent that was featured in other concerts and master classes. Friends from Case Western Reserve University and the University of Southern California formed themselves into Pfunkhaus and presented a very accomplished concert of 17th-century German devotional music in the attractive acoustics of Boston University's Marsh Chapel. Sopranos Paulina Francisco and Marisa De Silva made an ethereal duo in Augustin Pfleger's "Laudate pueri." De Silva was riveting in Buxtehude's "Herr, wenn ich nur dich hab'." Francisco participated ably in a BEMF master class, singing a highly ornamented piece by Luzzasco Luzzaschi before a panel of O'Dette, Stubbs, and Ellen Hargis (shades of American Idol!). The warm bass of Stephan Griffin promised an outstanding career as Jesus in Bach's St. Matthew Passion, and it was no surprise that Eva Lymenstull, who played both viol and cello in this concert, was the winner the next day in the Voices of Music's Bach Cello Suites Competition.
Over the years of attending the festival, I have found that there is always some unanticipated discovery. This year it was a performance by Alana Youssefian of a mid-17th-century violin sonata, "La Biancuccia," by Giovanni Antonio Pandolfi Mealli (1630-1670). The Oberlin graduate, a doctoral student at Juilliard and a member of Les soûls d'amour, launched herself into the piece with an abandon that was utterly convincing. Playing in Trinity Church, the whole group made a fine impression, but it wasn't really "whole." One of its regular sopranos, Molly Netter, was — you guessed it — making her own fine impression as Euridice in the BEMF centerpiece opera!
Former EMAg editor Benjamin Dunham has reviewed recordings for The Washington Post and Musical America.