by Aaron Keebaugh
Published October 25, 2021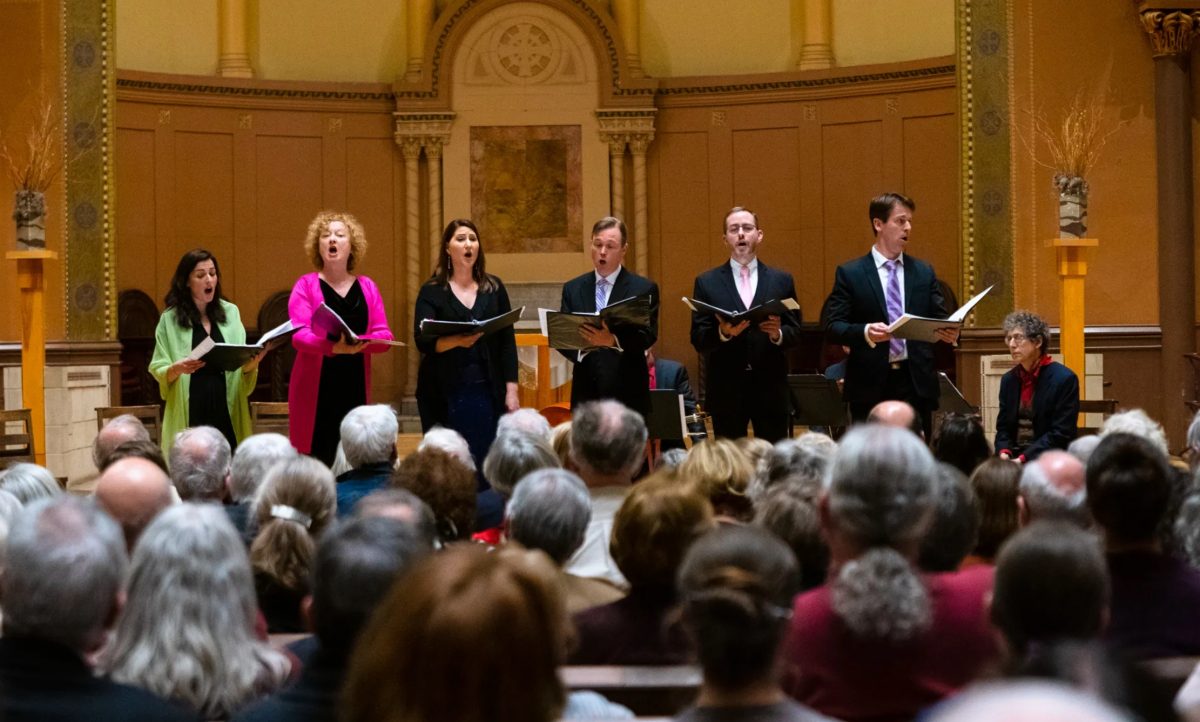 Seasonal programs from Boston's early-music ensembles tend to offer the usual fare — choral works by Bach and Handel, beloved concertos, and the occasional lesser-known composition.
But performances by the Boston Camerata consistently embrace unfamiliar chants, Medieval French organum, songs from 15th-century Spain, and Sacred Harp polyphony, sometimes within the course of a single concert.
Indeed, that has long been the trajectory of the Camerata, one of America's preeminent early-music ensembles. For more than 65 years, this group of singers and period instrumentalists has delivered thoughtful and enriching performances that cast a wide gaze at global musical cultures and the general human values that connect them.
"We are a little different in that way from a lot of other music groups," Camerata artistic director Anne Azéma said in an interview over Zoom. "There was always interest in what was going on in repertoires [all] around us."
In recent seasons, the ensemble has explored music of the Mediterranean world; Medieval narratives such as Tristan, Carmina burana, and Roman de Fauvel; musical styles from the Middle East; and spiritual traditions of the United States. All seem to suggest that vastly different ideas and styles intersect in ways that are not always obvious.
"It was absolutely revelatory to work in depth with Camerata Mediterranea and classical musicians from Morocco — who say they perform music from the Medieval Iberian Peninsula — and to find direct bridges between Medieval Spanish music from the court of Alfonso and their work in structure, form, development of melodic elements, and poetic themes," Azéma said of the ensemble's recent Mediterranean program. The diversity of program, moreover, reflected historical tradition. "We know that from papers that there were musicians of various color and creeds [in the court of Alfonso]."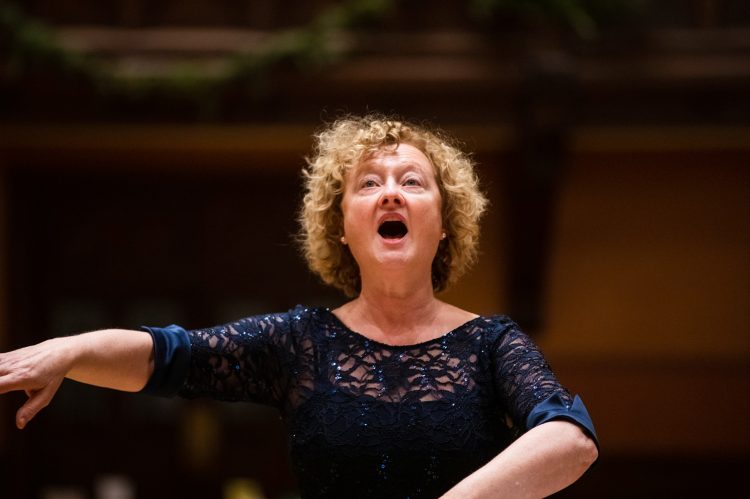 Cultural diversity has long been one of the Camerata's core values. Their season-opening program Nov. 6 in Boston, "We'll Be There," will turn the spotlight on the American spiritual tradition. The concert, to be performed at Longy Conservatory's Pickman Hall, will examine spiritual traditions from 19th-century Celtic, Shaker, and African American communities. "What was interesting to me was to really look backwards," Azéma said, "because we do look backwards to try and inform who we are. But we want to look a little bit more closely at the performance practice and see what these sources tell us. What do they not tell us? What do they try to do by trying to set a picture [as] they do not have the place they should have [in the repertoire]?"
The program will feature African American musicians well versed in the spiritual tradition. "But a later style," Azéma said. "[The singers] will discover earlier styles and different performance practices."
Though the Camerata refrains from directly addressing contemporary issues, the program is no doubt timely. "It might help us look at what unites us," Azéma said. "Look at what's part of our common DNA, because despite the pain, despite the oppression, and despite the abuse, there are some things that connect us very deeply."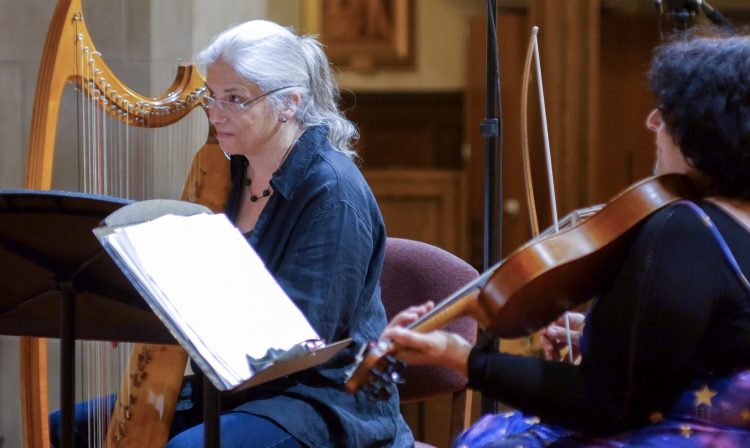 Interpreting the manuscripts of such repertoire — a frequent practice for Camerata programs — requires both meticulous research and imagination. Shaker music, a key component of "We'll Be There," has called upon Azéma and other Camerata musicians to delve into archival sources and make sense of their unique notational systems.
Shaker music is preserved in letteral notation, where letter names in the note head indicate pitch. Rhythms, however, tend to be notated in the familiar Western style, and flow freely in Camerata renditions. Their performances of this music on The Golden Harvest, the ensemble's recording from 2000, finds the grace and ecstasy so common to this music.
One Camerata favorite is "Pretty Home," written around 1849 by an African American Shaker named Patsy Roberts Williamson. Camerata's performances consistently convey the song's down-home, toe-tapping feel.
"I think one of the things about Shaker music is that it's inherently a folk-art form," said Deborah Rentz-Moore, a specialist in Shaker music and mezzo-soprano with the Camerata. "But in addition to that, Shaker music is kind of an American melting pot." Every individual that came into the Shaker community — including African Americans — would bring their music with them, she said. The assorted styles can then be traced in the old sources. "In music history sometimes it's tempting to think of things as separate. They never are.
"As much as we try, our goal obviously is to get close to what we think the sound might have been," Rentz-Moore added. "We'll never know for sure for most of the repertoire because most of it was written way before recording was possible. So, we'll always strive the best we can based on the research that's available and the knowledge that's currently in use."
Azéma, who has directed the Camerata since 2009, has created 18 programs for the ensemble, all of which have required similar original research. "Free America," performed at Faneuil Hall in fall of 2019 and recorded last year, covers music from the American Revolution. A Medieval Christmas, an album released just this month, explores music from Italy, France, England, and Provence. And Azéma's fully staged production of The Play of Daniel, premiered in Boston in 2014 and widely performed since, was based on her own critical examination of the original 13th-century manuscript.
"We have been lying in a bed made by people before us — for Medieval repertoire, for Renaissance repertoire, for Baroque repertoire," Azéma said. "And these attempts sometimes made a context that was less than ideal as far as knowledge base was concerned."
"Sometimes we are absolutely left to our own devices," she said of the research process. Azéma recalled that her teacher, Anne Hallmark, distinguished musicologist at the New England Conservatory, simply told her in her first lesson to sing what she saw in the original source.
"And I was like, 'What do you mean sing?'," Azéma said with a laugh. "But it was a Socratic method for her to make me understand that basically we're all on equal footing here. We have some traces that are more or less interesting, more or less complete, sometimes a Polaroid of what may have happened, in manuscript."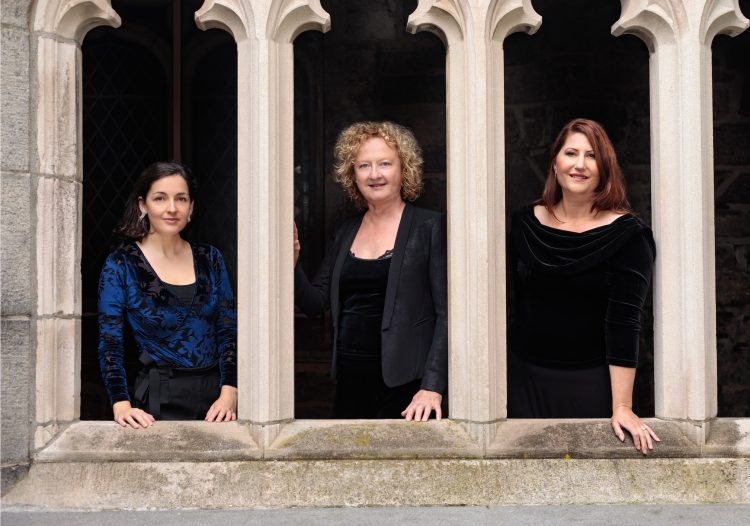 Some projects, like November's season opener, have even led Azéma to expand the Camerata's vocal and instrumental forces to include diverse musical groups, reflecting the intended performers for the material.
"In 2019, it was very important for me to include a Hispanic children choir for a project we were doing," Azéma said. "On so many levels — musical, human, and others — it was a perfect way of integrating our work in the community and working with them. [But] don't let anybody tell you that authenticity has a place in there. We are offering you a possibility of a sound picture that might have been — that kind of gets close to what might have been.
"I think each century, each region, each manuscript, each tradition will bring different questions," Azéma said. "What really comes in the end, to me, is: Did you have a good time when you listened to us? Are you coming out somehow different than when you came in? Have you been thinking? Has our performance given you a moment of respite, of rest from your worries, from your anxieties? Did we bring you on another plane together? Our job is also to look at the corners [of musical history] and say, 'Watch out, we haven't paid attention to this.'"
That mission continues to fuel the Camerata's work well into the 21st century. "It's a complicated, large issue," Azéma said of the ensemble's programming. "And a fun one! That's why I get up every morning."
Aaron Keebaugh has written for The Musical Times, Corymbus, and The Classical Review, for which he serves as regular Boston critic. A musicologist, he teaches at North Shore Community College in Danvers, MA.
Recent EMA Features
A Q&A with Music Before 1800's new artistic director Bill Barclay: 'If people are going to take a risk of coming to a concert for the first time, they need something to hold on to'... it's 'sadly a bit of an exclusionary pleasure — you have to know a little bit to get a lot out of it, unless there's something that resonates and makes people understand that early musicians are arbiters of ancient insights into human performance.'
The latest essay in EMA's 'Early Music: the Americas' series looks into the private notebooks of two women who preserved music of Latin American and European composers -- music that in some cases is found nowhere else.
Video games generate more revenue than the movie industry, and many games are set in 'legendary times' that cry out for an early music soundtrack. As technology improves, many games employ early music not just as background but as element of play.