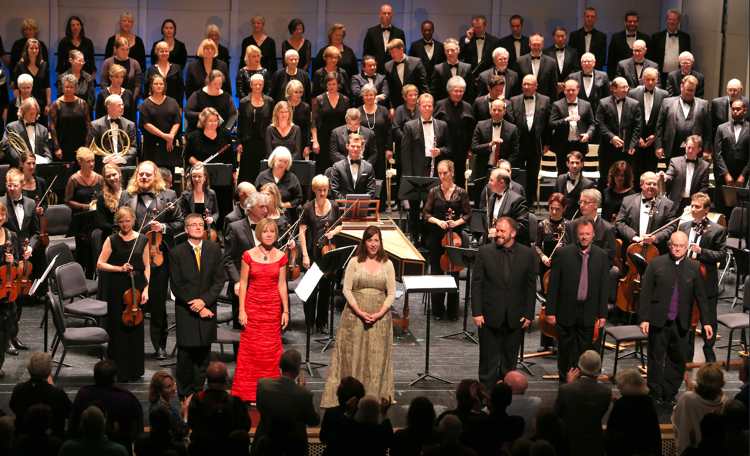 By Kyle MacMillan
CARMEL, CA — What's in a name? As the Carmel Bach Festival's moniker suggests, the works of Johann Sebastian Bach and his Baroque contemporaries inevitably play a major part in the offerings of the annual two-week series in one of California's most picturesque seaside communities.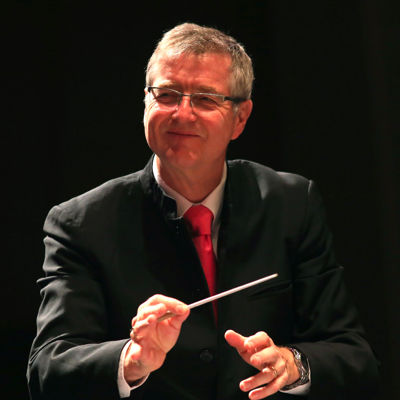 But anyone unfamiliar with the festival might be surprised to learn that its programs also encompass a healthy dose of 19th, 20th, and even 21st-century works. This summer's line-up, for example, includes works by such diverse composers as Leonard Bernstein, Philip Glass, and John Tavener. Put simply, Bach is the foundation, but the festival builds a musical house on him of many colors, styles, and periods.
Although perhaps more accentuated than ever, such musical variety has always been a hallmark of the festival, and artistic director and principal conductor Paul Goodwin said it is exactly what festival attendees have come to expect. He acknowledges having the occasional detractor but notes that the former artist colony long has been an incubator of creative experimentation. Many of the festival's esteemed donors and venerable audience members are also the ones most excited about his adventuresome programming.
But it's a question of finding the right balance between old and new. Goodwin tries to introduce novel repertoire carefully and create varied programs. "Many of our traditional public are surprised: 'Oh, actually this is quite nice,'" he said. "Because if you present later music or other music that people are not used to in the right context and you take them on a journey, they will find they really quite enjoy it. It's really how you present it. That is really crucial."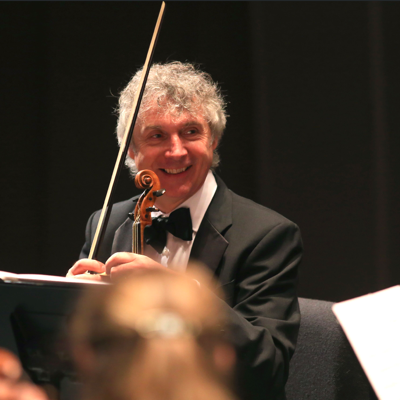 This year's season, which runs July 15-29, is the festival's 80th. The organization is marking the milestone with, among things, a celebratory July 15 and 22 program titled, simply, "80!" It includes Henry Purcell's "Birthday ode for Queen Mary" (1694) and the Concerto Grosso (1992) by Glass, whose 80th birthday is being hailed worldwide this year.
"Eighty years is a milestone in the life of any artistic organization," said managing director Steve Friedlander, "especially a summer music festival. It's a very significant milestone for us and a festive one."
The festival's first season in 1935 — an extension of informal house concerts first organized by two friends, Dene Denny and Hazel Watrous, in the 1920s — consisted of four days of concerts, recitals, and lectures. It has steadily grown, with this year's edition featuring more than 40 offerings, including orchestral concerts, chamber concerts, and solo recitals. "So, it's certainly gone way above and beyond where it started," Friedlander said.
The event draws about 11,000 people annually to the 718-seat Sunset Center Theater and more than a half-dozen churches and other area venues, reaching more than 80 percent of capacity for its main concerts. Many patrons are full-time residents of Monterey County, which encompasses Carmel and the nearby town of Monterey, and others have summer homes there. Some travel specifically to the region for the event, including visitors who drive the two hours or so from the San Francisco Bay Area.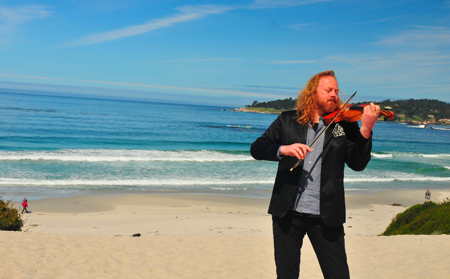 In addition to the diversity of music performed at the festival, what sets apart the event is the versatility of its nearly 60 resident musicians, who come from as far away as Holland and the United Kingdom. Unlike most such festivals where musicians perform on either modern or period instruments, many of Carmel's players can and often do both, giving the festival what Goodwin called "incredible flexibility" in terms of repertoire.
While a move toward such duality was already underway before he arrived in 2011, the former associate conductor of Britain's Academy of Ancient Music put an emphasis on it, encouraging some of the orchestra's modern instrumentalists, including its second flutist and oboist, to learn period instruments. "It's a big ask for them," Goodwin said. "It's a lot of work and quite often it's stressful to do that, but what you get back is a kaleidoscope of different colors and something for everybody in the festival."
The side-by-side styles are what attracted concertmaster Peter Hanson, whose career has encompassed both. He has long held the same position with the Orchestre Révolutionnaire et Romantique, the English ensemble founded by John Eliot Gardiner that seeks to bring a stylistic fidelity to the performance of music of the 19th and early 20th centuries. Returning for his seventh season to Carmel, Hanson will bring both modern and baroque violins, as well as four bows related to different musical periods. "It's perfect for me," he said, "because it's a combination of modern-style playing and period instrument-style playing. So, it's very exciting to be able use this orchestra and try out different things with it to see what we can do."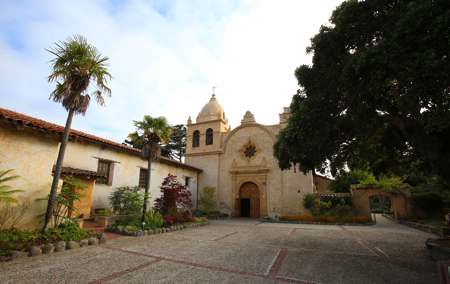 In addition to versatility, another distinguishing facet of this festival are the long tenures of its musicians. "One of the differences is definitely the first day of rehearsal you're looking around the orchestra, and you know everybody. Or there might be one new person, and you're like, 'Who's that?'" said Canadian violinist Edwin Huizinga, who is returning for his 11th season. Such longevity allows the players to build close ties to fellow musicians as well as audiences. "Coming back year after year," he said, "you have relationships with some of these people who are really curious about your career and your life and the music that you love, and that's really exciting."
Besides their orchestral duties, the instrumentalists perform chamber concerts and recitals and sometimes take on special projects. Huizinga, for example, is leading "Folk and 'Barolk,'" a July 20 crossover program he described as a "collage" of his career experiences in Baroque and folk music. With a small chamber orchestra performing works by Bach and Antonio Vivaldi and arrangements of Celtic and Bulgarian folk tunes, it will highlight the sometimes overlooked connections among them. Featured as guest artist will be folk guitarist William Coulter, with whom Huizinga recorded a 2016 album, Fire and Grace.
The musicians spend a month in Carmel, arriving early for 10 intense days of rehearsals before throwing themselves into the performances, including as many as five or six different evening programs each week. "My fingers are quite sore by the end of the month, I must say," Hanson said. "We really go for it, but some lovely things get produced and it's a very exciting atmosphere. Because it's so condensed, it has an intensity about it that's quite exciting. And I think the audiences pick up on it."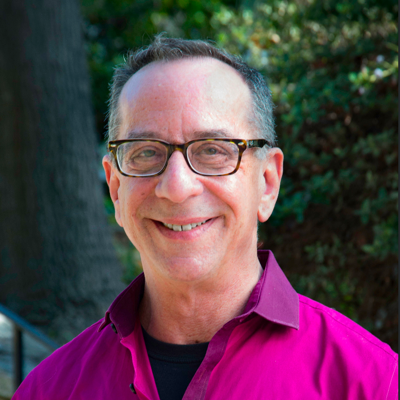 But helping to offset the intensity are the festival's idyllic setting and the play that often goes along with the work, such as the surfing and paddle-surfing that Huizenga tries to squeeze in each day. Housing is provided, and the musicians are encouraged to bring their families, so they can enjoy the month together.  "It's not a bad gig," Goodwin said with a laugh.
In programming for each festival installment, the conductor said he makes sure there are more works by Bach than any other composer, cycling through the composer's sonatas, cantatas, and other works. At the same time, he tries to draw some obvious links to Bach, like a program last year that included Felix Mendelssohn's "Reformation" Symphony along with a cantata that Bach revised in 1727 for the Reformation Festival in Leipzig. But other ties are more unexpected. "There are frequently connections that one finds because Bach is the greatest composer to influence anyone else throughout the years," Goodwin said. "And that's part of the fun of what we do."
The festival also presents free open rehearsals that each draw 400-600 people, with Goodwin giving short introductions to the repertoire. These offerings are ideal for families and older audience members who find a full concert too much of a challenge or people who don't know if they are going to like the music. "We find that it doesn't detract from the main concerts," Goodwin said, "and many people rush out and buy tickets for the concerts after that."
The Carmel Bach Festival expanded to three weeks in 1983, but in the face of a serious economic downturn, the festival was forced to trim back its duration in 2009 to two weeks; it has maintained that length since. While it has recently added a few "pre-festival" offerings in the days leading up to its main line-up, Friedlander sees the festival remaining at its present size for the near future and striving to sustain its success. "It would be great to be growing," he said, "but one of the big challenges in classical music is maintaining audience, and we're happy that we're maintaining."
Kyle MacMillan served as music critic for the Denver Post from 2000 through 2011. He currently freelances in Chicago, writing for Chamber Music and Listen magazines and such other publications and websites as the Chicago Sun-Times and Classical Voice North America.