by
Published September 8, 2016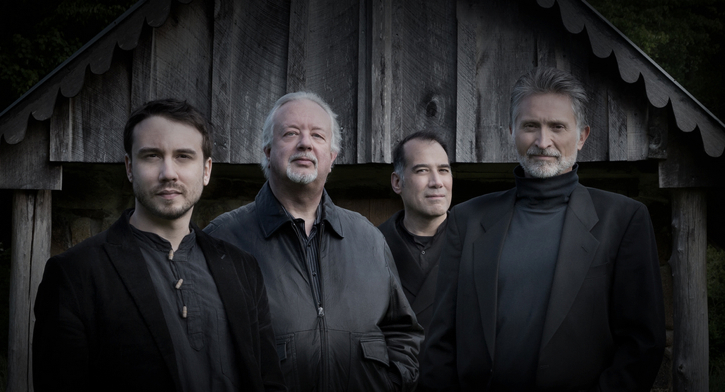 Barley Moon
Ayreheart
Sono Luminus DSL-92203
59:55
By Karen Cook
CD REVIEW — Ayreheart, the musical offspring of lutenist Ronn McFarlane (Baltimore Consort, etc.), was founded to create a space in which the new and the old could thrive together. Whereas their first CD ("One Morning," 2009) consisted of music composed by McFarlane, this new release is a potpourri of pieces from folk and art traditions. The album centers on the lute as both an heir to tradition and a living, breathing instrument, and it showcases the playing of McFarlane and group members Brian Kay (on vocals and komuz, a fretless stringed instrument popular in Central Asian, especially Kyrgyz, traditions), Willard Morris (on colascione, a relative of the bass lute), and Mattias Rucht (percussion).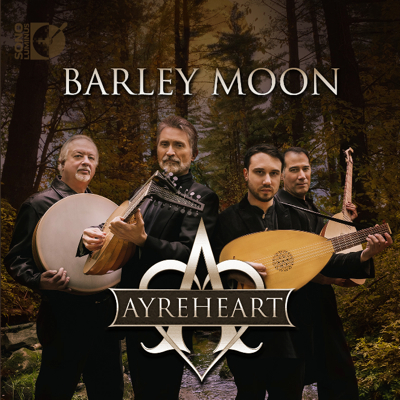 "Barley Moon" explores the similarities between folk traditions, including those of the last several decades, and the art and popular musical traditions of early Britain. This is by no means a new idea; as they themselves point out, many involved in the British folk-rock movement of the 1960s were also performers of early music. The origins of the folk and art music on this album are entwined to the point where the ensemble questions the necessity of such an artificial division.
Six of the recording's fourteen selections were composed by John Dowland and one by William Byrd; the rest are anonymous, ranging from medieval carols ("Lully Lulle") and Child Ballads ("Henry Martyn") to undatable folk songs ("Ddoi di Dai"). Arrangements of instrumental dances, such as Dowland's "My Lady Hunsdon's Puffe," are interspersed among vocal pieces ("Come Again, Fortune My Foe"). And yet, Kay's compelling, approachable delivery here is no different than his treatment of such folk songs as "John Barleycorn," perhaps best known from the rock group Traffic, and "Nottamun Town," covered by Bob Dylan. In fact, Kay's rendition of Dowland's "Come Again" is one of the most conversational recordings in recent memory, his voice catching ever so slightly in cognizance of the narrator's lovelorn pining and pausing with an almost audible wink before the word "delay."
However the listener might choose to categorize Ayreheart's approach, the recording is persuasive. Their performance is at turns intimate, inviting, playful, wistful, melancholy, even menacing. For those familiar with Renaissance lute songs and dances, the lower ranges of the colascione, the unabashed use of the full dynamic range of the instruments, and the support of Rucht's array of percussion timbres in the new arrangements are enticingly welcome. For those more knowledgeable of "world," traditional, or rock-oriented music, the feisty, syncopated "Nottamun Town" or Kay's yearning rendition of "In A Garden Green" would not seem out of place alongside the numerous folk-rock movement of artists listed in the liner notes.
Extra kudos for the superb mixing and inclusion of a Blu-ray audio disc. The recording is a well-executed and thought-provoking addition for fans of early, traditional, and folk music, and just about everything in between.
Karen Cook specializes in the music, theory, and notation of the late medieval and early Renaissance periods. She is assistant professor of music at the University of Hartford in Connecticut.
Recent EMA Recording & Book Reviews
In a revealing look into the lives of 'ordinary' folks in 17th and 18th c. Germany, author Tanya Kevorkian taps a wealth of sources that detail city life, from religious beliefs to weddings to the rhythms and rules of town watchmen. With compassion and wisdom, the author notes that historians who look at street life "have to some degree replicated the perspective of the authorities."
Emily Zazulia's valuable 'Where Sight Meets Sound: the Poetics of Late-Medieval Music Writing' explores notational aesthetics in polyphonic music, where it's not obvious how you're meant to sing what's on the page.
Long undervalued, Alessando Scarlatti's vocal writing naturally weds singable lines with the Italian language. Ars Lyrica Houston's colorful new recording of a Scarlatti oratorio, with an outstanding cast, makes a brilliant case for this rarely heard music.