by Jarrett Hoffman
Published December 21, 2020
Carl Maria von Weber, Franz Krommer: Clarinet Quintets. Eric Hoeprich, clarinet; London Haydn Quartet. Glossa GCD 920610.
Carl Maria von Weber: The Clarinet Concertos. Eric Hoeprich, clarinet; Orchestra of the Eighteenth Century, Guy Van Waas, conductor. Glossa GCD 921128.
June 2019 was a productive month for clarinetist Eric Hoeprich, resulting in two albums that have been released over the past several months. One was recorded in England, the other in the Netherlands. One is devoted to clarinet quintets, the other to concertos. As for common ground, both focus on the early 19th century, feature music of Carl Maria von Weber, and include marvelous playing from Hoeprich and his colleagues in the London Haydn Quartet and the Orchestra of the Eighteenth Century.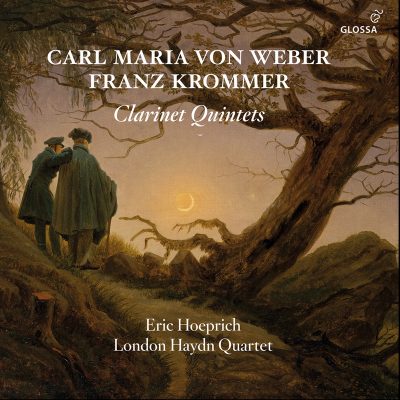 The orchestral album is more obviously programmed around Weber, whose two proper clarinet concertos stand at either end of the playlist. In between them lies the short B-flat major concerto by Karol Kurpiński — perhaps the only surviving movement of a larger piece, or a concertino in itself.
Weber's Clarinet Quintet in B-flat major is his only work on the disc of chamber music, but the next selection is a clear companion piece: the "Adagio" from Heinrich Baermann's Op. 23 Quintet. What ties those works together is that Baermann, better known as a clarinetist, was the inspiration behind most of Weber's major works for the instrument, including the quintet and the two concertos.
The quintets finish up with Franz Krommer's Op. 95. That sometimes charming piece distinguishes itself with a second viola rather than a second violin, adding meat to the inner voices, but the writing lacks a sense of overriding purpose and feels manufactured — the only work on either recording that stands out as compositionally average.
The Kurpiński, on the other hand, provides a nice contrast from the Weber concertos with its unique interaction between soloist and various members of the ensemble. And the Baermann is remarkable for its adventurous and expressive chromaticism.
On the highest tier are Weber's Second Concerto and even moreso his Quintet — beautiful, playful, well-crafted, and inventive works very much worth revisiting in the interpretation of Hoeprich and company, or discovering here for the first time.
Back to Baermann — that famous virtuoso has informed Hoeprich's choice of instrument. In 1809, two years before the Weber concertos came into being, Baermann acquired a clarinet with somewhere between 10 and 12 keys from Griessling & Schlott of Berlin. And so, on both albums, Hoeprich plays an instrument he himself built: a replica of a 10-key clarinet by, yes, Griessling & Schlott (a name Google occasionally has trouble identifying — the algorithms prefer riesling).
That instrument, in the hands of this player, is gorgeous. The general sound is an ideal combination of mellow and clear, but Hoeprich also captures warmth and brilliance to vary the palette. His flexibility extends to his musicality: He's equally compelling when taking on Weber's dramatic expressiveness and his vivaciousness, a quality that in the wrong hands can make the composer's music sound superficial.
Hoeprich is at ease in both chamber and solo settings. He finds a cozy blend with the London Haydn Quartet and projects easily over the Orchestra of the Eighteenth Century, led by Guy Van Waas and armed with a full wind section. Only in one work, Weber's First Concerto, does that soloistic projection tend to be a little too intense.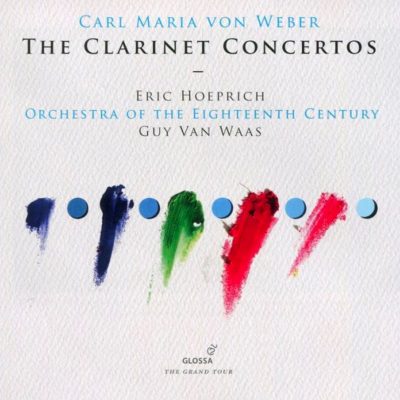 Both groups prove to be superb collaborators. Catherine Manson (violin), Michael Gurevich (violin and viola), John Crockatt (viola), and Jonathan Manson (cello) create a warm and heavenly sound upon which the clarinet can float, and their bold playing makes them riveting to hear in their own right.
The orchestra, highlighted by wonderfully energetic basses and bassoons, is likewise full of verve, playing one compelling phrase after another under the baton of the multi-talented Van Waas — who like Hoeprich is usually a member of the clarinet section. Even the little details, like a silent fermata that goes on longer than expected, or an extended tail on a final chord, add up to help realize the dramatic potential of these concertos. Considering all that, the ensemble's few, momentary disagreements of intonation are easy to look past.
One last important point Hoeprich raises in the liner notes to the quintets: "Weber's works would have been difficult to play, even for a Baermann, but herein lies much of the inherent beauty and the excitement of period-instrument performance."
These albums are a testament to that philosophy. Through cascading and whirling runs, Hoeprich's technique often proves to be sterling. He doesn't always come out unscathed, but by the time you reach the end of the devilish Weber Quintet, you might find yourself thrilled enough to stand up and clap. As Hoeprich writes elegantly in closing, "The Quintet relies on this special frisson between what is possible and what is nearly impossible."
Jarrett Hoffman is the managing editor at ClevelandClassical.com and served as a fellow at the 2014 Rubin Institute for Music Criticism. As a clarinetist, he performs in the Hudson Valley and New York City and runs a private studio.
Recent EMA Recording & Book Reviews
Emily Zazulia's valuable 'Where Sight Meets Sound: the Poetics of Late-Medieval Music Writing' explores notational aesthetics in polyphonic music, where it's not obvious how you're meant to sing what's on the page.
Long undervalued, Alessando Scarlatti's vocal writing naturally weds singable lines with the Italian language. Ars Lyrica Houston's colorful new recording of a Scarlatti oratorio, with an outstanding cast, makes a brilliant case for this rarely heard music.
On their latest stellar recording, the Suspicious Cheese Lords focus on Palestrina's 'Missa Illumina oculos meos,' and the lengthy motet by Andreas de Silva on which it's based. World premiere recordings, beautifully sung.