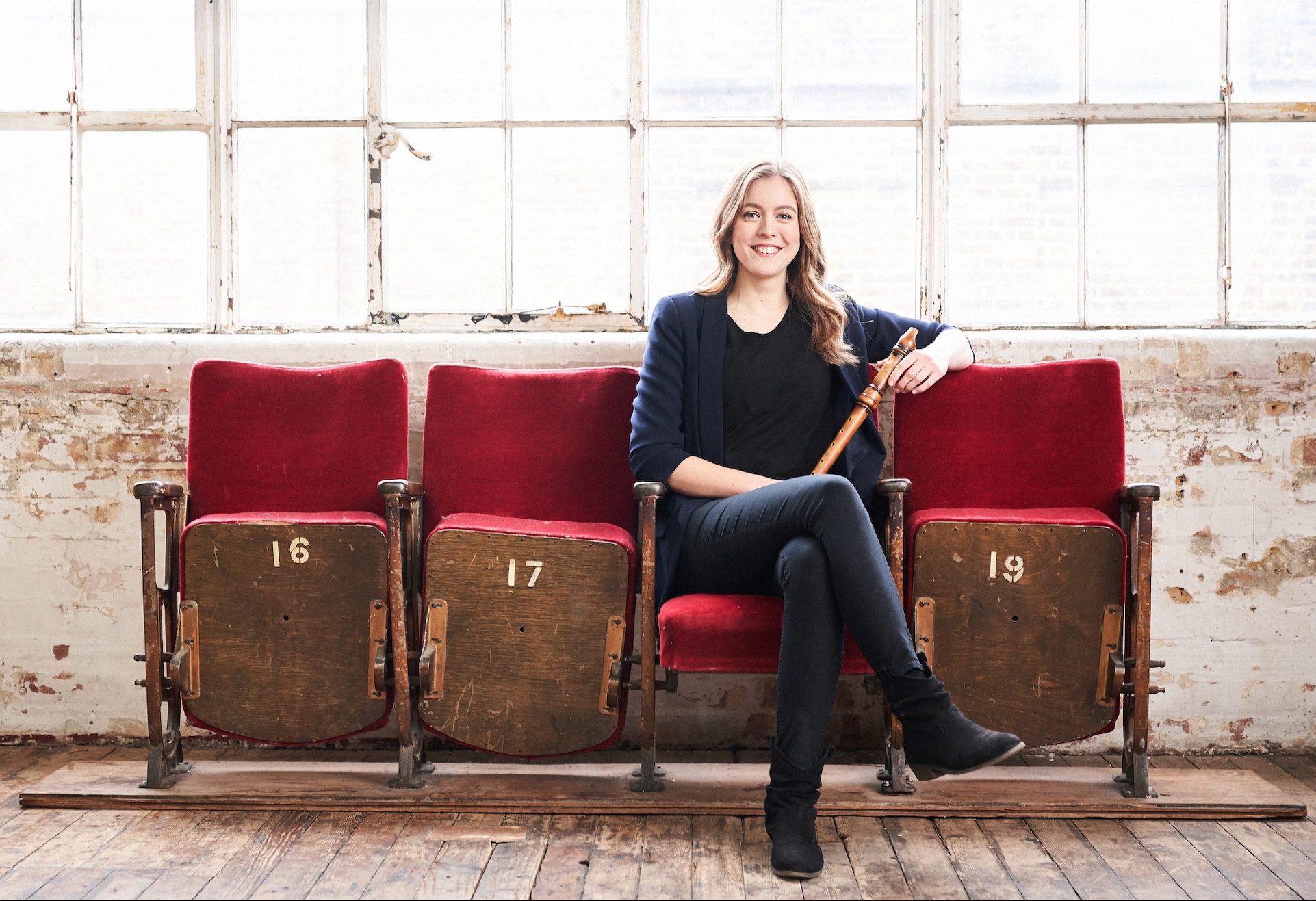 OHRWURM. Tabea Debus, recorders, with Jonathan Rees, viola da gamba, and Alex McCartney, theorbo and guitar. Delphian DCD34243
The title of this disc references Renaissance and Baroque "earworms" that stick in listeners' minds. Tracks range from the anonymous 14th-century Florentine
"Lamento di Tristano" to a pair of contemporary pieces for unaccompanied recorder. Beautiful melodies abound. There are several warhorses of the opera house and concert hall. Folk tunes such as "When Daphne did from Phoebus fly" and Gemininani's transcription of the Scottish song "Auld Bob Morrice" add earthier lyricism.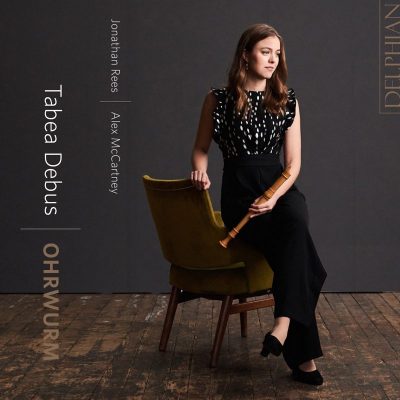 Most of this music found its way to publication after popularity in homes and on stages (and likely inside taverns). Some of these pieces lasted in collective memory for centuries before reaching a printing press. Recorder player Tabea Debus has curated a wide-ranging and downright catchy compendium for her instrument. Yet this album's most addicting quality may be her playing.
Debus's tone unveils a rich spectrum of colors. The medley of chaconnes by Bertali, Merula, and Monteverdi shows a firm center and crisp edges into the top registers. Smooth, vibrato-less sustained notes in "Vuestros ojos tienen d'amor" highlight the tune's charming shape as well as its sense of longing. The use of soprano and alto recorders from different periods adds timbral variety. Debus also achieves a particularly mellifluous sound on voice flute, a recorder pitched between alto and tenor.
She turns some captivating fandangos, jigs, and other dances into outright toe-tappers. Debus's pacing gives the gigue from the overture to Handel's Siroe a hypnotic strut. She punches out percussive syncopations amid the racehorse tempo and chromatic twists of Freya Waley-Cohen's 2019 Caffeine. The selection from Marais's Les Folies d'Espagne is a standout: This is one infectious groove. Yet rather than pushing the beat, Debus builds in ever-subtle steps before firing off divisions.
Virtuosity never blurs into facile note-spinning on this program. Debus's rhythmic verve as well her imaginative dynamics and articulation animate all the spiraling runs and arpeggios. The Allegro from Castrucci's Sonata in D Minor (Op. 1, No. 10) drives along like an improvisation. For the 16th-century song "La Monica," she includes several composers' variations following the tune. The arrangement comes off as a breezy solo. In fact, the whole 70-minute CD goes by like an informal but fiery set at a jazz club.
Debus's partners — gamba player Jonathan Rees and Alex McCartney alternating theorbo and Baroque guitar — are integral to the album's spontaneous feel. They consistently create a warm blend, for example in Valentini's variations on a gigue by Corelli. In well-known pieces such as Handel's "Lascia ch'io pianga" and Purcell's "Fairest Isle," the continuo provides moving introductions, solos, and codas. Rees's obbligato on Bach's transcription of Marcello's Oboe Concerto in D Minor turns the already solemn Adagio into a forlorn story. McCartney's theorbo caresses "La suave melodia" into a wordless Neapolitan serenade.
Debus and McCartney's arrangements stay true to the source material while adding idiomatic flair (and occasional harmonic substitutions to the more well-worn works). The recording balance slightly favors the recorder while giving both accompanists ample room. The wide-open and upfront acoustic from St. Mary's Parish Church in Edinburgh further suits the atmosphere. Releases like this make recorder jokes obsolete.
Andrew J. Sammut has written about Baroque music and hot jazz for All About Jazz, Boston Classical Review, The Boston Musical Intelligencer, Early Music America, the IAJRC Journal, and his own blog. He also works as a freelance copy editor and writer and lives in Cambridge, MA, with his wife and dog.