To call 2020 a challenging year would be a monumental understatement. For all cultural organizations, the issues of how to exist and, hopefully, work during pandemic times has created an environment like no other in recent memory. As spring 2020 turned into summer, Early Music Vancouver faced yet another challenge: artistic and executive director Matthew White was leaving the organization to become CEO of the Victoria Symphony; new leadership was required, and there was no time to waste.
Late in 2020 came the announcement: The admired soprano and early-music specialist Suzie LeBlanc would take over the reins of one of the Pacific Northwest's major early-music organizations. For staff, stakeholders, and interested members of the music community, the appointment was met with resounding enthusiasm, and a quiet sigh of relief.
"When I joined EMV's board of directors in 2008, Suzie already had a large presence on EMV programs," says past president Sharon E. Kahn. "Audiences looked forward to hearing Suzie every season. So, it feels natural that Suzie — a good friend of EMV's — is leading EMV more than a decade later."
Early Music Vancouver got started in the 1970s under the moniker of the Vancouver Society for Early Music. Through the 1980s and 1990s, it tenaciously kept a market share of Vancouver's growing and diversifying music scene. When long-term general manager José Verstappen retired in 2013, the organization had become an indispensable part of Vancouver musical mosaic and a player of significance in the global early-music scene.
Matthew White built on existing EMV successes while trying to appeal to a wider audience. Then, when COVID changed everything, he was able to boldly envision a season of streamed events. White's agenda proved to be both viable and sustainable: Multiple programs were recorded in the Chan Centre at the University of British Columbia, a splendid venue for music in the best of times but even more significant as issues of space and air circulation had to be factored into production. EMV was even able to work within British Columbia's strict rules about public gatherings. For a few charmed days in summer, audiences of no more than 40 were able to attend recording sessions.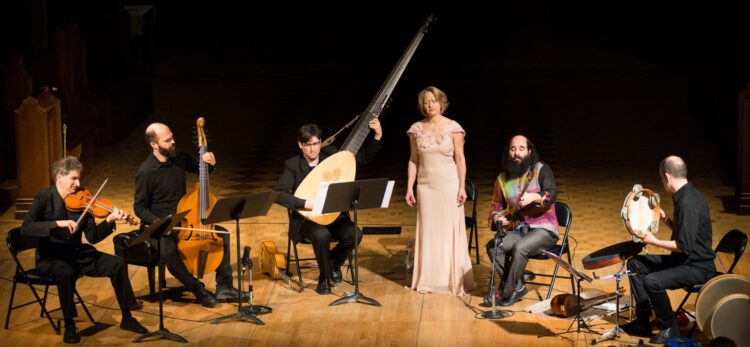 Pessimists wondered who could possibly follow in his footsteps. LeBlanc was chosen, and with a single timely decision EMV insured continuity and confidence.
What made a new role in Vancouver attractive for LeBlanc? "Was it an inner knowing or an inner decision? The difference is often subtle," she says. "During the application process, it became clear to me that my compass was pointing to the West and to this wonderful organization. It felt like the logical step in the path I had been building for a long time, and brings together my passion for early repertoire, introducing artists from different art forms and different parts of the world, building community, and helping others reach their fullest potential. Sometimes things simply feel right and are not to be questioned. I'm aware of the responsibility and of the leadership expected of me, but something called me here, just like I felt called to become a singer earlier in my life."
LeBlanc's heritage is Acadian, the francophone settlers in Canada's Maritime provinces. "Being Acadian means my identity is rooted in culture rather than in the land, since, like many other nations, we have no country to call home. Perhaps because of this, I am sensitive to the stories and culture of different cultures, many of which now have roots in Canada. I am curious about their music, since the very fabric of life is contained in songs."
She is renowned as a singer with an especially broad area of interests, but that wasn't how she embarked on her life in music. As a youngster in Moncton, New Brunswick, she studied modern flute, gymnastics, and dance before moving to Montréal for more advanced study. "My flute teacher there was a harpsichordist, and I fell in love with the sound of the harpsichord. At CEGEP [the unique Quebec network of public early post-secondary colleges], I decided to study harpsichord and took singing as my second instrument. I had sung in choirs since the age of eight, but I was a complete beginner at the keyboard, so my teacher could start me from scratch. No piano techniques to unlearn."
In time, she studied at the mainly francophone Université de Montréal and the mainly anglophone McGill University. "Though my main instrument was harpsichord, I sang in all the ensembles. Singers get sick all the time, and I became known as the girl who could pick up a piece very quickly."
Her first professional gig outside of Montréal was for Early Music Vancouver. "I first came to Vancouver in 1984 as a member of an early music vocal trio." Ray Nurse, one of the founders of EMV, was impressed. "I was asked to audition for the New World Consort." She joined the ensemble and toured all over North America with them, picking up information and ideas about early music from Nurse and others. This was followed by time in London studying voice formally.
For more than a decade, she stayed on in Europe, working with such ensembles as Tragicomedia, Musica Secreta, Fretwork, and The Hilliard Ensemble. Then, in 2000, she returned to Montréal, singing the role of Poppea in Monteverdi's L'Incoronazione di Poppea with Opéra de Montréal, conducted by Yannick Nézet-Seguin. Asked about her personal career highlights, she includes Poppea with Nézet-Seguin and a subsequent CD of Mozart songs with him for Québec recording label ATMA, a 2002 ATMA release, Love Duets, with countertenor Daniel Taylor and the Arion Baroque Orchestra. Then there was the thrill of singing Pamina in Die Zauberflöte in Europe with Sigiswald Kuijken and La Petite Bande.
Alexander Weimann, artistic director of the Pacific Baroque Orchestra, knows LeBlanc well. "Suzie and I met decades ago, when I was living in Europe. An invitation to direct her recording of Handel's Gloria brought me to Montréal for the first time, and on that occasion I met my colleague Chloe Meyers, whom I later married, making Canada my home country. In countless concerts and recordings, I have seen and heard Suzie performing music from all imaginable times and places, with the highest respect and curiosity, always completely elegant and genuine. There are few artists that have impressed me as much, and I would always trust her voice and point of view."
While LeBlanc's artistic credentials as a performer are impeccable, she is also no stranger to administration. "I have managed my own international career for 35 years, and for 15 years led a small arts organization that presented staged works (early and contemporary chamber opera). Grant-writing, project planning, fund raising, board governance, programming, and casting were already at the heart of my artistic activities." Weimann is confident she is the right fit for EMV and for Vancouver. "We are simply lucky to have her in our city now, at the helm of such a fantastic organization," he says.
Considering the long arc of her career, it is entirely obvious that LeBlanc has always been ready for exploration and the challenges of new situations. "My ancestors were displaced and uprooted by the Loyalists who were in power in the 18th century. The deportation of the Acadians took place over decades, from New Brunswick, Nova Scotia, and Prince Edward Island, one genocide after another. The Acadians were deported because they did not want to plead allegiance to either the French or the English crown. They had fled a regime they could no longer tolerate. They were mostly pacifists who did not engage in war with those living here before they came. At least, that is the written-down version of the story.
"The story of my ancestors also makes me easily uprootable, and I have often moved to new pastures. First, at the age of 16, I went from Acadia to Montréal, where I stayed for 10 years, then to Europe for 12 years, back to Montréal for nine years, over to Nova Scotia for five, and back to Montréal for five years before coming to live in Vancouver. If the pattern continues, things would indicate a return to Montréal after nine to 12 years out West, or to a full circle back to Acadia. Who's to know?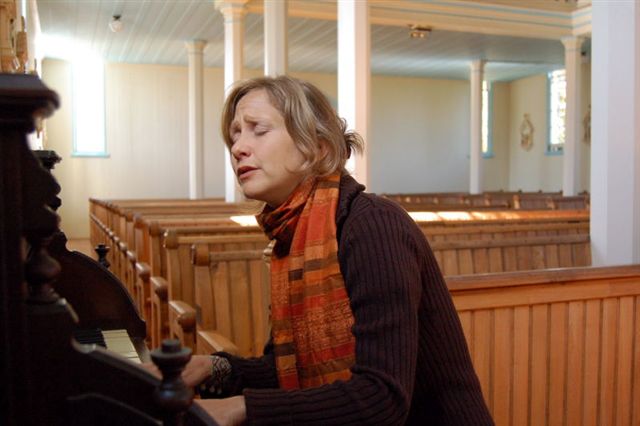 "For the moment, I am putting down roots on the West Coast," LeBlanc says, "and I am grateful to be able to walk on the land that the Squamish, Tsleil-Waututh, and Musqueam people have cared for long before 'early' music from European centers made its way to North America. I have much to learn from this land, and from the people who have tended it long before my ancestors crossed the big pond."
Though LeBlanc will doubtless put her particular stamp on the Early Music Vancouver organization in time, a transition in times of COVID is particularly sensitive. Some events are hard-wired into EMV's year: A project begun as "Festive Bach Cantatas for Christmas" back in the Verstappen era morphed under White into a big production of seasonally appropriate Baroque music. LeBlanc will continue the tradition either live or online, as was the case in December 2020. There will be summer events. "Clearly, with the borders closed, this year will be almost entirely Canadian," she says. "Our Digital Concert Hall was a brilliant concept by Matt White, which raised our international profile to an astonishing degree. There will be more digital concerts in the fall, even if becomes possible to resume some in-person programs."
Another initiative is concerned with diversity — expanding the very concept of what an early-music organization can and possibly should present. The current "Passport Series" has introduced audiences to music from cultures beyond Europe with considerable success. LeBlanc is all in. "Growing up Acadian in New Brunswick means you are an underdog, and that in later life you will fight for other underdogs. I know what it means to be a minority. I know what it means to fight for diversity." LeBlanc's enthusiasm for a diverse and expansive early-music big tent isn't just timely.
"Hearing early music from different cultures is very exciting. I love discovering new repertoire, going to libraries pouring through dusty books, finding less celebrated composers, especially female composers. I am pretty eclectic in my musical tastes, though I have much to learn. I like working with live composers as well."
She cautions that the performance of much early repertoire is fundamentally different from other forms of so-called classical performance. "Early music scores often leave out information regarding ornamentation, instrumentation, dynamics, or tempo, so one needs to be familiar with the traditions of the time and to enjoy a bit of improvisation. I look forward to curating original and inspiring programs for Vancouver audiences and beyond, and to the boundless opportunities we have to continue nurturing early music as a living organism."
David Gordon Duke contributes reviews and essays to The Vancouver Sun and teaches at the School of Music, Vancouver Community College.