by Andrew J. Sammut
Published February 1, 2021
Luce e Ombra. Myriam Leblanc, soprano, and Ensemble Mirabilia. Analekta AN 2-9137
For her recorded debut, Canadian soprano Myriam Leblanc sings works that are well-known to Vivaldi fans. Yet while the cantata All'ombra di sospetto was written for soprano, this disc's opera arias were originally composed for male or female contralto or, in the case of "Ben conosco a poco," for soprano castrato. She also forgoes the arias' usual orchestral accompaniment. Instead, Grégoire Jeay provides arrangements for a trio of his flute, Marie-Michel Beauparlant's cello, and Antoine Malette-Chénier's baroque triple harp.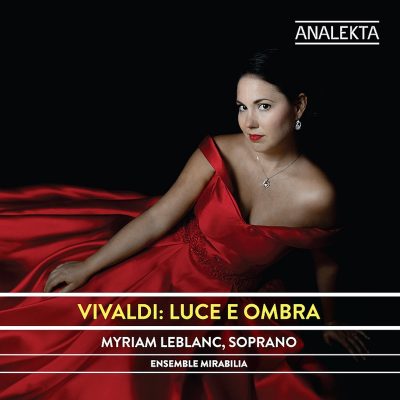 Transposition for different voices and arrangement for smaller ensembles are nothing new. Although the instrumentation points to a subtler setting, Leblanc's sound and delivery recast this music for a uniquely intimate atmosphere.
The warmth and scale of her voice conjure up a cozy room with a few close friends rather than an opulent chamber soiree. Emotion is more about implication than outpouring; for example, stunned pause rather than shock in "Sposa son disprezzata" (a Giacomelli aria that Vivaldi included in his pastiche opera Bajazet). Clean diction clarifies the poetry. Middle register phrases like the recitatives in All'ombra di sospetto take on a spoken quality, as though she's confiding in someone.
Leblanc also sings with a precise, light, and bright but never shrill soprano. High notes are firmly placed and well-balanced — for example, the pinpoint leaps in the da capo section of "Gelido in ogni vena" from Farnace. She tosses out curlicue phrases with ease in the first cantata aria. In "Ben conosco a poco a poco" from Arsilda, Leblanc rolls and pops consonants to form a rhythmic trio sonata alongside Jeay's piping flute.
Her colleagues focus on sustaining a feel rather than drawing attention to accompanimental textures. Jeay's flute spreads spare, gauzy tones behind the vocalist in "Sposa son disprezzata." It takes turns with the harp echoing the sounds of nature described in "Zeffiretti, che sussurrate" from Ercole. In the Oboe Sonata in C Minor (RV 53), transposed for flute, Jeay mirrors the singer's sense of restraint and smooth phrasing. The Andante, pared down to flute and cello, reveals Vivaldi's melodic counterpoint and cellist Beauparlant's sense of characterization and color.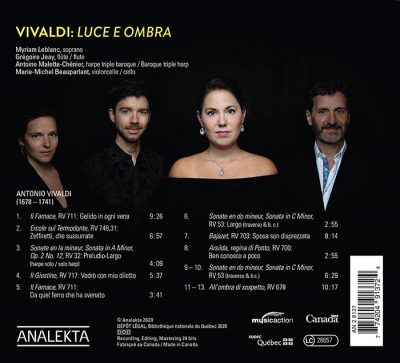 The use of baroque triple harp in place of a keyboard instrument may seem unusual, but Jeay's liner notes explain that the instrument often replaced the harpsichord in the 18th century. Its delicate twang never distracts from the whole. At times, the instrument illuminates Vivaldi's harmonies without shifting the aural balance. In some cases, the harp adds a rustic quality like that of a zither. Malette-Chénier's also gets some spotlight through a solo arrangement of the Prelude and Largo from the Violin Sonata in A Minor, Op. 2, No, 12, RV 32.
Just over 20 years ago, it was hard to imagine Vivaldi's vocal music being such a popular item in record catalogs. Listeners may now be so accustomed to brawnier accompaniments or extroverted interpretations in this repertoire that it could take them some time to warm up to this disc. Comparisons aside, these performances are musically solid as well as highly individual.
Andrew J. Sammut has written about Baroque music and hot jazz for All About Jazz, Boston Classical Review, The Boston Musical Intelligencer, Early Music America, the IAJRC Journal, and his own blog. He also works as a freelance copy editor and writer and lives in Cambridge, MA, with his wife and dog.
Recent EMA Recording & Book Reviews
In 2016, Jordi Savall assembled a group of immigrant musicians with a fundamental mission: to preserve and revive precious musical traditions from a range of under-stress cultures, from Syrian and Kurdish to Armenian, Sudanese, Afghan, and Moroccan. The resulting live performance was captured as 'Oriente Lux,' bridging gaps and making connections.
Jeannette Sorrell's adaptation of Handel's popular 'Israel in Egypt' cuts, re-orders, restores, and replaces music and text throughout the oratorio. But Handel didn't leave us with a 'definitive' edition, and Sorrell's version is so artistically logical that someone new to the work might not know anything is missing. Apollo's Fire and the outstanding vocal and instrumental soloists make a compelling case.
People who love Wagner operas can separate his music from his toxic beliefs. Yet J.S. Bach's 'superlative ability to move listeners' and status as 'a pinnacle of Western art' brushes aside the composer's harsh theology and often intolerant personal philosophy. In this collection of essays, Bach scholar Michael Marissen warns us to 'not soften or assimilate this figure to our own preferences, no matter how much we find inspiration, solace, or transcendence in his art.'