Early Music America has announced the first recipient of the Joan Benson Clavichord Award, selected by an independent panel of judges.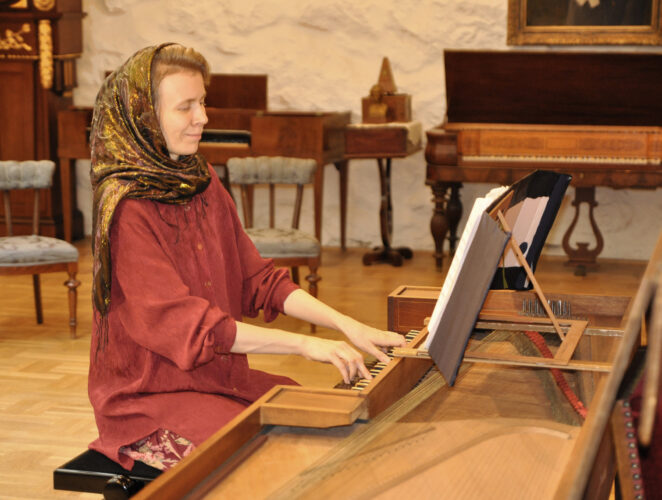 "It is with great pleasure that we announce Anna Maria McElwain as the recipient of the first Joan Benson Clavichord Award," said EMA executive director Karin Brookes. "This award honors the life and work of the late Joan Benson (1923–2020), one of the foremost clavichordists of modern times and a major force in the modern revival of the clavichord and fortepiano."
The Finnish-American musician Anna Maria McElwain was unanimously selected by the panel for her outstanding contribution to the clavichord. She was co-founder of the Nordic Historical Keyboard Festival in 2012 and remains its artistic director. Since 2002, she has made the clavichord central to her work as a musician. McElwain is the only student to complete a Master of Music degree in clavichord performance at Helsinki's Sibelius Academy. She has made two recordings, and commissioned new pieces.
Anna Maria McElwain said: "Thank you! I feel greatly honored to have been chosen worthy of such an amazing tribute for my work with the clavichord. Not only that, but the award to be in the memory of a heroine of mine, whose musicianship I adore and to whom I look up, is extremely touching. I am extremely grateful!"
For more information about Anna Maria McElwain:
annamariamcelwain.com
Nordic Historical Keyboard Festival 
It is no coincidence that this award is announced on International Women's Day, as Joan was frustrated in her later years by the fact that Wikipedia's articles about women were less likely to be included and expanded. March 8 is also the birthday of C.P.E. Bach (1714–1788), whose music for the clavichord was much loved and performed by Joan Benson.
The Joan Benson Clavichord Award, in the amount of $1,500 each year, set up with Benson's approval before her death on January 1, 2020, is for:

 "A current outstanding clavichord artist, teacher, researcher, composer, clavichord maker or organizer of clavichord symposiums, master classes or sessions for children. The intention is to show the significance of soft, tender tones through the clavichord. The awardee will have awakened a vivid appreciation for this delicate keyboard instrument and shown its unique ability to express music through delicate, dynamic-rich, highly-nuanced sounds."
For more information about Joan Benson:
Keyboard Master at Work
Joan Benson Clavichord Champion
For more information about EMA's scholarships, including the Margriet Tindemans Early String Scholarship, Barbara Thornton Memorial Scholarship, and Thomas Zajac Memorial Scholarship, visit EMA's Scholarships homepage.