Just a few days ago, the European Early Music Network (Réseau Européen de Musique Ancienne, or REMA) bowed to the coronavirus-pandemic inevitable and announced that its first European Early Music Summit would be fully online. Held in partnership with Bozar, the Center for Fine Arts in Brussels, the summit was designed to shed light on the early-music scene in Belgium, home to fine groups like Vox Luminis, and will still do so on its first day, Friday, Nov. 20. But the entire three-day enterprise will now be a virtual affair.
On the positive side, this allows North Americans to have an inside view of the European early-music scene this month. Although several of the sessions are scheduled a little too early in the day for most North Americans, given the time difference, the sessions will be available in a recorded format, and the conference platform will be open a week in advance.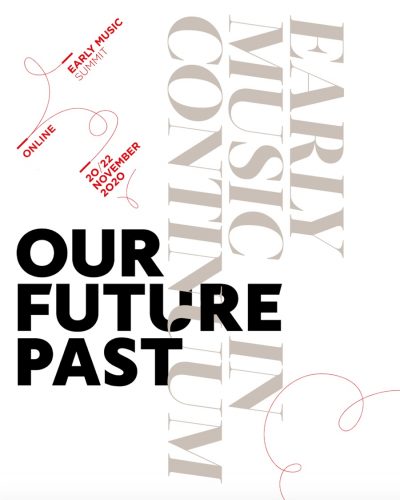 "We are offering three days with the whole field of early music," says Agathe Créac'h, project manager of REMA, which is based in Versailles, France. "In addition to the official program, the platform enables every participant to organize their schedule and get in touch with others. The digital platforms are a first experience for us!"
Two obvious highlights for North American participants — at least those on the East Coast — are panels on Sunday, Nov. 22. The first, "Digital Experiences of Music" at 13:30 CET (7:30 a.m. ET), will be moderated by Early Music America member Mikayla Jensen-Large, a McGill University graduate studying at the Schola Cantorum Basiliensis in Switzerland, and features violinist Edwin Huizinga as a panelist. The other is "The Concert of the Future" at 15:00 CET (9 a.m. ET). Both will be available to watch afterwards.
EMA member organizations have contributed to a video playlist that will be shared with summit participants, and we are working on plans for a 2021 online partnership between EMA and REMA that will allow for greater collaboration between European and North American early-music educators and presenters/ensembles. Watch this space!
EMA members are offered the same registration rate as REMA members: €35 (around $41 US), with students at €10 (just under $12 US and includes access to all events Nov. 20-22, as well as access to the networking events and app). Go to http://www.earlymusic.eu/fares/
Karin Brookes is executive director of Early Music America.