by Kyle MacMillan
Published September 13, 2021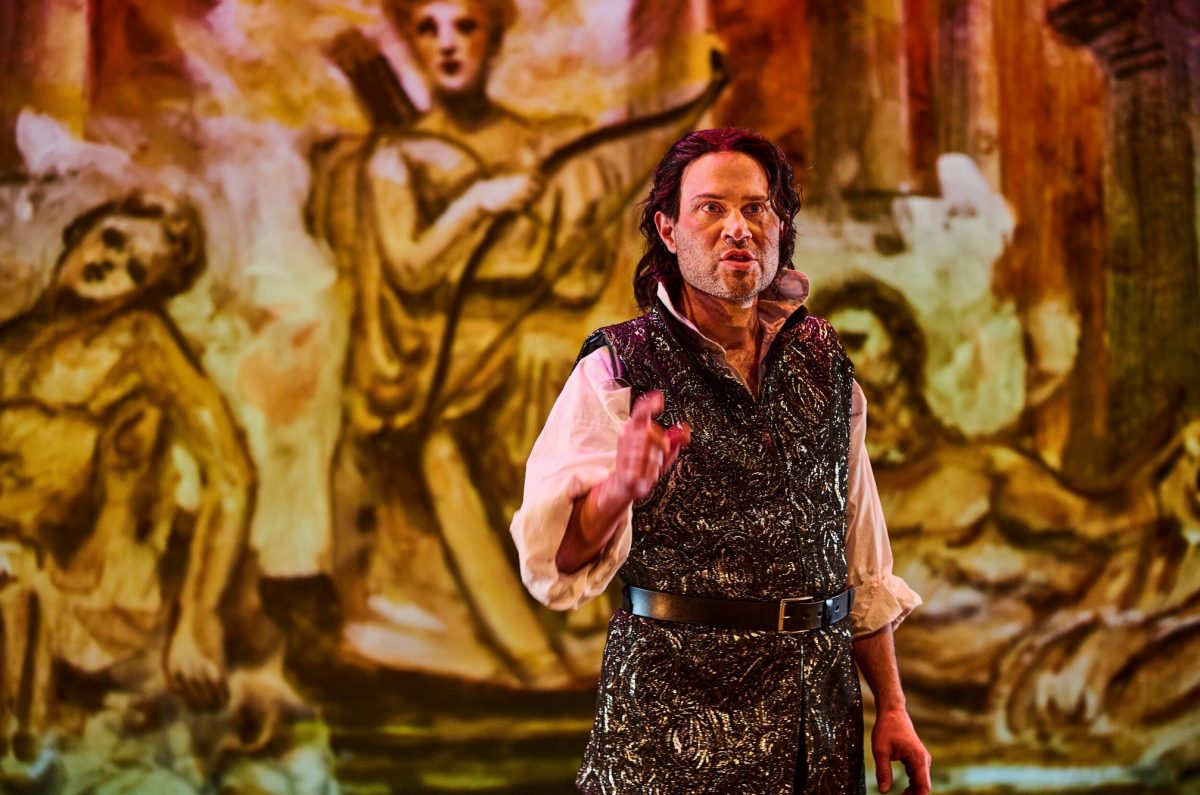 Chicago's Haymarket Opera Company has built much of its fast-growing reputation by reviving undeservedly forgotten works from the past such as The Dragon of Wantley, a zany 18th-century send-up of Italian opera by John Frederick Lampe.
But to end its all-digital 2020-21 season, the period-style company did just the opposite, producing a high-definition filmed production of one of the most admired and frequently performed operas of the Baroque era — George Frideric Handel's Orlando. The film, which runs slightly less than three hours, will be released online in three parts corresponding to the opera's acts on Sept. 16, 23, and 30, and the full version will be available Oct. 1-31 at haymarketopera.org.
With noted countertenor Bejun Mehta in the title role, Orlando is the culmination of the company's 10th-anniversary season, and it is the third of three online Handel offerings, starting with Acis and Galatea (Oct. 30, 2020) and Apollo e Dafne (March 5, 2021), a 40-minute secular cantata. With this latest opera, the company will have presented seven mostly lesser-known operatic and choral works by Handel. But just as Orlando is something of an outlier in the company's repertoire, previous productions showcased two of the celebrated composer's other operas – Amadigi di Gaula and Xerxes.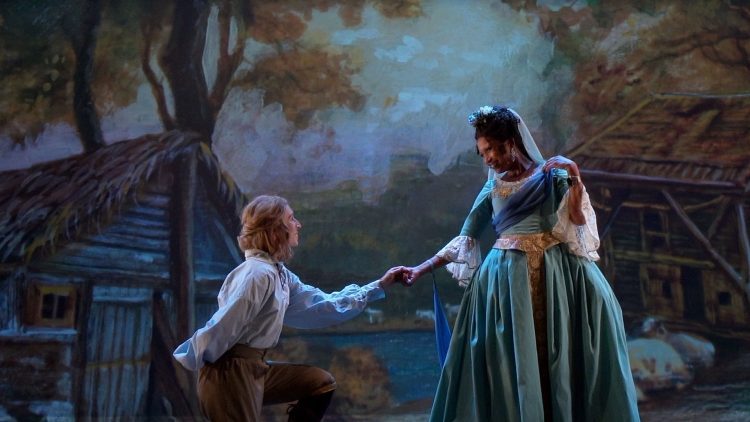 In August 2020, Haymarket announced it would present its first two 2020-21 offerings virtually with the hope that Orlando could be performed onstage with a limited audience. But because of continuing COVID-19 protocols, the decision was made to stream it online as well. The big difference is Orlando was filmed not in a production studio but onstage at DePaul University's 160-seat Jarvis Opera Hall, which Haymarket leaders hope will become the company's regular home when live performances return.
Chase Hopkins, who became Haymarket's general director in March 2020 and served as creative producer for this project, said there were three reasons to shift to DePaul, starting with a desire to get the long-discussed partnership with the university off the ground. Second, the hall offers what he called a "fantastic acoustic," which was ideal for the top-level audio quality engineers were seeking for the film. Finally, it was important to get the singers and musicians back into a familiar setting. "There's something very exciting about letting the performers do what they know how to do in the type of space they know how to do it in," Hopkins said.
Orlando, which debuted in 1733 at the King's Theatre in London, is a kind of chivalric romance. It is drawn from a play based on Ludovico Ariosto's 1516 epic poem, Orlando Furioso, which in turn traces its roots back to a celebrated 11th-century French poem, The Song of Roland. Along with the work's four tangled lovers, including Orlando, a soldier in Charlemagne's army, is Zoroastro, a wizard who adds a fantastical dimension to the opera.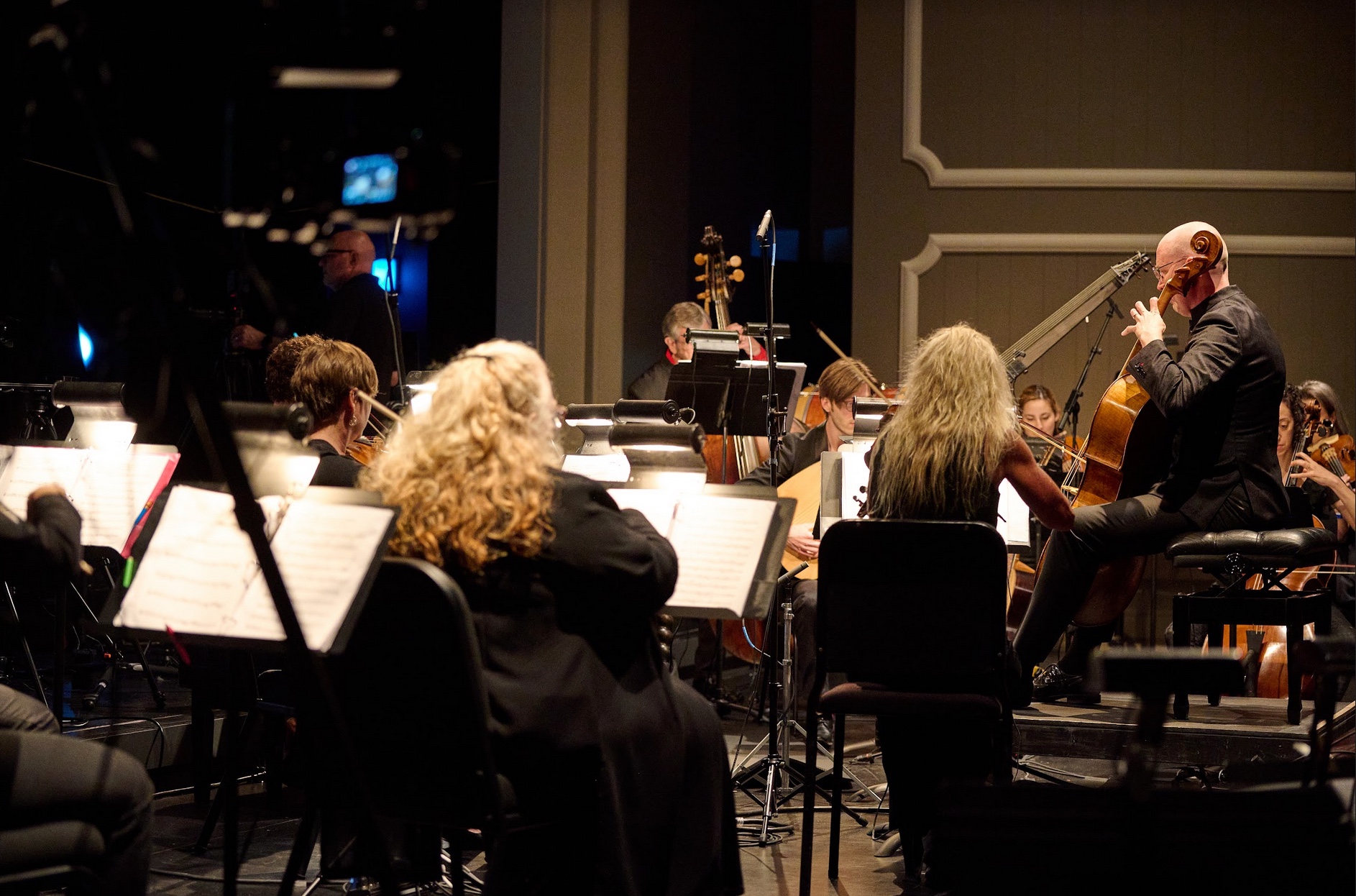 Indeed, Orlando is ideally suited to film, said founding artistic director and conductor Craig Trompeter, because it was easier, less expensive, and in some ways more effective to evoke Zoroastro's magical elements in that format than in a live performance. "This is a piece that has been on my bucket list for years," he said. "It seemed [financially] impossible for us until we decided to do it on film."
Because of COVID-19 restrictions, which called for the singers to remain in one place and maintain ample distances among them, the company chose not to engage a stage director for this production. As those protocols loosened from the time rehearsals began on June 7 through the filming June 28-30, the singers were able to interact more and add complexity to their portrayals, and they were able to wear costumes and make-up. They were given considerable theatrical liberty with a little help from Sarah Edgar, who has served as director for 10 Haymarket productions and took on the role of a staging coach here.
She prepared a "cheat sheet" for entrances and exits and answered questions about spacing and gestures, but otherwise the singers were on their own. "That process was more creative for them and kind of on the spot," Trompeter said, "whereas when we're putting together a stage production, we spend weeks and weeks making sure everyone does exactly the same thing every time."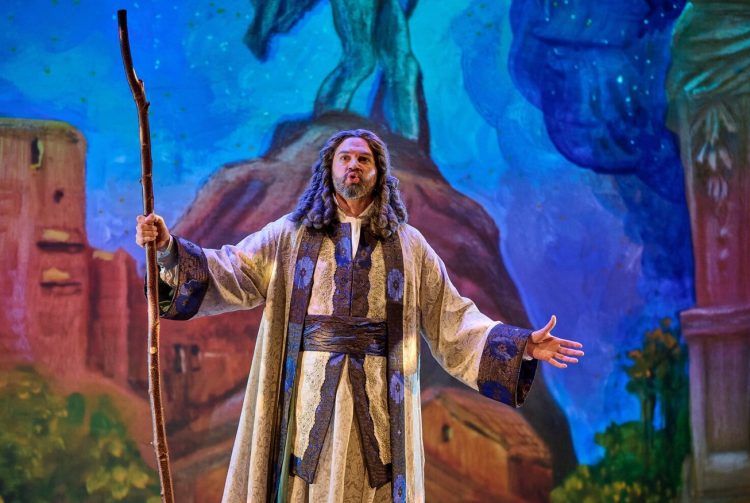 Edgar also performed a cameo non-singing role. "I've been a performer for over 20 years," she said, "so performing the role of Isabella was like slipping back into my old self. It was fun to do the multiple takes and hit the same mark every time — that's the dancer training." Other members of the cast are mezzo-soprano Emily Fons (Medoro), who appeared in Haymarket's 2018 production of Cesti's L'Orontea, as well three company regulars: bass-baritone David Govertsen (Zoroastro), soprano Kimberly Jones (Angelica), and soprano Erica Schuller (Dorinda).
Arguably, the linchpin of this production is countertenor Mehta, who appears regularly with such international companies as La Scala and the Metropolitan Opera and has made Orlando one of his predominant roles. He said it fits his voice well because Handel's vocal writing tends to sit in the middle of the countertenor range, which he has worked hard to develop. "He's an international name and great artist," Trompeter said. "It was really fun and exciting to have him, and I feel like everyone rose to a new level, having him around. I can't imagine anyone else singing the role better."
In a normal season, the American countertenor would probably not have been able to fit Haymarket into his schedule. But because of cancellations due to the COVID-19 shutdown, Mehta found himself with a small window of time, and he was grateful for the chance to come to Chicago. Hopkins called it one of the "silver linings of the pandemic." Though the scale might have been a bit different from what Mehta is used to, the singer praised Haymarket and said the experience overall was the same. "You are doing your work, showing up doing the best you can," he said. "And if you have something from your experience that you can bring to the table that helps make the thing better, then you are happy to do that."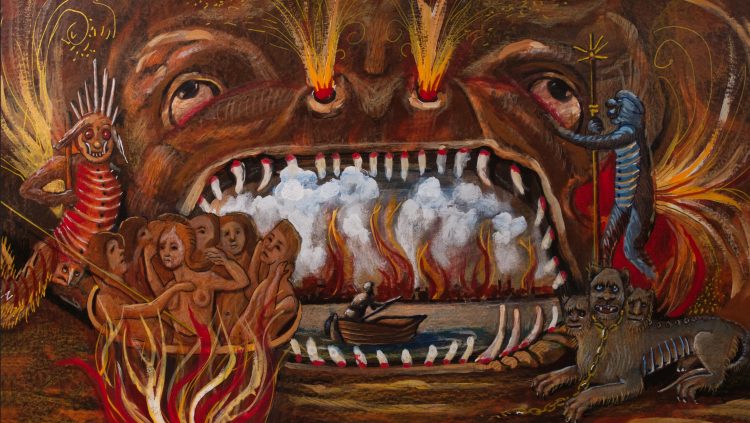 Like perspective viewers of Orlando, Mehta is curious to see how the film turns out. Even though he was part of the process, he — like the other performers — doesn't know exactly how the finished online production will look. "There were actually a lot of things that were going to happen in post-production, and we have only a vague idea of what they are," he said.
Jory Vinikour, a native and former resident of Chicago who now lives in France, was another key part of the production. The internationally known harpsichordist anchored the continuo and helped some of the singers with their vocal ornamentation. He called the filmed production a wonderful experience. "I think it may be my favorite of all the Haymarket projects I've done," he said. He gave much of the credit to Mehta, whom he extolled as a classical superstar. "Having him raise the bar very, very high was pretty darn tremendous," Vinikour said.
Haymarket used a 19-piece orchestra — one of the largest ensembles it has assembled for any of its productions. Included were two French horns, which only perform at the beginning of the opera in what Trompeter described as a martial-like section. Near the end, an intimate aria for Orlando is accompanied by just two violas. "It's one extreme to the other, and there's a little bit of symmetry to that, which I love," the conductor said. Both Vinikour and Trompeter had particular praise for theorbo player Brandon Acker, calling him an "exceptional talent" and "really exciting player."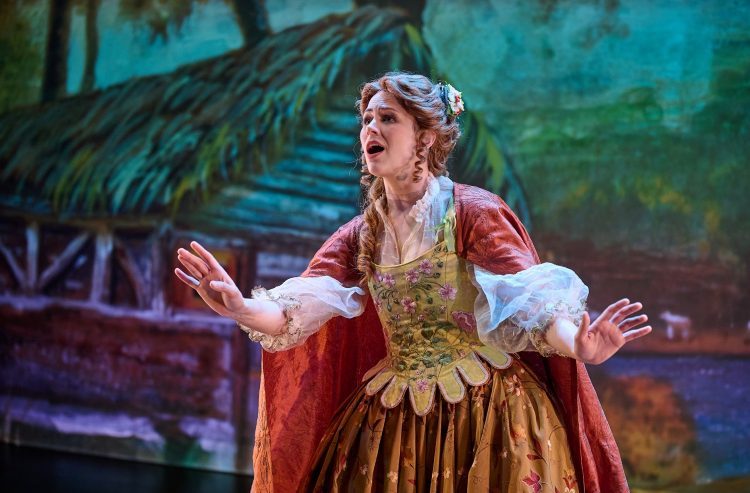 Trompeter, a viola da gamba player, conceived the idea of starting a Chicago company devoted to 17th- and 18th-century operas with period music and staging around 2006. Haymarket began operations in 2011, presenting its first production that fall — Handels's Aci, Galatea e Polifemo, a 1708 dramatic cantata. Less than a year later, it had already drawn praise in the New York Times for its "finely played, carefully sung, lovingly detailed period performance" of Marc-Antoine Charpentier's Descente d'Orphée aux Enfers.
Other milestones since have included many company debuts, such as Franz Joseph Haydn's virtually unknown 1779 opera, L'isola disabitata (The Deserted Island) — its first presentation of a Classical-era work, in 2016, and the arrival of Hopkins as the company's first general director. "Chase has been really wonderful for the company," Trompeter said. "He has a lot of great ideas and the ambition to make it into something even more exciting."
Haymarket's founding artistic director is thrilled with where the company stands as its finishes its 10th-anniversary year and prepares to release Orlando — and where it is heading as leaders contemplate touring some of its productions. "I'm very happy," said Trompeter. "It feels, particularly right now, that we're just making these big strides."
Kyle MacMillan served as the classical music critic for the Denver Post from 2000 through 2011. He is now a freelance journalist in Chicago, where he contributes regularly to the Chicago Sun-Times and Modern Luxury and writes for such national publications as the Wall Street Journal, Opera News, Chamber Music, and Early Music America.
Recent EMA Features
A Q&A with Music Before 1800's new artistic director Bill Barclay: 'If people are going to take a risk of coming to a concert for the first time, they need something to hold on to'... it's 'sadly a bit of an exclusionary pleasure — you have to know a little bit to get a lot out of it, unless there's something that resonates and makes people understand that early musicians are arbiters of ancient insights into human performance.'
The latest essay in EMA's 'Early Music: the Americas' series looks into the private notebooks of two women who preserved music of Latin American and European composers -- music that in some cases is found nowhere else.
Video games generate more revenue than the movie industry, and many games are set in 'legendary times' that cry out for an early music soundtrack. As technology improves, many games employ early music not just as background but as element of play.