by
Published January 20, 2017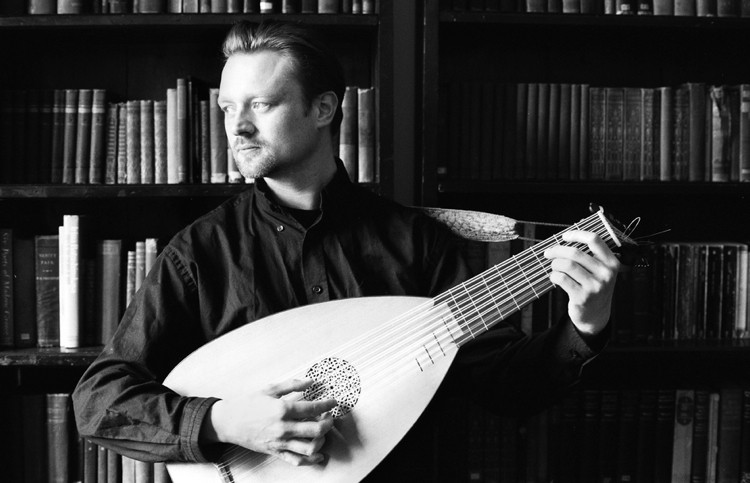 Classical Vienna: Music for Guitar & Piano
.
James Akers, Romantic guitar; Gary Branch, fortepiano
Resonus Classics RES10182
By Benjamin Dunham
CD REVIEW — When this disc first begins to spin, the listener is embraced by the most wonderfully delicate and engaging texture — on period guitar and fortepiano — two sounds not too dissimilar but whose ictus are distinct: a manicured hand in a fitted leather glove.
Scottish guitarist James Akers, playing an original 1820s instrument by Saumier and a modern Panormo replica by James Cole, and British pianist Gary Branch, playing an 1826 Conrad Graf fortepiano from the Richard Burnett Heritage Collection of Early Keyboard Instruments, present an inviting program of music that might have been heard in Viennese salons in the first half of the 19th century.
For this listener, the real find among the composers is an exact contemporary of Beethoven, Fernando Carulli (1770-1841), a truly musical spirit with a song in his heart. His three pieces form the spine of the program: beginning, middle, and end. Nocturne No. 1 is sprightly in mood, not luminal. Nocturne No. 2 is a gallant march fit for elves. The Variations on Themes by Rossini explore the simple radiance of "O, mattutina albori" from La donna del Lago and concludes with spirited changes on a theme from La Gazza Ladra.
While the Sonata for Piano Forte and Guitar, Op. 71, of Anton Diabelli (1781-1858) may be heard mostly as a recommendation of his prowess as a music publisher, the solo piano Fantasia on "Potem Mitzwo!" in F minor by Ignaz Moscheles (1794-1870) is truly remarkable. This probing musical commentary on a Jewish funeral lament was published in 1804, when the prodigy was 10. He could hardly be expected to plumb such depths. It is possible that the 1803 death of his 16-year-old half-sister, Rebeka, prompted this early inspiration (thanks, Ancestry.com!).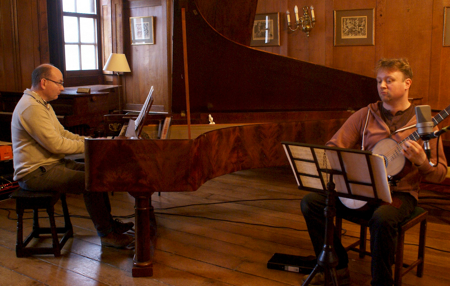 The disc includes two works of Mauro Giuliani (1781-1829), a guitarist-composer whose music is seldom overlooked on guitar recordings, and for good reason. His Sonate Brillante for solo guitar, Op. 15, whose first movement Julian Bream arranged and recorded, is given a subtle, colorful reading, if without Bream's bravura. The Variations on Paisiello's "Nel cor più non mi sento" are worth hearing; the finale, "Polonaise," will get your feet tapping.
Two of the works recorded here, the Diabelli sonata and the Giuliani variations, are also included on a 2009 Musiphon disc, Wiener Serenaden, with Maximilian Mangold, historical guitar, and Kristian Nyquist, fortepiano. Their performances have a bit more bite and presence than those of Akers and Branch, but no matter. Just lean back and take in the warm sound of these persuasive artists, imagining you are at a Viennese house concert in the early 19th century. It's a treat.
Former EMAg editor Benjamin Dunham has reviewed recordings for The Washington Post and Musical America.
Recent EMA Recording & Book Reviews
Emily Zazulia's valuable 'Where Sight Meets Sound: the Poetics of Late-Medieval Music Writing' explores notational aesthetics in polyphonic music, where it's not obvious how you're meant to sing what's on the page.
Long undervalued, Alessando Scarlatti's vocal writing naturally weds singable lines with the Italian language. Ars Lyrica Houston's colorful new recording of a Scarlatti oratorio, with an outstanding cast, makes a brilliant case for this rarely heard music.
On their latest stellar recording, the Suspicious Cheese Lords focus on Palestrina's 'Missa Illumina oculos meos,' and the lengthy motet by Andreas de Silva on which it's based. World premiere recordings, beautifully sung.