by Anne E. Johnson
Published December 5, 2022
Virtuosa. Infusion Baroque. Two CDs. Leaf Music.
In Virtuosa, Infusion Baroque proves there is always more to be discovered about women in music. While the familiar names Clara Schumann and Élisabeth-Claude Jacquet de la Guerre are represented on the track list, many listeners will be introduced to composers like Leopoldine Blahetka (1809-1885) and Teresa Milanollo (1827-1904).The recording is part of the Canadian ensemble's Virtuosa Project, which also comprises live shows and a series of YouTube videos. But the two-disc recording is the heart of the matter, embracing the compositions of ten women plus four men considered worthy by association—Rameau and Boccherini, for example, since was each impacted by important female harpsichordists.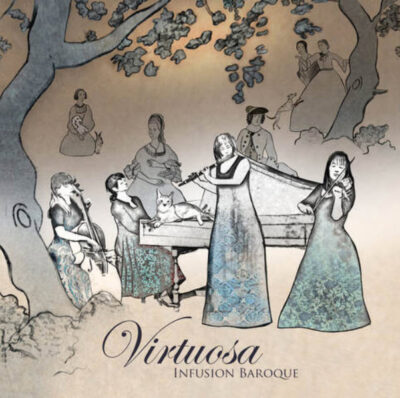 Infusion Baroque is a strong period-instrument ensemble, with Alexa Raine-Wright on flute, Sallynee Amawat on violin (profiled by EMA earlier this year), Rona Nadler on harpsichord, and Andrea Stewart on cello and viola da gamba. They are joined on Virtuosa by soprano Ariadne Lih, violinist Sari Tsuji, and fortepianist Gili Loftus. The result is an array of groupings that sound equally convincing and enthusiastic whether they're tackling Princess Anna Amalia of Prussia's Flute Concert in F major, from the 1770s, or Linda Catlin Smith's Versailles, from 1988.
In the CD's comprehensive and illuminating booklet, Anna Bon (c. 1738-after 1769) is noted for her "uncommonly successful career for a woman of her time." Her three-movement Divertimento No. 3 in D minor, Op. 3, published in 1759, was among the pieces she wrote for flutist patrons in Bayreuth. The ensemble's performance is a masterclass in balance, not only of affect, but of sonic interplay among the various instruments. The opening Andantino, particularly, which might easily fall into a flute-versus-ensemble competition, instead emerges as genuine collaboration.
The prominence at that time in Bavaria of flute music, and of music in general, was partly thanks to Wilhelmine Von Bayreuth (1709-1758), princess, patron, and composer. Her Flute Sonata in A minor is included here. While Raine-Wright carefully crafts her energetic flute line in the second-movement Presto, Stewart deserves a nod for giving life to the barrage of eighth notes in the cello line without ever making them monotonous. The finale Allegro is a delightful, sprightly gigue.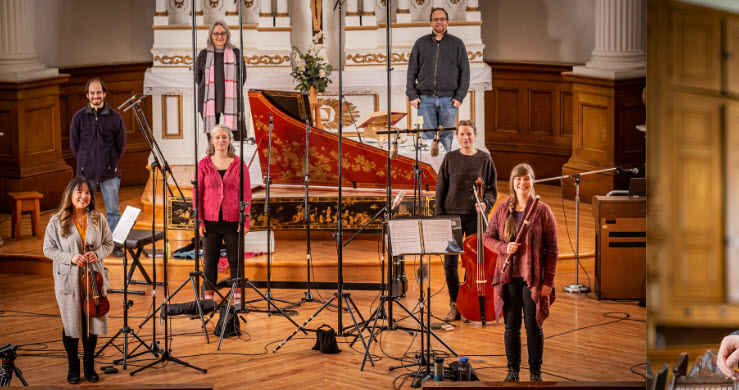 It's not all flute music. Another well-crafted sonata, Op. 1, No. 5 in G by Maddalena Lombardini Sirmen (1745-1818), features two violins, but the cello has a nearly equal role that would have made Papa Haydn proud, as would the contrasting darkness of the minor section in the opening movement.
Loftus' fortepiano gets a chance to shine on the Grande Sonate, Op. 11 by German piano prodigy Hélène Liebmann (1795-1869), who studied with students of Clementi and Beethoven. As with every track on Virtuosa, the performance of this work for keyboard and cello is marked by careful, mutual listening between Loftus and Stewart. The final-movement variations on Mozart's "La ci darem la mano" demonstrate Liebmann's considerable skill.
This collection makes one hope for more works by women to be discovered and premiered. "While part of me mourns the works and performances that never got to be created," Stewart says in the liner notes, "I celebrate that there is still so much more to be found."
Anne E. Johnson is a freelance writer based in Brooklyn. Her arts journalism has appeared in the New York Times, Classical Voice North America, Chicago On the Aisle, and Copper: The Journal of Music and Audio. For many years she taught music history and theory in the Extension Division of Mannes School of Music.
Recent EMA Recording & Book Reviews
Emily Zazulia's valuable 'Where Sight Meets Sound: the Poetics of Late-Medieval Music Writing' explores notational aesthetics in polyphonic music, where it's not obvious how you're meant to sing what's on the page.
Long undervalued, Alessando Scarlatti's vocal writing naturally weds singable lines with the Italian language. Ars Lyrica Houston's colorful new recording of a Scarlatti oratorio, with an outstanding cast, makes a brilliant case for this rarely heard music.
On their latest stellar recording, the Suspicious Cheese Lords focus on Palestrina's 'Missa Illumina oculos meos,' and the lengthy motet by Andreas de Silva on which it's based. World premiere recordings, beautifully sung.