by Parker Ramsay
Published November 28, 2022
Is it time to break down boundaries between singing and playing?
One of the benefits of growing up in a house of classical musicians was the record collection. My sister claimed Mom's Rubber Soul and Graceland, while I latched onto albums from Archiv, Deutsche Grammophon, and Columbia (as well as Dad's short stack of Blood, Sweat & Tears). Leonhardt, Harnoncourt, Wandowska, and other pioneers of period-instrument performance were on our LPs; so were pioneers of historical repertoire who remained outside the zone of historically informed practice.
Among the latter was conductor-polymath Robert Craft—known primarily as Igor Stravinsky's amanuensis—without whom Carlo Gesualdo (1566-1613) would possibly have remained in semi-obscurity for decades more.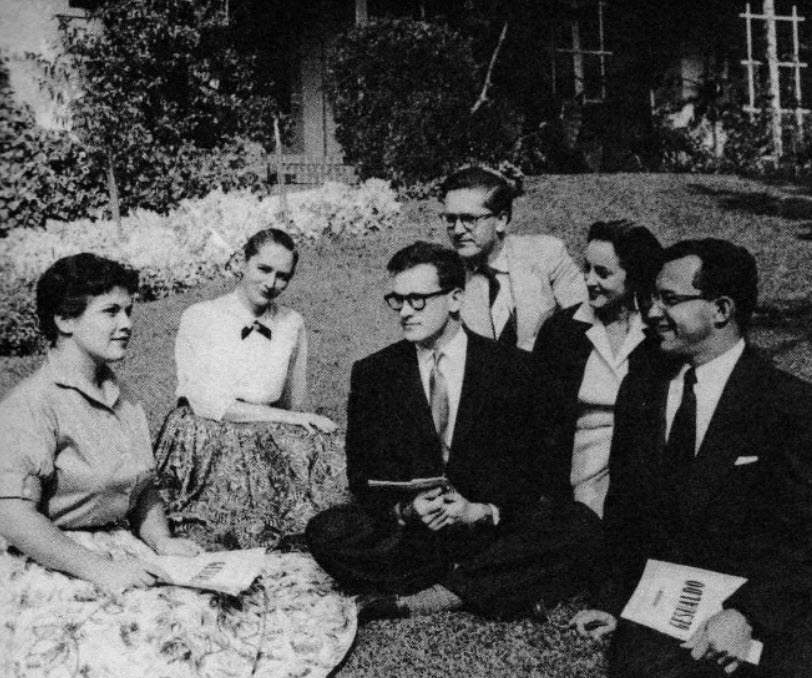 Craft's 1959 and 1967 recordings of Gesualdo's vocal music were intriguing for many reasons. For one, there was the fascination of hearing Gesualdo's music sung, rather than played. Stravinsky himself (urged on by his assistant) championed Gesualdo's music, creating orchestral transcriptions of highly chromatic vocal works as heard in his eight-minute Monumentum pro Gesualdo (1950), a collaboration with choreographer George Balanchine for the composer's 400th anniversary.
Under Craft's direction, Gesualdo's madrigals and motets were sung one to a part, evoking the intimacy of close ensemble singing that was starting to be associated with the musical praxis of yore. In Volume 1 of Craft's collection, I recall that the B side starts with "O dolce mio tesoro" from Book VI of the Madrigals. The end features mezzo-soprano Marilyn Horne absolutely crooning on a hair-raising 9-8 suspension. The intense drama comes from the dynamism of performing one to a part. For many, this is Gesualdo and the Italian madrigal as it's meant to be.
Or is it?
Cineastes might know Gesualdo from Werner Herzog's 1995 film Death for Five Voices. Sure, the title is horrible and much of the "documentary" peddles fabrication. But lovely performances of Gesualdo's music are interspersed with meditations on the composer's famously bloody legacy—sex, adultery, sorcery, a double murder, and so much more. At one point, a group of singers (Il Complesso Barocco, led by Alan Curtis) perform alongside a harp and an Italian virginal, which provide harmonic backing and show the effectiveness of instruments being integrated into polyphonic vocal music.
For the HIP community, this feels somewhat affirmative: a major filmmaker was featuring, back in the mid-'90s, what is now increasingly expected in the performance of Renaissance vocal music, including hearty strums, twangs, and toots from a continuo band. To this end, I'm partial to Philippe Herreweghe and Collegium Vocale Gent's extraordinarily sensitive recording of Book VI, featuring lutenist Thomas Dunford. For many, this is how we ought to experience the greats of the Italian Renaissance.
Or is it?
More recently, I've grown besotted with the work of artists who undertake the practice of singing while playing, particularly in Italian repertoire. A group called Concerto di Margherita stands out. They revive the practice, as they describe it, of "accompanying oneself on an instrument, in a vibrant and dynamic collective gesture, where five voices fuse with five instruments to create a unique sound."
The level of expression is very high. The ensemble is tight for the simple reason that the instruments and voices are not permitted to conflict. They are performed by the same person.
Concerto di Margherita tends to focus on late 16th-century repertoire from Ferrara, home of the Concerto delle Donne, a group of female performers lauded for their performances as singer-instrumentalists. This includes the music of Ferrarese composers such as Luzzasco Luzzaschi and his student Girolamo Frescobaldi, but also music heard at the court farther north in Mantua, where Margherita d'Este resided after her marriage into the Gonzaga duchy. The repertoire has expanded to include that of Giaches de Wert and even Monteverdi, whose ties with Venetian music potentially pushes the musical territory even farther.
Concerto di Margherita is not alone in both singing and playing. Nicolas Achten is a young Belgian who sings and also accompanies himself on myriad instruments: harp, theorbo, and even keyboard. (This in itself is another historical practice recovered, as harps and theorbos were considered part of the same family of instruments, with varying degrees of interchangeability.)
Achten's performances with Scherzi Musicali showcase incredibly tight ensemble playing, but also explore the potential for what musicians can do when the boundaries between singing and playing are broken down. One of Achten's most convincing online performances is "Possente spirto," from Monteverdi's L'Orfeo, in which he sings and performs the virtuosic harp solo.
At what point will these practices make their way into Gesualdo performances? We know that his accademia in Naples included composers such as Jean de Macque, a Flemish composer who (in all likelihood) was composing his madrigals for the Concerto delle Donne, as Naples had close economic and musical ties with the Este court in Ferrara. It might be a stretch of logic that self-accompaniment can be found beyond Ferrara and into repertoire farther afield in Italy. But by the same stretch, a whole host of works can be approached in the same manner since musical works, in this era, had high levels of interconnectivity.
Of course, Gesualdo's music is highly chromatic and technically demanding, and there remains a question of exactly what type of instrument might be appropriate. Gesualdo's instrumentarium included a cimbalo cromatico with 19 notes in the octave, likely a child of Nicola Vicentino's archicembalo, which contains 31 notes in the octave. Because of the fad of intense chromaticism in Naples in Gesualdo's lifetime, the nitty-gritty of accompanying his music is only now being explored. Another set of questions concern whether fretted and plucked instruments—such as viols, harps and theorbos, which are designed to have 12 chromatic notes in an octave—are indeed suitable for music that may entail shifts in syntactic commas. In this matter, it's particularly interesting to follow the work of Johannes Keller, who even filmed a rehearsal of singers working with an archiorgano.
So how is Gesualdo meant to be heard, sung, played? Answers always beget more questions about the material, but also about our responsibilities as musicians and educators. It's no secret that instrumental and vocal disciplines remain largely separate (except at places like the Schola Cantorum, where integration is more common). Approaching vocal music of Gesualdo or any of the Italian Renaissance composers urges us to get with the program.
Instrumentalists might have to learn to sing. Only then can they adjust their understanding of harmonic architecture in deference to their own expression of text. Like the Beatles, Paul Simon, and Blood, Sweat & Tears, singers may need to play an instrument at the same time, engage with a more vertical approach to harmony, and even re-learn concepts of intonation as might be required by music from the early Roman and later Neapolitan schools.
This is among the more exciting developments in historical performance, one that might reshape our understanding of what music is from this period and, especially, how it goes. It will challenge us to step far outside our comfort zones, be we singers or instrumentalists.
Parker Ramsay's latest recording is The Street, a concert-length solo for harp and narration by Nico Muhly and Alice Goodman. His season includes a residency at IRCAM in Paris. While serving as organ scholar at King's College, Cambridge, he earned his undergraduate degree in history, and later pursued graduate studies in historical performance at Oberlin and modern harp at Juilliard.
Recent EMA Features
A Q&A with Music Before 1800's new artistic director Bill Barclay: 'If people are going to take a risk of coming to a concert for the first time, they need something to hold on to'... it's 'sadly a bit of an exclusionary pleasure — you have to know a little bit to get a lot out of it, unless there's something that resonates and makes people understand that early musicians are arbiters of ancient insights into human performance.'
The latest essay in EMA's 'Early Music: the Americas' series looks into the private notebooks of two women who preserved music of Latin American and European composers -- music that in some cases is found nowhere else.
Video games generate more revenue than the movie industry, and many games are set in 'legendary times' that cry out for an early music soundtrack. As technology improves, many games employ early music not just as background but as element of play.