by Natasha Gauthier
Published June 20, 2022
Talk to Sallynee Amawat about music for any length of time and you'll hear the verb "connect" mentioned repeatedly.
Whether she's seeking out collaborators and partners in unexpected places or describing how she chooses pieces for a program and weaves them into a story for the audience, it's clear that connection is Amawat's creative fuel as well as her goal.
Amawat is a Thai-American Baroque violinist and artistic director of Infusion Baroque, the all-women instrumental quartet that won both the Grand Prize and Audience Prize at the 2014 Early Music America Performance Competition.
Over recent years, Infusion Baroque has produced The Virtuosa Project, a web series of elegant animation and brilliant performances, each exploring the music and life of a woman from the 18th or 19th centuries, including the flutist Princess Anna Amalia of Prussia, cellist Lise Cristiani, violinist Teresa Milanollo, and harpsichordist Élisabeth-Claude Jacquet de La Guerre. The videos are online now.
Infusion Baroque will perform a Virtuosa concert at the Montreal Baroque Festival on June 23, part of the festival's Cadence Féminine conference, spotlighting historical and modern women in early music. The full Virtuosa album drops June 24 on all streaming platforms.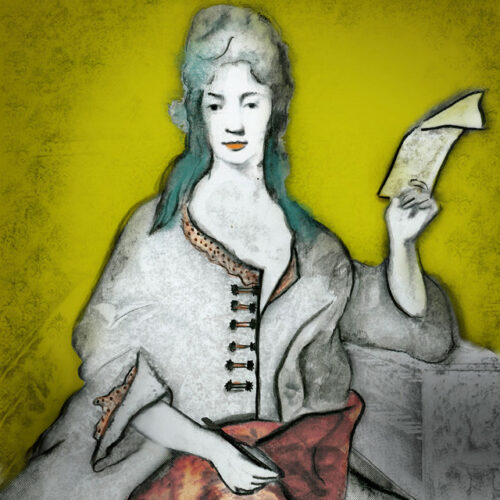 Another Infusion Baroque project is East is East, featuring arrangements inspired by traditional Persian music plus Vivaldi, Corelli, Monteverdi, Fux, and a suite of Indo-Colonial airs. With a slew of guest artists, including Iranian-Canadians Amir Amiri (santur), Hamin Honari (tombak and daf), and Indian-American soprano Vidita Kanniks, they performed last month in Montreal and are planning a recording and tour in 2023.
One goal behind East is East, says Amawat, is to "expand the scope of early-music performance practice rather than perform much of the 'exoticized' repertoire from the past that has little to do with Eastern music traditions."
Learning subtle codes, in music and manners
A busy freelancer, Amawat also plays in several North American early-music groups including Studio de musique ancienne de Montréal (SMAM), Les Boréades de Montréal, and Arion Orchestre Baroque, in addition to pursuing her own independent projects. 
Connecting with others through the communal activity of making music has always appealed to Amawat more than individual glory as a soloist. She was born in Chicago to parents who immigrated from Thailand in the 1960s. (Her first name is pronounced Sah-LEE-nee; her Instagram handle advises @dontcallmesally.)
"My father put me in lessons when I was two and a half. I had a facility for it, but I was a pretty indifferent student until I joined a youth orchestra when I was 12 or 13," she says over video chat from Montreal, home now for more than a decade. "That's when I fell in love—not just with my own instrument, but with playing in a group, working toward a shared goal, hearing how all the different parts of the orchestra came together."
When she was 18, Amawat accompanied her parents when they moved back to Bangkok after they retired. To say she experienced culture shock is an understatement.
"I had heard my parents speaking a little Thai at home but I had no practical knowledge of the language. If I wanted to make friends, I had no choice but to learn, so I did. I'd say I was fluent within a year."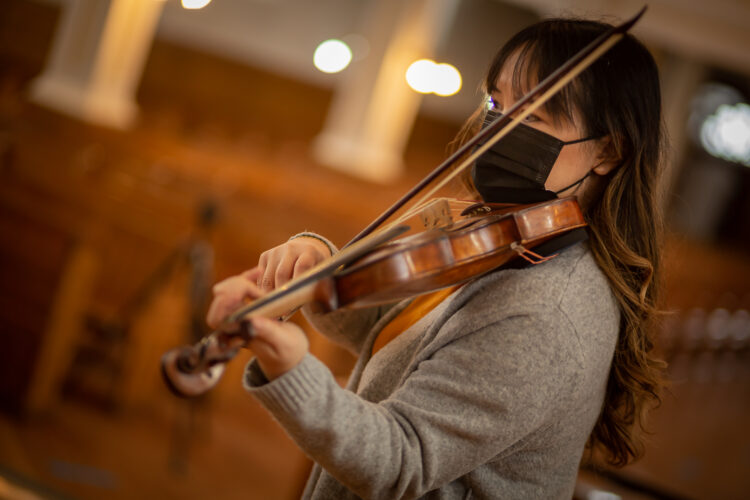 Learning the subtle social codes proved even more challenging.
"That was the most difficult thing to deal with. I looked Thai, I had a Thai name, but the second I opened my mouth people would know I wasn't 'really' Thai. I would get comments. It's impossible to talk and act a certain way if you haven't grown up in the culture. It took me several years to figure out who I was, and who I wasn't."
Amawat stayed in Thailand for 12 years, completing an English-language undergraduate degree in Business Administration at Mahidol University, playing violin in the Royal Bangkok Symphony and teaching music to K-12 students at the International School. Eventually, she decided to pursue modern violin as a career, and returned to the U.S. to do a master's degree with Katie Lansdale at the Hartt School (University of Hartford).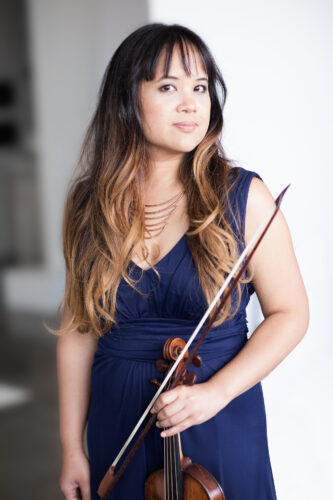 "I became curious about Baroque violin when I was doing my master's," she recalls. "There's a summer Baroque Performance Institute at Oberlin where they have instruments they can lend you, and I wanted to attend. A lot of modern violin teachers really don't want their students to have anything to do with Baroque violin because the feeling is it will somehow ruin your technique. But Katie was always really encouraging."
At this institute, Amawat attended a performance of the Haydn Baryton Trios by faculty, including violinist Emlyn Ngai.
"Hearing that music on gut strings struck me to the core," she says. "My whole time at the summer institute, I remember struggling because all your instincts as a modern violinist, especially with bowing, are the opposite of how you need to play. But I came back and told Katie that was what I wanted to do. I just felt a connection." That word again.
"I've always said that part of me was meant to play the viola or the cello because I'm drawn to the warmth of that lower register. With gut strings I get to play around with those dark, warm colors."
The intimate, cozy ambiance of chamber music played on period instruments appealed to Amawat, as did the foundation of scholarship behind the expressive interpretation.
"With romantic and modern repertoire, I feel like we play a lot of things a certain way because we're told 'that's how it's always been done'. Or because that's how Heifetz or Stern did it. There's less questioning. Whereas with earlier repertoire, there's so much value and weight to every decision."
Attracted by the vibrancy of the Baroque performance and musicology scene there, Amawat moved to Montreal to do a D.Mus at McGill University under Hélène Plouffe.
"Early music in Montreal is extremely varied," she says. "There are a lot of groups for a relatively small population, but everyone is doing their own thing, everyone has a niche. I think the (public) funding model in Quebec and Canada makes it easier to be experimental and try new things. I think that in the U.S., where everyone depends on private philanthropy and subscriptions, people want to play it safe because they're worried about keeping the donors happy. You see that in the programming at symphony orchestras and opera companies of course, but also in some of the early-music series."
A willingness to take risks and that ever-present hunger for connection across eras, continents and cultures have resulted in Matchanu, one of Amawat's most personal and original projects.
A collaboration between Amawat and Canadian dancer Benjamin Tardif, the performance pairs French Baroque ballet music—think "Les Sauvages" from Rameau's Les Indes Galantes—with magical khon masked dance and classical Thai instruments to tell the story of the deity Matchanu. It premiered online in February 2022 and the co-creators hope to perform it live in the near future.
In legend, Matchanu was half fish and half monkey. This dual nature—being at home in two cultures yet perpetually foreign—was something that resonated with both Amawat and Tardif, whose artistic journeys mirror each other. Where Amawat has devoted her life to Western classical music, Tardif fell in love with khon on a visit to Thailand when he was 18—the same age Amawat was when she moved there—and he's spent the years since studying the form with its greatest masters while fully immersed in Thai life. Amawat is quick to dismiss any concerns about a white artist seemingly appropriating her ancestral culture.
Her collaborator Tardif "is more Thai than I am," she laughs. "He assimilated into the culture there much more completely than I ever did, and in less time, even though both my parents are from there. Everything he does is in collaboration and consultation with his Thai teachers and co-performers. It's completely thoughtful and respectful. Everything he does is to further the art form."
Describing how she and Tardif worked together on the concept, she mentions the word "connection" once again.
"Both khon and French court music have their roots in royal tradition. We know there were cultural exchanges between the courts at Versailles and in Siam. We know Louis XIV admired the dignity of the Siam court and modeled some of his ceremonies on those of the Siam emissaries. And the earliest written account we have of khon is from a French chronicler who traveled to Siam in the 17th century. It's interesting to me that so much of what the Thai know about khon is based on this 17th-century foreigner's description, with all its biases."
Multidisciplinary projects like Matchanu, or Infusion Baroque's clever Who Killed Leclair? murder-mystery musical drama, exemplify the type of connection for which Amawat is always striving, one that is emotional and visual, not only auditory.
"For me," she says, "it's always about, how do you pull the audience in? And usually, that means telling a story. If I wasn't a Baroque violinist I think I'd be in an opera orchestra, because there's always a theatrical element to the music."
Natasha Gauthier is a faculty member of the San Francisco Conservatory of Music's 2022 Rubin Institute for Music Criticism. She writes frequently for Opera Canada and La Scena Musicale, and is the former classical critic for The Ottawa Citizen. She has a BA in Journalism from Concordia University in Montreal, where she also completed advanced studies in piano and harpsichord. A South Asian-Canadian critic and journalist, she has been a passionate advocate for diversity and representation on stages, staffs, and boards for more than 25 years.
Recent EMA Features
Do students need a degree in historical performance to enter the field of early music? Most instrumentalists are positive about the need for a specialized degree. Singers? Not so much. But for anyone considering a degree in early music, ask yourself, "What does the program offer?"
Are clothes of the period part of a historically accurate performance? Opinions vary about what constitutes an acceptable period outfit, but advocates of historical attire in early music have one thing in common: They believe the costume helps enrich the music's context.
The Baroque Chamber Orchestra of Colorado started an apprentice program in 2007, in part to mentor the next generation, to scout for new members, and to bring fresh perspectives into the ensemble. They've succeeded in all these aspects.