by Jacob Jahiel
Published July 3, 2023
Because, countertenor Reginald Mobley with pianist Baptiste Trotignon. Alpha Classics ALPHA936
On their new album Because, American countertenor and early-music specialist Reginald Mobley and French pianist Baptiste Trotignon offer a collection of music from the Renaissance.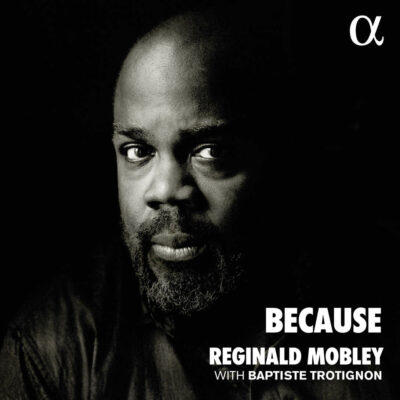 No, not that Renaissance.
The album is an updated compendium of Negro spirituals, slave songs, and art songs published, collected, or written in and around the Harlem Renaissance — a period of revival in Black art, literature, culture, and music that spread from the Manhattan neighborhood throughout the United States and the Western world in the early 20th century. Forget Josquin and Petrarch — this movement and these songs have impacted American music on a scale that is unsurpassed, from jazz to pop to hip-hop, as well as a significant body of classical repertoire.
In recent years, Mobley has emerged as among the most in-demand countertenors on the early-music scene, performing in venues as varied as the high mountains of Montana and Buckingham Palace. With Because, his first solo album, he offers a powerful portrait addressing the musical legacy of Black spirituals and the complicated paradoxes contained within them: themes of bondage and salvation, power and tenderness, pain and beauty, spirituality and temporality.
Listen to them in the opening of "Sometimes I Feel Like a Motherless Child." It's electrifying:
We rarely hear a countertenor wade into this repertoire, and Mobley's voice, which seems to get better by the year, is wonderfully pristine. Like good champagne, his tone is both effervescent and rich. In 20th-century art songs such as Florence Price's "Because I Had Loved So Deeply" or Harry Burleigh's "Jean," or traditional spirituals like "Were You There When They Crucified My Lord?" and "Nobody Knows the Trouble I've Seen," he does not produce sound so much as spin it in long, sumptuous phrases.
But good technique is no guarantee for success. With this music, classical training is as likely to hinder as it is to help. There is always a risk of imposing stylistic choices that sanitize rather than galvanize. However, listening to Because, you hear as much of a great gospel singer like Mahalia Jackson as you do of a great Handelian countertenor. As he explains in a Gramophone Magazine podcast, Mobley's relationship with this music started much earlier than his singing career.
As an accompanist and arranger, Trotignon is both resourceful and inventive, and it's clear that he also lives and breathes this music. At the piano keys, he navigates a constellation of gospel, blues, jazz, and ragtime idioms, all without devolving into a vague stylistic mush. No one could accuse him of being a minimalist — his flourishes are as virtuosic as they come — but he's also an attentive duo partner and imaginative improviser.
Unlike most genres of "early music," Negro spirituals hardly need to be resurrected — like the histories and experiences they represent, they have consistently refused to be stamped out. And with their imaginative arrangements and potent performances, Mobley and Trotignon have reimagined and re-enlivened these songs, powerfully bringing them into this century just as they were carried into the last.
Jacob Jahiel is a writer, editor, and viola da gambist currently living in Baltimore. He was a fellow at the 2022 Rubin Institute for Music Criticism's Emerging Writers Program.
Recent EMA Recording & Book Reviews
People who love Wagner operas can separate his music from his toxic beliefs. Yet J.S. Bach's 'superlative ability to move listeners' and status as 'a pinnacle of Western art' brushes aside the composer's harsh theology and often intolerant personal philosophy. In this collection of essays, Bach scholar Michael Marissen warns us to 'not soften or assimilate this figure to our own preferences, no matter how much we find inspiration, solace, or transcendence in his art.'
Trumpet soloist Josh Cohen and Ensemble Sprezzatura bring together regal flair and expressive grace with 'Altissima,' exploring the varied colors and dimensions of the high Baroque trumpet. The recording makes an ideal introduction to myriad trumpeting styles through mostly unfamiliar repertoire.
Billed as the first recording on period instruments, violinist Aleksandra Kwiatowska and fortepianist Andres Muskens offer strong performances of Louise Farrenc's complete music for violin and keyboard.