Early Music America is pleased to announce that Brandi Berry Benson is the second recipient of the biennial Thomas Zajac Memorial scholarship. Benson plans to use the scholarship to explore the intersections between Chickasaw and Choctaw dance and song traditions and the musical styles and genres of European settlers in 18th- and 19th-century North America.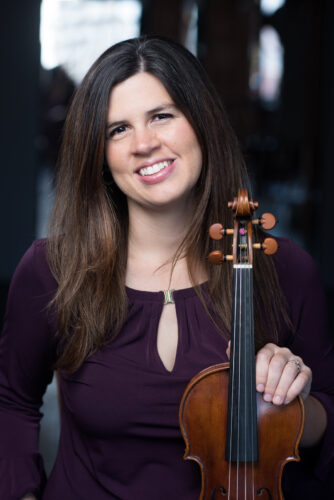 The selection was made by a jury of musicians who knew and worked with the great multi-instrumentalist and educator, Tom Zajac (1956-2015). The scholarship, funded by donations from Tom Zajac's friends and colleagues, provides a biennial award of $1,500 to early-music performers and scholars pursuing specialized study in regional and/or folk traditions, instruments, or styles for the purpose of exploring cultural interconnections in early music.
Tom Zajac's research, and the educational and performance programs he developed from it, often focused on the cross-fertilizations that occurred when disparate cultures were thrown together by turbulent forces of history such as colonization, war, migration, and trade. Zajac was curious about the new musical forms that would gradually emerge from these encounters as expressed in the more-intimate sphere of local communities.
From a strong pool of scholarship applicants, Brandi Berry Benson's proposal emerged as an exemplary expression of this curiosity and the scholarship's mission while seeking to bring forward underrepresented voices in early music. She writes: "I plan to use this scholarship threefold: 1) to research the exchange of musical ideas between the Chickasaw and Choctaw Nations with the European settlers during the 18th and 19th centuries, 2) to write and publish my findings…including, but not limited to, hymn traditions, social dances, and other music traditions, and 3) use these findings as the scholarly foundation to produce a musical narrative work called the Story of Pa I Sha that will incorporate these melodies and other musical traditions of the Chickasaw and Choctaw Nations in telling the stories of my ancestors…The Story of Pa I Sha will be performed in November (Native American Heritage month) in partnership with the Mitchell Museum of the American Indian and 3Arts. The development of this work and this research will be documented in the form of audio and video recordings as well as written articles."
Benson's initial research into the music of the Chickasaw nation inspired her to compose her Chickasaw Suite based on three Chickasaw melodies. She later discovered the first formal hymnal of the Choctaw and Chickasaw tribes, compiled by the missionary Cyrus Byington who lived among Choctaw people and heard their songs as he walked with them on the Trail of Tears. Her further research uncovered interactions between these tribes with the English and French, including an 1830s publication of stomp dances and social dance melodies captured in Western musical notation.
Benson writes: "My hope is that [this research] will go beyond this project and promote further dialogue and programming of the collective Native American voice in early music. I am humbled and grateful to be selected as the recipient for this year's Thomas Zajac Memorial Scholarship. Having had the privilege to play alongside Tom a few times when he was still physically here with us, it is a great honor to help continue his legacy through this scholarship which will enable me to bring the Native American voice into early music research and programming."
Acknowledging that Early Music America's scope of interest includes the lands, cultures, and history of North America, EMA looks forward to this crucial and timely dialogue, and to the ways in which Benson's work may stimulate new avenues of scholarship and historically-informed performance.
Biography
Violinist and 3Arts awardee Brandi Berry Benson, whose "four-string acrobatics" and "indispensable skill" (TimeOut Chicago) have been praised as "alert [and] outstanding" (Chicago Classical Review), as her "riffs.. powered by a flashing blur of bow arm, [as they] rolled out with irresistible glee" (Washington Post). As Artistic Director of the Bach & Beethoven Experience (BBE), Brandi has co-directed and co-produced such season highlights as the (re)premiere of Scotland's first opera, The Gentle Shepherd, an annual new music for period instruments project called Chicago Stories, a Baroque dance program and collaboration with world renowned dancer Paige Whitley-Baugess, as well as the release of three albums: A Gaelic Summer, An Appalachian Summer, and Chicago Stories. The BBE Carols album will release December 2023. This November, she will premiere a new work for period instruments called The Story of Pa I Sha, based on the stories of her Chickasaw ancestors.
Benson has appeared with numerous ensembles including Newberry Consort, Kings Noyse, Ars Lyrica Houston, Ensemble Phoenix Munich, Apollo's Fire, Indianapolis Baroque Orchestra; as soloist/concertmaster of Chicago Arts Orchestra, Soli Deo Gloria Orchestra (viola d'amore), Mountainside Baroque, Bloomington Early Music Festival Opera Orchestra, and St. Louis's Kingsbury Ensemble. Mrs. Berry Benson has also performed throughout North America including at the Library of Congress, Festival de Musica Virreinal de Durango, Mexico City's UNAM, the Boston, Berkeley, Indianapolis, and Madison Early Music Festivals, Early Music Now, and others. On air, she has appeared on WFMT, WGN-AM, WNUR, and Wisconsin Public Radio.
As a fiddler, Benson grew up playing bluegrass in her hometown of College Station, TX alongside her classical studies. She's performed with numerous bluegrass, country, and rock bands, continues to teach and perform folk music, and research historical fiddling traditions of the 18th and 19th centuries.
Benson serves on the faculty of Northwestern and DePaul Universities where she works with the Baroque Music Ensemble, and teaches Baroque Performance Practice and Ornamentation, respectively.