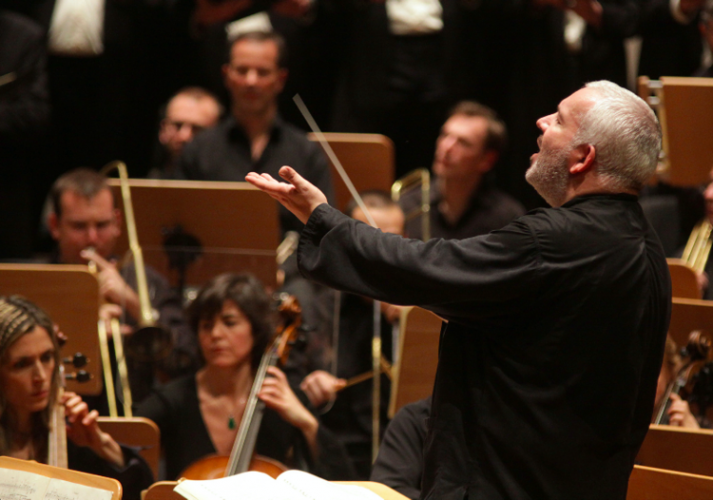 By Lisa Hirsch
SAN FRANCISCO — French conductor Marc Minkowski is in town to conduct Don Giovanni during San Francisco Opera's June season. It's his first trip to the city by the bay, and he likes what he sees. Among other things, it reminds him of Bordeaux, where he became general manager of Opéra National de Bordeaux last year. "I'm enjoying the city," he says of San Francisco. "It's so human, all the wooden houses and trees everywhere. Everyone is so proud of this city!"
The Paris-born Minkowski considers Bordeaux one of the most beautiful cities in France. Over the last 20 years, its buildings and docks have been cleaned and renovated. Situated on a river, it's about an hour from the sea and a few hours from the Pyrenees. Like San Francisco, it has a mild microclimate and is located in one of the world's great wine-producing regions.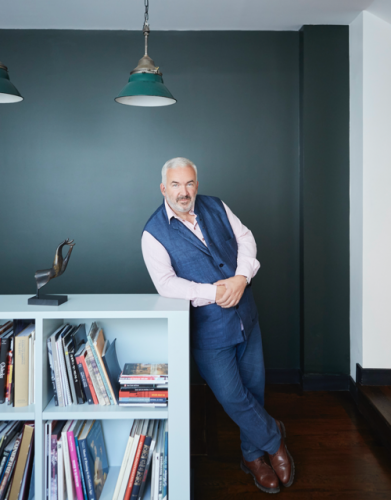 At the beginning of his career, Minkowski made his mark in Baroque music, founding the period-instrument orchestra Les Musiciens du Louvre at age 19. Now, at 54, he revels in being what he calls "a specialist of non-specialization, a conductor obsessed with multiple styles." He points out that the first work he conducted, at 17, was Berlioz's Roman Carnival Overture.
His conducting repertoire reflects the huge diversity of his musical interests. He continues to conduct 18th-century composers, but he has also led Wagner's Der fliegender Holländer and, more unusually, Die Feen; he led a double bill of Ravel's L'enfant et les sortilèges and L'heure espagnole at La Scala. In the opera house, his repertoire also includes works by Rossini, Verdi, Meyerbeer, Offenbach, and Gounod. He has been a guest conductor with symphony orchestras worldwide, leading music by Stravinsky, Poulenc, Fauré, Roussel, Beethoven, Berlioz, and others. A fan of John Adams, he led the clarinet concerto Gnarly Buttons with the Cleveland Orchestra.
The upcoming opera season in Bordeaux is similarly diverse, including works by Bellini, Debussy, Donizetti, Offenbach, Strauss, and Henri Rabaud, as well as Belgian composer Philipe Boesmans's Pinocchio, which has its world premiere at the Aix-en-Provence Festival in July. In Bordeaux, Minkowski will conduct La Vie parisienne, Pelléas et Mélisande, and Rabaud's Mârouf, which he describes as a "forgotten early 20th-century light opera." La Vie parisienne will celebrate the opening of a new train line between Bordeaux and Paris that will cut travel time by nearly two hours and "completely change the relationship between the two cities," Minkowski says.
The Bordeaux performances are split between two venues: the beautiful, but very small, 18th-century Grand-Théâtre and the nearby, 1,400-seat Auditorium de Bordeaux. Pelléas will be performed at the Auditorium, with the orchestra onstage rather than in the pit because Minkowski believes it is one of the characters in this introverted and enigmatic opera.
Starting in 2015 and finishing this August, Minkowski will have conducted the three Mozart-Da Ponte operas at Sweden's Drottningholm Palace Theatre, another surviving 18th-century theater. He has worked there with the Drottningholm Theatre Orchestra, a period orchestra. The San Francisco Opera Orchestra is a superb orchestra of generalists, playing everything from Handel to recent SFO commissions on modern instruments. How does Minkowski work with such an orchestra to get the sound he'd like for Mozart?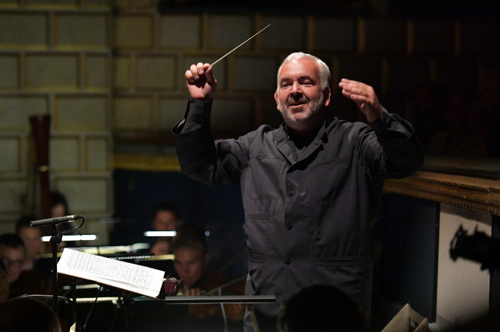 He starts by saying that he would personally not conduct works earlier than Mozart with a generalist orchestra, noting that "some of my colleagues can do this very well, but I prefer not to be so much in the role of a teacher." For Mozart, what he wants is "attack, intimacy, and grandeur," with contrast being extremely important. "There must be shocking moments." He cites the overture to Don Giovanni and its powerful, syncopated opening chords as one such moment.
He says the issues are different when he conducts period and modern orchestras. "I'm constantly asking my own band to play with more vibrato, with more warmth on old instruments. But when I'm in front of a modern orchestra, I am trying for a more pure sound — but I'm not trying to make people change everything. They have to keep their own personality — and sing. It's all about singing, about rhythm and singing."
Asked how string and wind players have to change their articulation to get the kind of attack he would like, he replies with an overview of playing styles. "Even for Baroque players nowadays, sometimes it's a problem. People are so obsessed with making a beautiful, warm, round sound, as their teachers — and this is quite international — trained them so much to make a beautiful, elegant, aesthetical sound. They play…in orchestras where this beautiful tone is the dream. But very often, if you look right at the composers, including Beethoven, Brahms, Mendelssohn, and Mozart, they are full of sforzando everywhere, full of phrases to startle. It's something to encourage people to play with pronunciation, keeping the sounds, keeping this elegance, but not hesitating to make a bit of consonance or declamation in their playing.
"If you listen to orchestras from the beginning of the 20th century, or to Toscanini and the NBC Symphony, you hear so much attack, sometimes it's even too much." (He laughs as he says this.) "But if you listen to Rossini overtures by them, Guillaume Tell, it's incredible. It's a time in the history of music, not just in old recordings, it gives you this feeling." He snaps his fingers to demonstrate what he means. I mention the general homogenization of orchestral sound in the postwar era. "Even in the story of old-instrument orchestras, [Nikolaus] Harnoncourt used so much attack, always. His Vivaldi Four Seasons recording, in the hunting movement, it's just incredible, all the attack. I think that somewhere the British and Dutch schools of ancient music has put some fog, some cream on the sound of early music."
What Don Giovanni edition will he use? In Sweden, his performance stayed with the version Mozart conducted at the opera's Prague premiere in 1787. For San Francisco, it will be "a more international version." The French tenor Stanislas de Barbeyrac, whom Minkowski calls an extraordinary talent, will sing both of Don Ottavio's arias. He would not deprive soprano Ana María Martínez of any of the arias Mozart ultimately wrote for Donna Elvira, so she will sing all three.
For the recitatives, Minkowski's orchestra will have a fortepiano instead of a harpsichord. He expressed happiness with the playing of San Francisco Opera assistant conductor, coach, and prompter Robert Mollicone, who'll be the fortepianist for the performances. Some productions of Mozart operas include added vocal ornamentation, but this Don Giovanni will not, because "with mature Mozart, it's all in the score."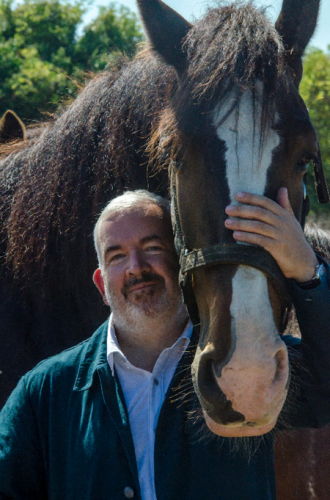 What's in the future for this versatile musician? In the 2017-18 season, in addition to his Bordeaux appearances, Minkowski will be leading Così fan tutte at Drottningholm and Bucharest, Don Giovanni at the Royal Opera House in London, and La clemenza di Tito in Prague. Les Musiciens du Louvre, which has been based in Grenoble since 1996, have not yet announced their schedule, and he will surely be appearing with them.
Asked about some of his dream repertoire — works and composers he'd like to perform in the future — he says he is conducting most of what he would like to do. He mentions Mahler symphonies, which he hasn't yet performed, "but everybody is doing them now." He has been performing Bruckner in Tokyo, working with the Tokyo Metropolitan Orchestra, which he praises as an excellent orchestra.
Then there's Le Sacre du printemps, which he'd like to perform with the ballet. He has already conducted some Stravinsky, including L'histoire du Soldat and Pulcinella. He has a special connection to Sacre: his first conducting teacher was Charles Bruck at the Pierre Monteux School in Hancock, Maine. Bruck had been a student of Pierre Monteux and then his assistant when Monteux was music director of the San Francisco Symphony. Monteux, of course, conducted the notorious 1913 premiere of Sacre and made one of the work's first recordings.
Minkowski would like to conduct more Wagner. "Parsifal, Tristan, and of course the Ring." Asked about St. Francois d'Assise, he inhales sharply. "I admire and respect Messiaen and St. Francois greatly, but perhaps it's best for others to conduct. However, I love my role as a project manager, and I would like to facilitate a production of it. I saw the Peter Sellars production at Salzburg, conducted by Kent Nagano, with José van Dam and Dawn Upshaw, and it was very special. In fact, I loved Sellars's Mozart productions as well."
After Robert le diable and Les Huguenots, Minkowski would like to do more Meyerbeer, too. "These operas were performed all over in the 19th century. They were the most popular in the world. You can't have Wagner or Berlioz without him! And then, in the 20th century, they just disappeared." Modern audiences, then, aren't familiar with the style. Minkowski believes there's a new generation of French singers who are well equipped to perform these operas, but notes that they are very expensive to stage. "They're long, and they have many solo singers."
Even beyond this, he's hoping to do more works incorporating horses. Horses? Yes, horses. "When I was an adolescent, I was intending to make my career in theater, my first love, as an actor. Horse riding, reading were my passions, and then music arrived and took over everything. My love of and my need to be with horses were always there, like many human beings. I have admired the work of [French horse trainer and impresario] Bartabas for a long time, a gentleman who does shows with horses that are like choreography. He is like the Martha Graham of the horse show. He has incredible concepts, he is poetic, with matching music and human beings and horses. I saw him do work with Bach, and he did The Rite of Spring with Pierre Boulez many years ago.
"We put on Mozart's Davide Penitente in 2015 at the Felsenreitschule in Salzburg — you know, where The Sound of Music was filmed — with a horse ballet. Then we did the Mozart Requiem. Everyone was doing it with ballet and we performed it with horses. We will be performing this again in Paris, at a new venue with six-thousand seats." (The Salzburg production of Davide Penitente is available on DVD/BluRay from C Major, or see it on YouTube.)
"Personally, I have four horses on my property in the Île de Ré, near La Rochelle, and I ride them every weekend, or whenever I can. I do some small shows there with horses, with sports or acrobats. I especially love the huge British and Scottish draft horses. I'm hoping to do a Purcell show with singers and musicians in horse-drawn carriages. There are paintings showing this kind of thing!"
Lisa Hirsch studied music at Brandeis and Stony Brook. She writes for San Francisco Classical Voice, Chicago Classical Review, and other publications, and blogs at Iron Tongue of Midnight.