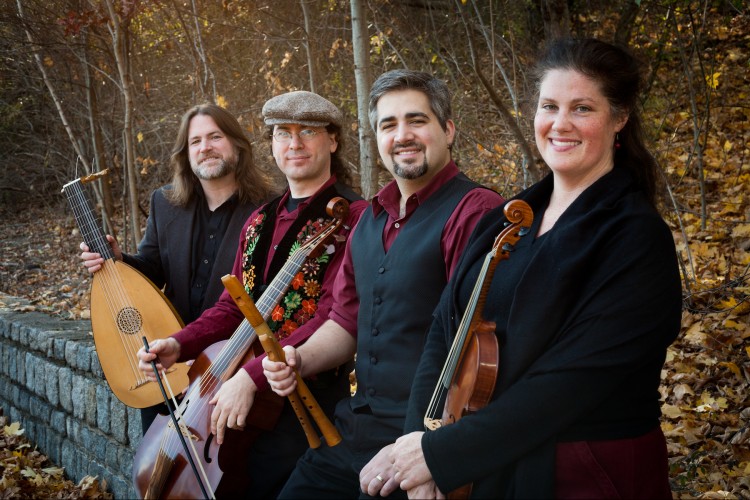 Fifteenth in our series of guest articles marking Early Music Month
By Karen Burciaga
"If music be the food of love…" We've all heard Shakespeare's famous words, whether in his plays or  movie adaptations. But in our modern age of LOLs and IMHOs, how do we make his archaic writings come alive again?
It seemed fitting that an English consort named Seven Times Salt (a quote from Hamlet) should celebrate Shakespeare. We created this program in 2014 to mark his 450th birthday, our goal being to interlace readings and contemporary Elizabethan music.
Some plays name songs explicitly — our favorite scene in Twelfth Night has Feste crooning "O Mistress Mine," Sir Toby satirizing "Farewell Dear Love" and the whole drunken gang joining on "Hold Thy Peace." Other less musical scenes still beg for music, such as "Flow My Tears" for sad Ophelia and "The Mad Merry Pranks of Robin Goodfellow" to send feisty Puck on his way. Yet other excerpts contain wonderful wordplay around music, and it was up to us to choose pieces to fit the scene. "Why dost thou not go to church in a galliard and come home in a coranto?" Choices abound; we've drawn on works by Dowland, Morley, Johnson, Playford, and others. It's a challenging and satisfying puzzle to assemble, and there is no "right" solution.
The members of Seven Times Salt are not trained actors or literary scholars. Dan holds an English degree, and I portrayed a 17th-century settler at Plimoth Plantation—what do we know about interpreting Shakespeare's masterful, if sometimes confusing, choice of words? As it turns out, it's not that scary. Simply reading the plays aloud adds a lot of clarity, as does a healthy sense of humor, even if you don't catch everything the first time. What is a testril, anyway? How exactly does one "sneck up"? (We have our own ideas.) Ophelia's witless snatches of folksong and Sir Toby's salty banter all make far better sense spoken aloud.
We present "Easy As Lying: The Music of Shakespeare's Globe" at the Boston Public Library this weekend as part of their 2016-17 exhibit All the City's A Stage, which includes talks, workshops, and performances marking the 400th anniversary of the Bard's death. The BPL holds a stellar collection of early editions, as well as their own First Folio, currently on display.
We hope to see lots of friends on Sunday. Orsino says it best: "Play on!"
Seven Times Salt is a Boston-based early music ensemble specializing in repertoire of the 16th and 17th centuries. Praised for creative programming and an "impeccably balanced sound," the group has performed since 2003 at venues throughout New England including Boston's Museum of Fine Arts, The Isabella Stewart Gardner Museum, Plimoth Plantation, the New England Folk Festival, WGBH radio, and many others. The ensemble has also researched and presented original programs for the Amherst, Bloomington, and Boston Early Music Festivals (Fringe), the Society For Historically Informed Performance, and their own self-produced concert series. They delight in blurring the lines between "art music" and folk tunes, and feel at ease performing in the concert hall, the dance hall, or the beer hall!