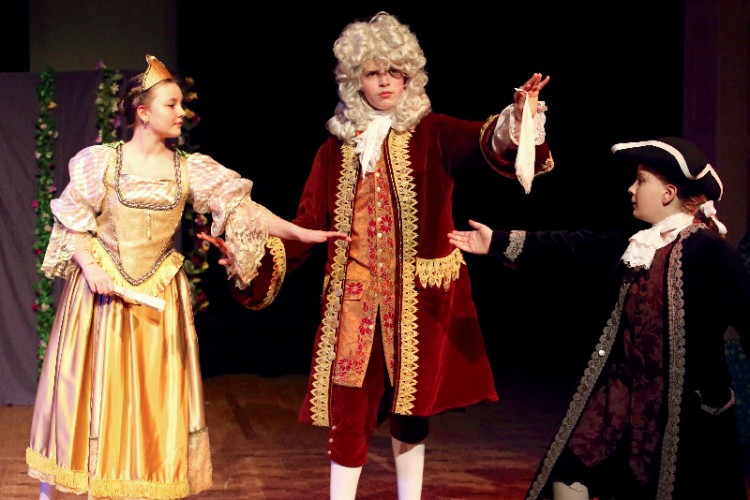 Fourteenth in our series of guest articles marking Early Music Month
By Shulamit Kleinerman
Looking at this week's dress rehearsal photos, I see all the things I love about Seattle Historical Arts for Kids (SHAK). There's the one-room-schoolhouse mixing of ages and backgrounds, with each student making an individual stamp on the whole project. I see evidence of the artistry of SHAK's devoted faculty and collaborator-contributors, not just in the costumes and sets but in the skills on display by the cast. There's something really compelling for me, each time we do one of these performances, in seeing young people really bringing to life these beautiful images from the past. They're not just wearing costumes but acting and moving in informed ways. The kids are very bright and engaged but they also really do the hard work—not just in rehearsals but in practicing at home—to absorb all the material we give them, and I'm so proud to see them shine.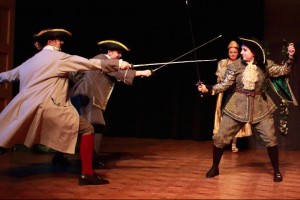 Handel's melodic genius made it an easy choice to return to the composer again this year after the fun and success we had with our adaptation of Alcina in 2014 and 2015. But when I'm choosing a work for SHAK, the opera's plot has to pass a few tests too. It needs strong female characters and a premise more entertaining for kids than plain old love-and-duty fare. And it needs to avoid plots that hinge on colonial conquest or conversion.
So finding the right story for SHAK meant I had to read through a lot of plot synopses, with all their twists and turns. (The unexpected hurdle in my selection process was the impossibility of making sense of more than one or two synopses in a sitting before mental exhaustion set it!) Finally, Handel's Serse came to the top of my list. The titular king is a tyrant, but his fiancée Amastre outwits him, coming to court in disguise as a man and forming an alliance with another woman, even drawing her sword to defend her against the unfaithful Serse's unwanted advances.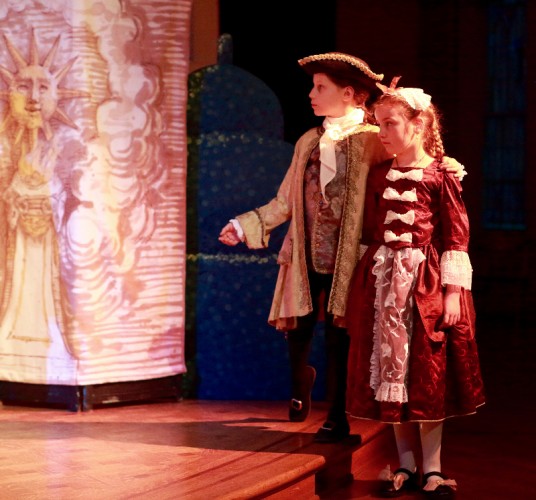 The original Serse libretto dates from the late 17th century—an antique by the time Handel was working with it. In keeping with the pacing of 17th-century works, the composer wrote a lot of short musical numbers—many of them less than a minute. So there was a lot of accessible and delightful material for me to choose among to suit our young singers' abilities and keep young audiences engaged.
This production marks a few firsts for SHAK. We're in a beautiful venue that's new for us and, with the Early Music Guild of Seattle, are offering two performances instead of just one. With two of our returning cast boys' changed voices, we have tenor arias and three-part vocal harmony in all the choruses. And our older teen vocal soloist, a senior in high school, is singing not only the famous "Ombra mai fu" but also the virtuosic "Crude furie"—SHAK's first rage aria!
Shulamit Kleinerman was the recipient of Early Music America's 2015 Laurette Goldberg Award, given to honor ongoing achievement in educational outreach. In 2005, Shula began the series of children's history day camps that evolved into Seattle Historical Arts for Kids. She received the national Outreach Award from EMA following the 2010 release of SHAK's innovative studio CD, Merry It Is!. A former preschool teacher, she maintains a private violin teaching studio in North Seattle.
Specializing in the early "off-shoulder" playing position, Shula performs on the medieval vielle and renaissance and baroque violin. She was a founding member of the Elizabethan quartet Plaine & Easie, which won the 2009 EMA competition in medieval and renaissance music. Her solo CD was recorded during an artist residency at Jack Straw Productions. She has also performed with Utopia Early Music, Istanpitta, and The Christmas Revels in Houston, Portland OR, and Tacoma.
Shula has contributed program notes for presenters including the Berkeley Festival of Early Music and the Early Music Guild of Seattle. She has lectured on music history at the University of Utah, Seattle University, Seattle Baroque Orchestra, and Cornish College of the Arts.