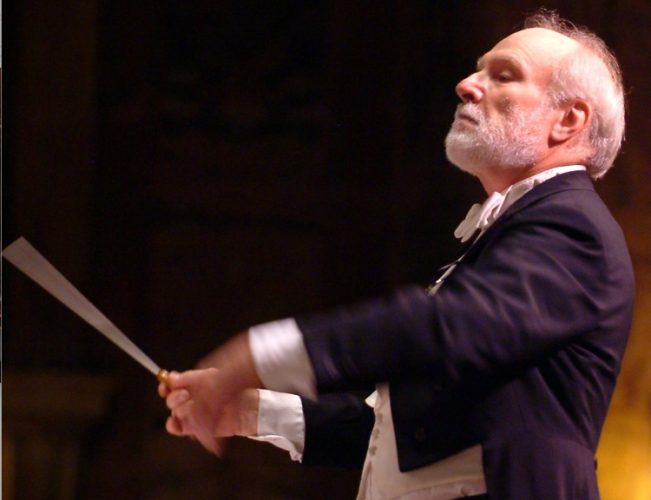 By Susan Brodie
NEW YORK — October gave early music lovers in New York City an extraordinary bounty of choices. On Oct. 5, William Christie, the American harpsichordist who taught the French to appreciate their Baroque musical heritage, launched his annual residency at the Juilliard School with a Monteverdi concert. The Japanese conductor and Bach specialist Masaaki Suzuki led Juillliard 415, the school's period-instrument ensemble, and the Yale Schola Cantorum in two all-Bach programs. During the third week, the British conductor John Eliot Gardiner brought his lavishly praised Monteverdi opera trilogy to Lincoln Center. And at month's end, California-based conductor Nicholas McGegan taught master classes at Juilliard and presented Juilliard 415 in a program of galant style music from across Europe.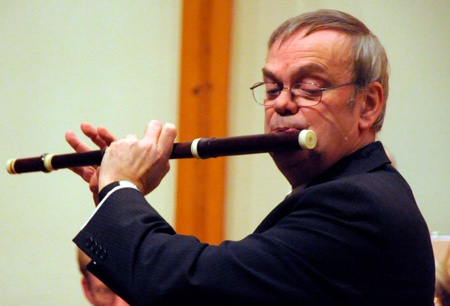 But the 6th biennial New York Early Music Celebration, a 10-day festival of concerts, workshops, and other events, revealed that New York hosts its own deep bench of local talent. The celebration was the brainchild of Frederick Renz, founding director of the Early Music Foundation. "It's really a matter of bringing to the fore all the early music activity here," said Renz. "Originally, the emphasis — the only emphasis — was to promote New York early music activity." While previous celebrations had as many as 90 events, this year's schedule listed a more manageable 21 public concerts and a handful of educational and private events. Any local ensemble performing early music Oct. 13-22 was eligible for inclusion in the celebration.
This year's event focused on music from the Low Countries (Holland and Flanders), though programming this repertoire was not a requirement for inclusion. The Early Music Foundation, with support from Dutch and Flemish cultural organizations, was able to invite several Dutch musicians to participate. "We learned that if you bring in a couple of guests from Europe, that spices things up," said Renz. One was the Belgian baroque flute virtuoso Barthold Kuijken, who, with his brothers Sigiswald (violin) and Wieland (viola da gamba), helped pioneer a newly vibrant approach to Baroque music in the 1970s. From Utrecht, the five musicians of Camerata Trajectina, founded in 1974, gave a program of music from the age of Vermeer. Cappella Pratensis, eight men who sing Renaissance sacred polyphony, and Geert D'hollander, a carillon player, rounded out the guest list.
If the celebration was primarily designed as a showcase for New York-based early-music groups, the connections between locals and invited guests paid homage to the roots of the early-music revival in New York. Many of the local ensembles were formed in the 1970s, when the exploding early-music revival in Europe was drawing increasing numbers of young American musicians to study. The Kuijkens taught many of them, some of whom remained in Europe, while others returned to form their own ensembles in the U.S. Musicians in Britain and later in Germany, Austria, and France also influenced and taught young American players, though playing styles brought home from Europe often met with resistance.
Prior to the '70s early-music boom, the best-known American early-music group of the last century was the New York Pro Musica Antiqua (1952-74), originally specializing in medieval repertoire; their edition of the Play of Daniel has been performed by several generations of musicians. Among the Pro Musica's members was Renz, who in 1968 had just returned from the Netherlands, where he had studied harpsichord with Gustav Leonhardt. When the Pro Musica disbanded, Renz created the Early Music Foundation, a structure under which Early Music New York functioned as a cluster of performing formations playing different repertoire.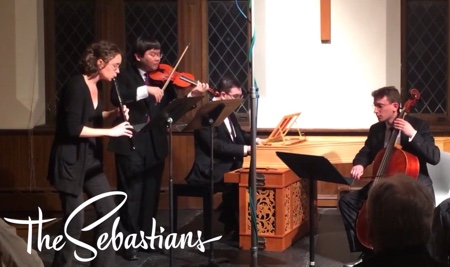 The grandly neo-Gothic Cathedral of St. John the Divine provided an atmospheric base of operations until 2008, when the Cathedral reclaimed their space and the group moved to the Christian Science Church just a few blocks from Lincoln Center. During those years, Baroque music played on original instruments became more common, though New York perhaps lagged behind Boston and Northern California in their embrace of historically informed performance. The creation in 2009 of a generously funded graduate program at Juilliard for baroque instrumentalists helped swell the ranks of highly skilled and historically informed players.
Concerts of Baroque orchestral music by New York-based groups opened and closed this year's celebration. The Sebastians, founded in 2001 by Daniel S. Lee and Ezra Seltzer, launched the festivities with a concert of very cosmopolitan-sounding music by composers who moved to or whose music was published in Amsterdam. The final concert by Early Music New York, the chamber orchestra directed by Renz, included works by Dutch and Flemish composers who wrote music that would have been at home in the 18th-century European capitals. And as the music showed commonalities, so did the personnel, with Lee serving as concertmaster for both groups and alumni from the Juilliard program playing in both orchestras.
The celebration included two sets of choral programs with roots in older local early-music performance history. In 1953, Harold Brown, a New York-born composer, conductor, and music teacher, founded an after-school Renaissance chorus for his students at the prestigious High School of Music and Art (of Fame fame). Brown's love for Renaissance music dated back to the 1930s, when he studied with Nadia Boulanger in Paris, and later at the College of the Sacred Heart (Manhattanville), where he studied Gregorian chant. That group eventually became the Renaissance Chorus, established in 1960 as an independent volunteer group.
The chorus served as a laboratory for Brown's evolving theories about the kind of vocal sound that best suits Renaissance music — explorations that influenced New York Pro Musica co-founder Noah Greenberg in his quest for an "authentic" sound. Two generations after Dr. Brown's death in 1979, the Renaissance Chorus New York still exists as a non-profit organization. Since 1973, some members have met to sing in an offshoot called the Renaissance Street Singers, which performs a rotating repertoire of 15th- and 16th-century sacred music in public spaces around town. Both groups presented programs for the celebration: serious amateurs exhibiting a characteristically New York intensity in pursuing their passion.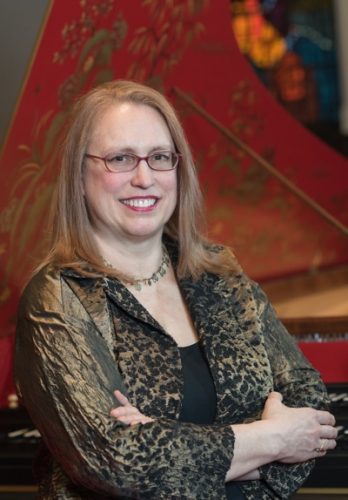 The first concert I attended, on Oct. 18, was Camerata Trajectina's Vermeer-themed program of domestic music, given at the Morgan Library, where I enjoyed an exquisite exhibit of drawings that included work by Rembrandt and Rubens. The concert felt like a throwback to a '70s style of programming: a recital medley of short songs followed by sets of variations on a theme, the entertainment factor boosted with a certain twee cuteness. But the performance was very, very good; Saskia Coolen's recorder playing especially was a model of virtuosity, taste, and vivid communication. And it turns out that Dutch, with its throaty placement, ubiquitous dipthongs, and explosively glottal consonants, is possibly the most exotic-sounding European language to emerge from a singer's mouth.
A few days later, I climbed to the organ loft of Holy Trinity Lutheran Church to hear Gwendolyn Toth, founder-director of the ARTEK Ensemble, play —beautifully — music of Sweelinck and his contemporaries on an exquisite two-manual Northern European-style organ built by Paul Fritts. Tenor Philip Anderson introduced each set of variations by singing the chant or tune on which the keyboard variations were based; again, the sound of Dowland's Lachrimae sung in Dutch was a real surprise.
The oldest house in Manhattan, the 1765 Morris-Jumel Mansion, was the site for Brooklyn Baroque's "The Virtuoso Recorder," where hearing music in a small drawing room in an 18th-century house — 241 years after Washington bivouacked there — added context to the18th-century chamber music played.
I was sorry to miss several programs in particular: the carillon recital by D'hollander, who played on the instrument at Riverside Church, boasting the world's heaviest carillon bell. Also, Mexico's Tembembe Ensamble Continuo, which intriguingly combines European Baroque music with Mexico's indigenous son idiom, played at the Metropolitan Museum in conjunction with the recently ended exhibit of Mexican painter Cristóbal de Villalpando.
I also didn't get to hear Cappella Pratensis from 's-Hertogenbosch, birthplace of Hieronymus Bosch. This eight-voice men's choir, which performs 15th- and 16th-century polyphony gathered around a single choirbook in original notation, appears to embody today's trend toward specialization that would have been foreign to many of the groups formed in the 70s. This concert was presented by the invaluable Music Before 1800, which has been presenting both local talent and new-to-New York early-music artists since 1975.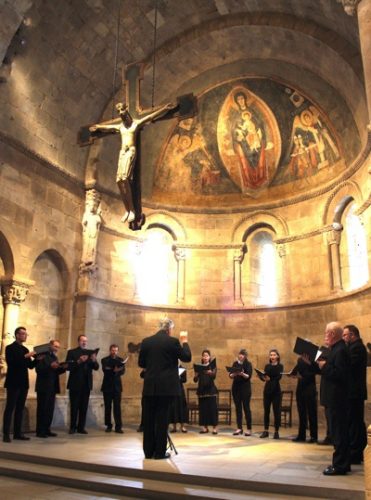 On the final afternoon, another venerable New York group, Pomerium, performed sacred choral music from the mid-late-15th to mid-16th century. The choir was founded in 1972 by Alexander Blachly, then a Columbia musicology graduate student frustrated by hearing Renaissance polyphony performed with a large, muddy-sounding chorus (nearly a decade before Joshua Rifkin created shock waves by proposing one-on-a-part Bach). Pomerium employs one or two voices on a part, using minimal vibrato and meantone tuning. The result is a beautiful clarity and transparency, with pure vibrant harmonies. Yet listening to the voices soar in the incense-fogged Church of St. Ignatius of Antioch, I wondered whether a reedier, more pungent sound, like the bright timbres of that Paul Fritts organ, and more distinct diction might more clearly reveal the shape of the counterpoint.
And so it goes: ears sharpened by the work of their predecessors, each generation works toward a truer realization of music that no one can claim to have heard in "authentic" form. The former young rebels become the gray eminences teaching their juniors, like Bart Kuijken in his appearance at the celebration's closing concert. Conducted by Renz, Early Music New York played Dutch and Flemish music that would have been at home in many an 18th-century European city. The final concerto by Johann Albertus Groneman featured two fine Dutch-trained American traverso players, Immanuel Davis and David Ross, supporting Kuijken, primus inter pares. I went away happy, and eager to hear what New York's young performers will come up with next.
Susan Brodie writes about music, the arts, and life from New York City and Paris. Follow her at @Susan Brodie (Twitter) and Toi Toi Toi!