by
Published July 7, 2017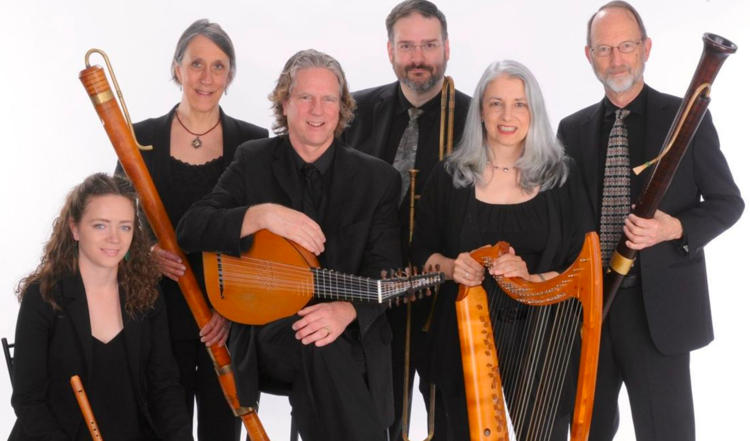 Back Before Bach: Musical Journeys
Piffaro, the Renaissance Band
Navona Records NV6106
By Donald Rosenberg
CD REVIEW — Europeans in the late 16th and early 17th centuries were privileged to hear a treasure trove of wind music in cathedrals, courts, and town squares. What these listeners experienced can be gleaned from the vibrant repertoire and sumptuous artistry the members of Piffaro, the Renaissance Band, offer on their newest recording, Back Before Bach. Here is a bounty of music, played to the historical hilt, that laid the basis for more than little of what J. S. Bach and others would contribute in the 18th century.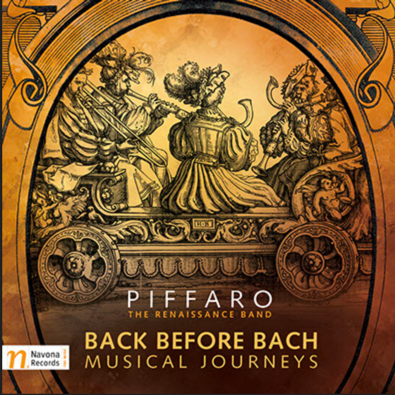 The Philadelphia-based ensemble has been exploring and reconstructing music of Medieval and Renaissance wind bands since 1980 on wind, brass, and percussion instruments, including shawms, dulcians, lutes, recorders, krumhorns, sackbuts, bagpipes, and harps. The works Piffaro has chosen for this journey through German and Franco-Flemish music gives the artists myriad opportunities to revel in the diverse colors their instruments lavish on 38 brief and varied selections.
As the musicians place their stamp on pieces grouped by theme, the performances give the listener the impression of sitting in a resonant church or standing amid outdoor crowds. In the tradition of music from these periods, most of the instrumentation is left to the performers' imaginations. Piffaro is always sensitive to stylistic implications; the players interact with seamless skill while illuminating their independent lines, notably in pieces by Orlande de Lassus, Jakob Handl, and Melchior Franck that abound in rich and surprising contrapuntal turns.
Chronology plays an important role in the opening succession of pieces, providing insights into the developing harmonic language during these eras. Seven settings of the German East hymn "Christ ist erstanden" — two each by Heinrich Isaac and Johann Walter for different complements — lead up to Bach's magisterial version as the chorale BWV 276.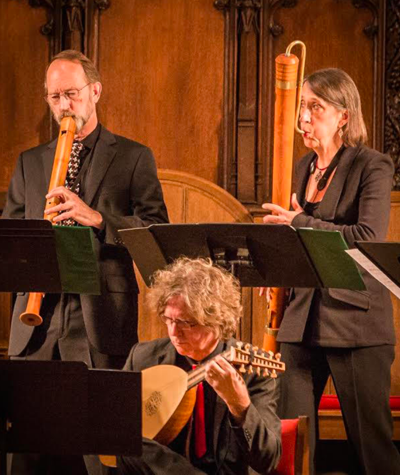 Piffaro demonstrates its special rhythmic vivacity to sonorous effect in suites of German dances by Johannes Ghro, Michael Praetorius, Samuel Scheidt, and Johann Schein. The textures are alternately silken and rustic, thanks to the combinations of bagpipes, recorders, shawms, sackbuts, dulcian, and tambourine. A collection of German songs receives such expressive treatment that one almost has to wonder if human voices could do better.
Some of the most affecting ideas are packed into a compact series of psalms, motets, and chorales on "A solis ortus" and "Christum will sollen loben schon" in which recorders and the occasional harp create an aura of glowing reverence. On a much earthier scale are four settings — among them arrangements by Piffaro artistic directors Joan Kimball and Robert Wiemken — of popular songs that spring to life through the stentorian personality of bagpipes and reedy buzziness of krumhorns.
Donald Rosenberg is editor of EMAg, The Magazine of Early Music America.
Recent EMA Recording & Book Reviews
In a revealing look into the lives of 'ordinary' folks in 17th and 18th c. Germany, author Tanya Kevorkian taps a wealth of sources that detail city life, from religious beliefs to weddings to the rhythms and rules of town watchmen. With compassion and wisdom, the author notes that historians who look at street life "have to some degree replicated the perspective of the authorities."
Emily Zazulia's valuable 'Where Sight Meets Sound: the Poetics of Late-Medieval Music Writing' explores notational aesthetics in polyphonic music, where it's not obvious how you're meant to sing what's on the page.
Long undervalued, Alessando Scarlatti's vocal writing naturally weds singable lines with the Italian language. Ars Lyrica Houston's colorful new recording of a Scarlatti oratorio, with an outstanding cast, makes a brilliant case for this rarely heard music.