by
Published March 23, 2016
Elaine Comparone with her Hubbard Double Manual Harpsichord
Contributed by Benjamin K. Roe
Piano competitions are a dime a dozen, from the globally iconic (think Tchaikovsky in Moscow, Chopin in Warsaw, or the Van Cliburn in Fort Worth), to the regionally charming (book your tickets now to catch the World Championship Old-Time Piano Playing Contest in Oxford, Mississippi this May!).
Harpsichord competitions are a much rarer species, but you can catch a sighting – not to mention a sounding – this Early Music Month in Oberlin, Ohio, where the eighth Mae and Irving Jurow International Harpsichord Competition is underway at Oberlin College, in conjunction with the annual gathering of the Historical Keyboard Society of North America.  The meeting's theme this year is "The Compleat Keyboardist: harpsichord, fortepiano, organ, clavichord, continuo," where you can take in sessions ranging from "The Surprising Keyboard Culture of Early Baltimore 1790-1860" to "The Memory Politics of the Harpsichord in Baroque Rock."
Getting back to the juried Jurow Competition, the contest was created in 1982, "in the interest of creating competitive activities for harpsichordists, since very few such opportunities existed in this country," and has been held every four years (more or less) ever since. It's open to harpsichordists under 35 from around the world. This year's 15 semifinalists represent 11 states and four countries, competing for a first prize of $5000 – which ain't hay for any harpsichordist!
What happens in a harpsichord competition?  For one thing, don't walk in expecting to hear such piano-competition staples as Chopin etudes, Brahms ballades, or big romantic Russian concertos. Besides Bach, less familiar names dominate these compulsory exercises…and not all of them are from long-past centuries, either.  Check out the 2012 competition's description of the semi-final round requirements:
A Bach toccata (either D Major or E minor); Elisabeth Jacquet de La Guerre's Violin Sonata in D minor, mvts 4 & 5; either J. P. Sweelinck's Unter der Linden Grüne or William Byrd's Jhon come kiss me now; and [contemporary composer]  James Dorsa's Jupiter's Moons, mvt. 1, "Io."  Joining with the contestants on the sonata were Baroque violinist Martha Perry and viola da gambist Micah Fusselman, a telling experience for the contestants.
For the six that advance to the finals, the Jurow competition's version of the "concerto round,"  requires more collaboration – which in 2012 was to accompany soprano Janet Youngdahl on the solo cantata Lagrime mie or L'astratto – the "greatest hit" by the little-known Baroque composer Barbara Strozzi (1619-1677). Worth pausing for a moment to check out the synopsis and the performance:
An indecisive diva (sound familiar?) laments a bad boyfriend, it seems, and decides to drown her sorrow in song. Unfortunately, she doesn't find a single song she likes, so she writes one herself, and, exhausted, says she doesn't want to sing anymore.  
Here's hoping there's no indecision on the part of the Jurow jury, which at the 7th competition in 2012 handed out two Second Prize awards (to Nadja Lesaulnier from France and Jia Lim from Singapore), but declined to award a First Prize. Same thing happened at the 6th Jurow competition in 2007, when Second Prize was shared by harpsichordists Ilya Poletaev and Gabriel Shuford,
Longy School of Music early music professor Vivian Montgomery heads up the 2016 Jury, which also includes harpsichord heavyweights Jane Chapman (Professor of Harpsichord, Royal College of Music, London), Lisa Goode Crawford (Professor of Harpsichord, Emerita, Oberlin Conservatory of Music), Catalina Vicens (Ensemble Servir Antico, Basel/ Leiden), and Hank Knox (Professor of Harpsichord, Schulich School of Music of McGill University).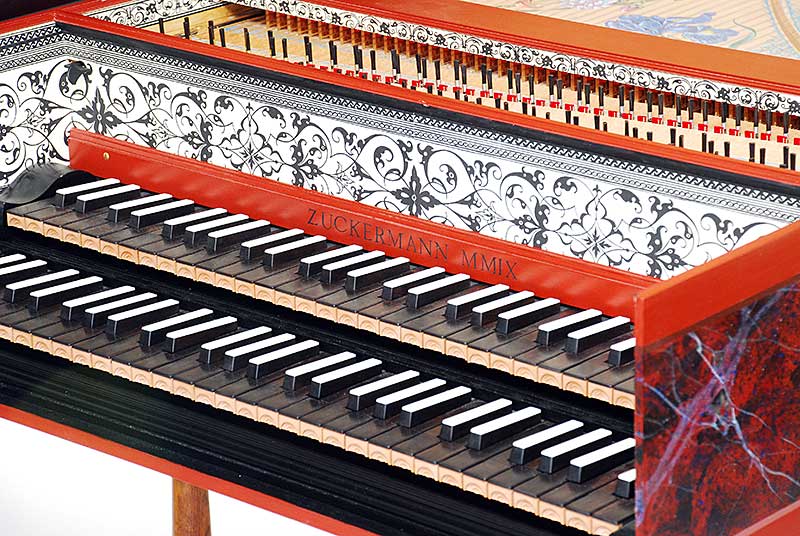 Perhaps the most compelling distinction between a piano and harpsichord competition is the uniqueness of the instruments being played. In place of standard-issue Steinways or Yamahas, no two harpsichords are exactly alike – many are built by artisans who can possess an even stronger personality than the performers! No wonder the Historical Keyboard Society devotes an entire part of its website to Builder Biographies!