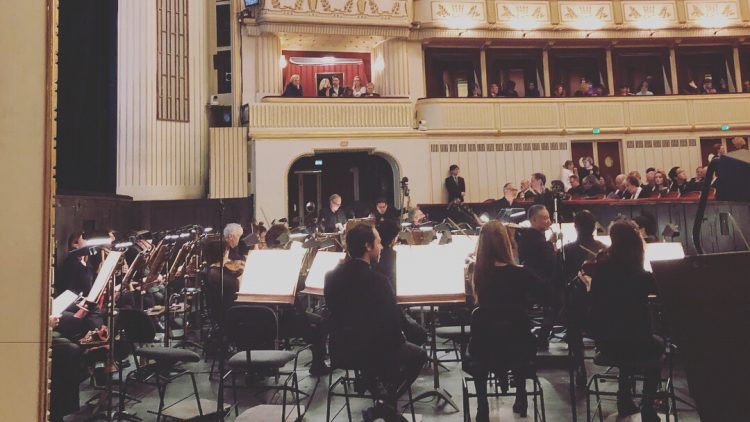 Fifth in our series of guest articles for Early Music Month
by Augusta McKay Lodge
It's not every day a recent music graduate is invited to be a part of a European tour with one of the world's top baroque orchestras, Les Arts Florissants. Yet this was exactly the situation in which I found myself upon completion of my studies at Juilliard where I first met Maestro William Christie, orchestra founder and director. Had I imagined such a thing happening, I would've cracked the books on my French sooner!
While students, we had thrived off of Mr. Christie's indefatigable energy, his intense and vivid musicality, and his tough but benevolent expectations. The inspiration and joy of performing with such a renowned musician while sitting as concertmistress and soloist in his Juilliard415 concert will always stand out in my memory.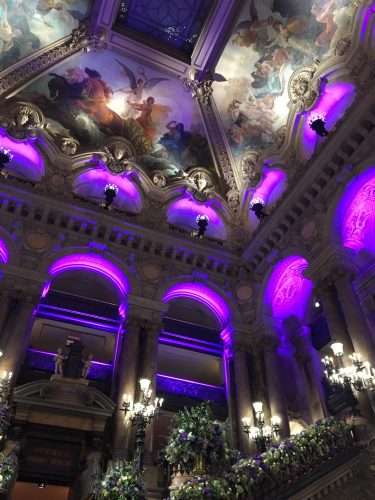 So I was a bit nervous and unsure what to expect as fellow classmate, Jeffrey Girton, and I headed to Paris this past Christmas to enjoy three months in Europe playing alongside these great musicians. Our first project was Handel's Jephtha in eight performances at the Opéra national de Paris / Palais Garnier.
But the moment we played the downbeat of Jephtha's Overture in our first orchestra rehearsal, the immersion into the work proved completely liberating, digging into the luscious full sound that embodies Les Arts Florissants and being able to fit right into a group that played so unanimously with such a warm, enveloping sound. And the musicians were friendly and warm, further putting me at ease. We were led by concertmaster Hiro Kurosaki, whom I admire greatly for his clear and decisive leadership, outward musicality, and kind spirit. The cast for Jephtha was marvelous, including stellar artists Ian Bostridge and Katherine Watson. Between the gripping dynamics of the singers and Mr. Christie, I could look out into the front row of the audience and see them in tears night after night.
Next up – tour to Vienna, Barcelona, Madrid, and Pamplona for performances of Handel's Ariodante. As I write this, we are still on tour and today will be our fourth performance of Ariodante at the Wiener Staatsoper.
All in all, the music is incredible, playing under Mr. Christie most inspiring and not least, having made so many wonderful new friends in the orchestra – it has been one of the best experiences of my life!
Be sure to check back at earlymusicamerica.org tomorrow (March 23, 2018) for part II of our McKay Lodge sisters series. We'll hear from Georgina McKay Lodge, who is concurrently traveling in Europe during March 2018, taking baroque viola lessons from renowned teachers like Shunske Sato, the 33-year-old Japanese concertmaster of the Netherlands Bach Society.
---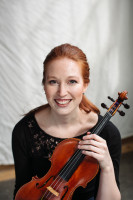 Augusta McKay Lodge is a native of Oberlin, Ohio. At the age of 25, she has earned a Bachelor of Music from Oberlin Conservatory of Music, a Masters of Music from Indiana University Jacobs School, and a Masters from The Juilliard School in historical performance where she was a proud recipient of a Kovner Fellowship. While at Juilliard she studied with Cynthia Roberts, Monica Huggett, Elizabeth Blumenstock, and Robert Mealy.
Augusta began her studies early on and continued at the Moscow Central Special Music School. She received honors (Pi Kappa Lambda) from Oberlin Conservatory upon graduation at the age of 19 and spent an exchange semester at Conservatorium van Amsterdam in 2011. Previous teachers include Alexander Kerr, Stanley Ritchie, Marilyn McDonald, Milan Vitek, Johannes Leertouwer, Sophie Gent, and Almita Vamos.
Augusta plays on a Jason Viseltear baroque violin from 2014. Further information to be found at: www.augustamckaylodge.com