Organization Member
Contact Information
info@harmsperc.com
http://www.harmsperc.com/
New Marlborough, Massachusetts
Type of Organization
Instrument Makers or Repairers
About
Harms Historical Percussion was started in 1989 by Ben Harms with the goal of providing high-quality "historically informed" instruments to the early music field at a reasonable cost. It turned out that many of the "historical" instruments (e.g., the tabors and hand drums) have changed so little over the past 500 years that they are just as suitable for modern folk musicians and "classical" percussionists.
All Harms Historical Percussion instruments are "membranophones" – that is, they have skins. Other percussion instruments such as bells, chimes, finger cymbals, wood blocks, etc., are not available.
Harms Historical Percussion is still today as it began — as a one-person shop. Ben Harms creates all the designs and specifications, and does all the shop work. Harms Historical Percussion ships instruments internationally and those instruments can now be found on all continents.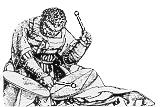 Events
No Events Found.