Early Music America announces the recipients of its 2020 awards recognizing outstanding accomplishments in early music. The awards will be presented later this year. 
_______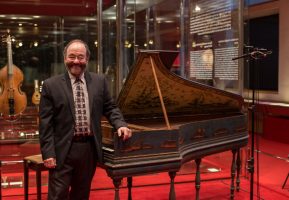 Mark Kroll will receive the Howard Mayer Brown Award for lifetime achievement in the field of early music. This award is named in memory of the renowned and beloved musicologist from the University of Chicago. Kroll's distinguished career as a performer, scholar, educator, and advocate for early music spans more than 50 years. As harpsichordist and fortepianist, he has appeared throughout the world in recital, chamber music, and as concerto soloist with some of the world's major orchestras. His extensive list of recordings includes the music of Bach, Handel, Scarlatti, Biber, Duphly, Balbastre, Royer, Schubert, Hummel and, most recently, the complete pièces de clavecin of François Couperin for Centaur Records. He has also recorded three critically acclaimed CDs of contemporary American harpsichord music, as well as harpsichord works by Vittorio Rieti and Henri Dutilleux.
A scholar of wide-ranging interests, he has published seven books—The Cambridge Companion to the Harpsichord; The Boston School of Harpsichord Building; Playing the Harpsichord Expressively; Johann Nepomuk Hummel: A Musician and His World; Ignaz Moscheles and the Changing World of Musical Europe; The Beethoven Violin Sonatas; an annotated facsimile of part III of J. N. Hummel's treatise on the Art of Playing the Pianoforte—and scholarly editions of Hummel's Sonata for Cello and Piano,Geminiani's Sonatas for Violin and Basso Continuo and Concerti Grossi, op. 4, and Carl Ludwig Junker's Piano Concerto.
Kroll has taught and lectured worldwide at universities, conservatories, and music schools. He established the Departments of Harpsichord and Historical Performance at Boston University, where he served for 25 years as Professor and Chair. A tireless promoter of early music and its performers, he also founded and directed the Boston University Early Music Series, which presented more than 250 concerts and lectures by faculty and guest artists.
Wendy Heller, Scheide Professor of Music History and Chair of the Department of Music at Princeton University, said: "As a student in Boston during the 1980s, I was aware of Mark's fundamental contributions to the early music scene as a teacher, keyboard player, mentor, and concert promotor; now, as a senior scholar at Princeton University, I've been equally impressed with the quality and breadth of his contributions to musicology. There are few performers whose scholarship is so deep and few scholars who are such brilliant performers. In a field where so many are tempted to search for the Holy Grails of authenticity, Mark has strived for a singular and highly expressive approach to music-making, based on historical knowledge, that truly stands the test of time."
_______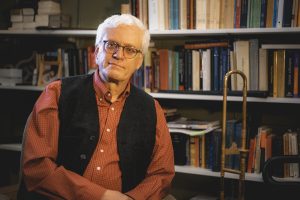 Dr. Kenneth Kreitner will receive the Thomas Binkley Award for outstanding achievement in performance and scholarship by the director of a university or college Collegium Musicum. This award is named for the legendary lutenist and educator who taught at the Schola Cantorum Basiliensis, made ground-breaking recordings with the Studio der Frühen Musik, and served as founding director of the Early Music Institute at Indiana University.
Kreitner is Benjamin W. Rawlins Professor of musicology at the Rudi E. Scheidt School of Music of the University of Memphis, where he teaches music history and directs the Collegium Musicum and the quasi-professional Memphis Consortium for Early Mu­sic. A specialist in Spanish sacred music around 1500, Renaissance performance practice, and American amateur-band music, he is the author of Discoursing Sweet Music: Town Bands and Community Life in Turn-of-the-Century Pennsylvania(Illinois, 1990); The Church Music of Fifteenth-Century Spain (Boydell, 2004); with Tess Knighton, The Music of Juan de An­chieta (Routledge, 2019); and articles in such journals as Early Music, Early Music His­tory, Musica Disciplina, the Journal of the Royal Musical Association, and the Revista de Musicología. "This is a terrific honor," says Ken, "and a name that means a lot: Tom Binkley is a hero to everyone who performs early music and especially to all of us who spend our lives bringing our students to its joys, its fascination, and its terrors. I have had a lot of great students over the years, and a lot of great colleagues, and a lot of fun. It's a very nice surprise to be noticed. Thank you, Early Music America."
Dr. Kevin Sanders, Director of the Rudi E. Scheidt School of Music at the University of Memphis, said: "We were thrilled to hear Dr. Kreitner would be the recipient of the 2020 Thomas Binkley Award.  It has been a tremendous privilege to work with him on the faculty and his dedication to scholarly work and our early music program has been an extraordinary asset to our students and community."
_______
The Oberlin Baroque Performance Institute is the 2020 recipient of the Laurette Goldberg Award for lifetime achievement in early music outreach. Named for Goldberg, a teacher, performer, author and founder of musical enterprises in the San Francisco Bay area, the award recognizes outstanding achievement in outreach and/or educational projects for children or adults by ensembles and individual artists.
The Oberlin Baroque Performance Institute (BPI) is the premier summer workshop focusing on Baroque instruments and voice; 2020 marks its 49th season of preparing musicians to perform some of the era's great works on period instruments. The internationally renowned faculty is led by Artistic Director Kenneth Slowik and the Oberlin Baroque Ensemble—Mark Edwards, Michael Lynn, Marilyn McDonald, Catharina Meints—who host daily master classes and ensemble coachings. Other long-term and new faculty members come from across country to fill out the spectrum of baroque instruments and voice.
On behalf of the faculty and participants of BPI, Catharine Meints said: "I can say that we are delighted to receive recognition from EMA for our work over the last 49 years. We are proud of what we have accomplished and are honored to be presented the Goldberg Award. "
BPI is open to musicians of any level of experience on Baroque instruments and voice – no auditions or recordings are required – and through private study and master classes with faculty and resident artists, and the practice and performance of Baroque techniques in ensembles, the participants gain a greater appreciation of this rich musical genre.
Student orchestra and chorus offer large-scale performance opportunities, while other student projects explore an annual project like the Corelli trio sonatas or Couperin Concerts. There are opportunities to collaborate and perform with other musicians, guided by expert coaching from faculty and resident artists. The Conservatory of Music also has a large collection of instruments that are made available for use by BPI participants. Lectures and informal open discussions stimulate the intellect, and the ever-popular Baroque dance classes provide excellent physical exercise as well as a kinetic appreciation for the rhythms that underlie the music of the Baroque era.
Jean Hein, EMA board member, graduate of the Oberlin Conservatory, and frequent participant in the BPI, said: "BPI has had an enormous impact on early music in the 20th century and on into the 21st: fortunately, Cathy Meints, with her usual foresight, energy, and know-how, has said it for us in her book about the early years of BPI, Oberlin Baroque Performance Institute: The Wenzinger Years. BPI has been, and remains, a major force of change not only for its participants, but for the entire field of early music. What we experience today in the rich innovation and burgeoning creativity baroque music performance would simply not exist without the cumulative effect of 48 years of dedicated teaching and coaching, deeply impacting literally thousands of early music performers."