by Pierre Ruhe
Published May 24, 2022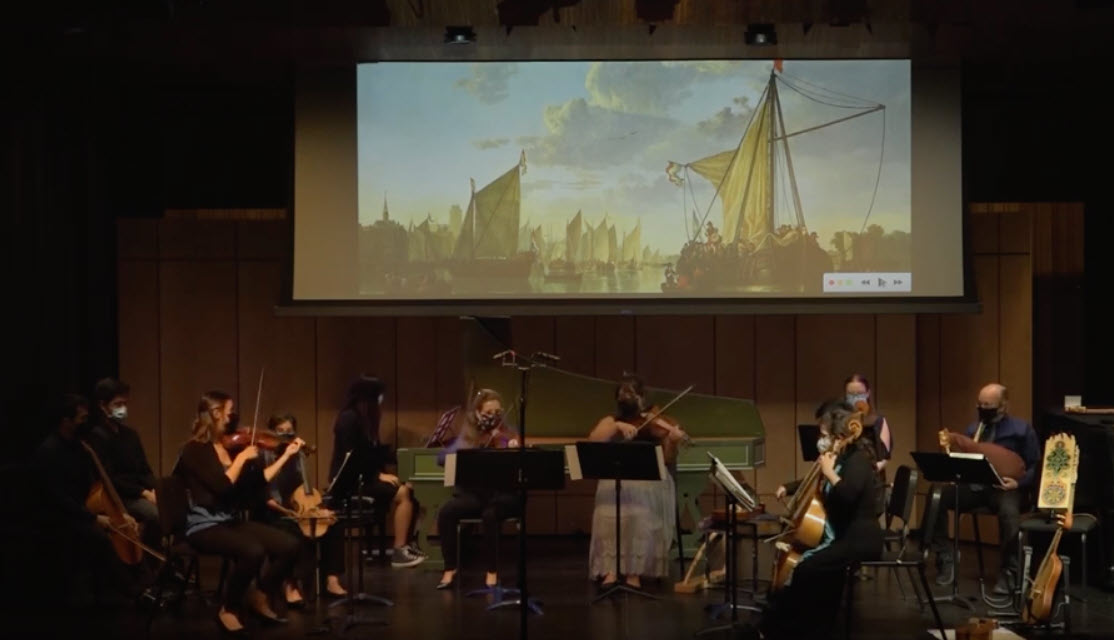 It all starts with an urgent idea: The program is "the culmination of a year-long series exploring the intersection between climate and historical performance."
The opening sounds of EMA's 2022 Young Performers Festival will be played by the UCLA Early Music Ensemble, connecting music with what are literally burning questions for society. The show draws on music about Water, Wind, and Fire. As the ensemble's thoughtful program note continues, "We begin with a resource that has been particularly scarce in Southern California—water. The basis of human life, the water molecules we consume today are the same as the ones that flowed down the Vigo, that raged in Purcell's Tempest, and that streamed from centuries of lovers' eyes as tears. This program dives into pieces spanning the Middle Ages through Baroque eras, featuring small ensembles of period winds, strings, voices, and keyboards…"
Early Music America's Young Performers Festival and Emerging Artists Showcase presents some of the most talented and inspiring musicians in North America, this year June 8 – 10, as part of the Berkeley Festival & Exhibition (BFX), which runs a full week starting June 5. (And stay tuned for more on the Virtual Showcase, June 1 and 3.)
You can find the full schedule and venues on the EMA website. Below are some details on the performers and repertoire from the YPF and Showcase concerts.
+++
Young Performers Festival
Caroline Hume Hall, San Francisco Conservatory of Music, San Francisco, CA
(Free Admission, donations welcome)
Wednesday, June 8
10am (Pacific Time) – UCLA Early Music Ensemble, led by Marylin Winkle, present "Intersecting Climate and Historical Performance." Music by a dozen composers and sources, from the 13th-century Cantigas de Santa Maria to Isabella Leonarda and Handel.
1pm (Pacific Time) – USC Thornton Baroque Sinfonia, singers and instrumentalists, perform "'Een nye liet': Crossing Boundaries in Early-Modern Song and Dance (ca. 1450-1650)."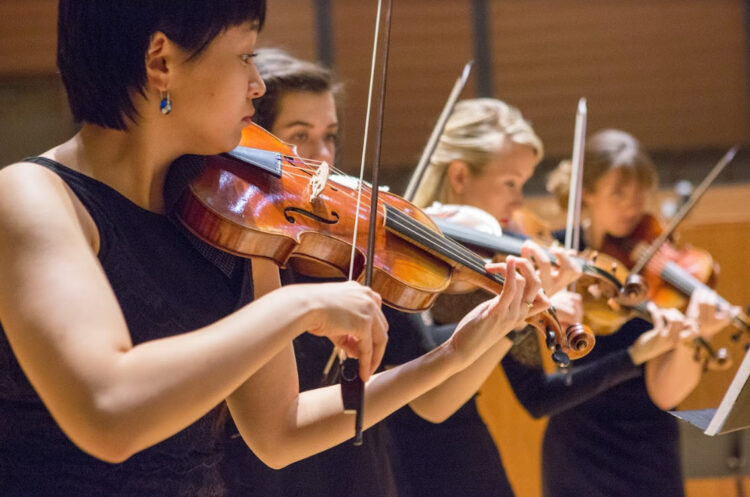 Thursday, June 9
1pm (Pacific Time)– San Francisco Conservatory Baroque Ensemble, in small ensembles, play six composers, from Gabrieli and Isabella Leonarda to the more obscure Gottfried Finger, his Sonata for Three Violins and Continuo, Op. 1, No. 9.
4pm (Pacific Time)– Juilliard415 offers a program of "Chamber Music from Dresden, Leipzig, and Paris" including Zelenka, J.S. Bach, Visée, and Marais.
+++
Emerging Artists Showcase (In-Person)
St. Mark's Episcopal Church, Berkeley, XCA
Tickets via Berkeley Festival & Exhibition
Friday, June 10, performances starts at 12pm (Pacific Time)
Julia Bengtsson (choreography & dance), New York, NY & Rocío López Sánchez (cello), San Francisco, CA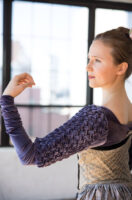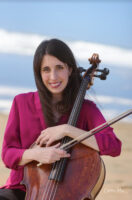 This presentation of J.S. Bach's Fifth Cello Suite "incorporates choreography inspired by the life of Bach's second wife and closest collaborator, Anna Magdalena Bach. Each movement in our suite portrays an aspect in the complicated relationship between the artist and their art, informed by the court dance they are named after. We imagine the artist feeling torn between the love for your husband and family and the love for your independence and art making.
Through our exploration of Bach's suite of dances, we use each dance form to dig deeper into his extraordinary composition and pay homage to the extraordinary woman he chose to share his life with. If Anna Magdalena Bach had been able to foresee the legacy of her husband's work, how would she have felt about her situation?"
Patricia Garcia Gil (fortepiano), Greensboro, NC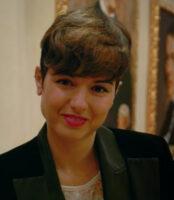 "The idea is to portray the several nuances of 'Enlightening figures.' On one hand is the historical time marked by the desire for equality and progressive universal access to culture that spread in Europe during the late 18th century, known as the Enlightenment. On another is the metaphor of shedding light on these three inspiring women's lives [all born in the middle decades of the 18th century] and their extraordinary music. Finally, the allegory of the chiaroscuro (light and dark), accessible in the music for the instrument that could make piano and forte, is present by physically creating lighting effects.
Compositions from Marianne von Martinez (Sonata in A), Marianna Auenbrugger (Sonata in E-flat Major), and Josepha Auernhammer (Variations on a theme of Mozart's Magic Flute) will be framed by pre-recorded citations collected from Schönfeld's Yearbook, Michael Kelly's memoirs, the correspondence between Haydn and the editing house Artaria, Mozart and his father, Auernhammer's secret plan of living off her talents, Martinez's gratitude for being accepted in Bologna, and the touching dedication of Salieri to Auenbrugger."
Pauline Kempf (violin), San Francisco, with Corey Jamason (harpsichord)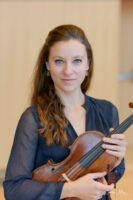 Music for violin and harpsichord, including Thomas Baltzar's Prelude for the Violin, Johann Heinrich Schmelzer's Sonata Quarta, Giovanni Battista Fontata's Sonata Seconda, and Heinrich Ignaz Biber's Sonata 2 in D dorian, C. 139.
The Italian humanist Giovanni Battista Doni (1595-1647) wrote about the versatility of the violin: "In the hand of a skillful player, the violin represents the sweetness of the lute, the suavity of the viol, the majesty of the harp, the vehemence of the trumpet, the vivacity of the fife, the sadness of the flute, the pathetic quality of the cornett."
+++
Emerging Artists Showcase (Virtual)
via the EMA YouTube Channel
Each half-hour concert premiere will be followed by a virtual Q&A with the performers streamed live on YouTube.
Wednesday, June 1, 8 p.m. (Eastern Time)
Ximenez Quartet, Montréal, QC: Karin Cuellar (violin), Simon Alexandre (violin), Namgon Lee (viola), Jessica Korotkin (cello)
Pedro Ximenez's Salon
This concert celebrates the music of Peruvian-Bolivian composer Pedro Ximenez Abrill Tirado (1784-1856), the most prolific South American composer of the first half of the 19th century.
Friday, June 3, 7 p.m. (Eastern Time)
AKOYA, New York, NY: Naomi Dumas (violin) and Caitlyn Koester (harpsichord)
Sonatas for Violin and Harpsichord of Christoph Graupner: GWV 707 and 708
A recital dedicated to the works written for violin and harpsichord by German composer Christoph Graupner (1683-1760).
Friday, June 3, 8 p.m. (Eastern Time)
Duo Oriana, Toronto, ON: Sinéad White (soprano) & Jonathan Stuchbery (lute)
How Like a Golden Dream
Exploring different perspectives of night through ancient folk melodies of Ireland and early 17th century court music from England and Italy.
Recent EMA Features
Meet Nuova Pratica, a stylish ensemble with a progressive-retro attitude. They reject the notion that everything's already been said in the Baroque language. By re-opening the book on Baroque composition, their new works are at turns fresh, varied, and imaginative.
The innovative, cross-cultural work of Salamone Rossi, a Jewish musician at the Gonzaga court in Mantua, has long stirred controversy and strong opinion. The Bay Area's Philharmonia Baroque Orchestra will perform Rossi's 1623 'Songs of Solomon,' a set of Psalm settings in Hebrew in the Italian polyphonic style.
With the season in full swing and the holidays fast approaching, it's a good time to revisit one of the most-read EMA stories of 2023. First published in January, it's a top-10 list of "home stay" dos and don'ts. An early-music host shares his tips for making a home stay easy and low-stress for everyone. Share it with anyone who invites musicians into their house...and traveling musicians will be grateful.