Early Music America has announced the inaugural recipient of its biennial Thomas Zajac Memorial Scholarship, selected by a jury of musicians who knew or worked with the great multi-instrumentalist and educator, Tom Zajac (1956-2015).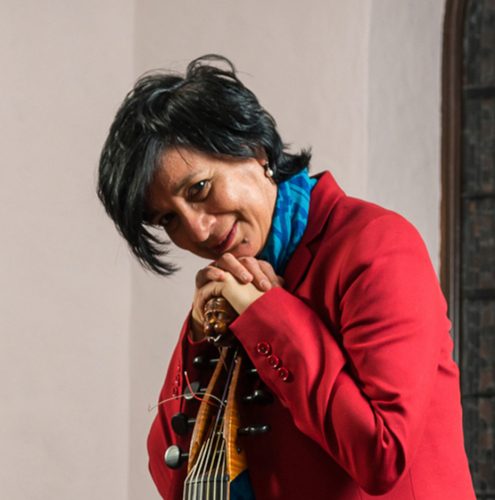 "Laury Gutiérrez was selected as the first recipient of the Thomas Zajac Memorial Scholarship." said executive director Karin Brookes. "Laury's research, which explores African connections with Iberia and the New World exemplifies the cultural cross-fertilization that was so important to Tom Zajac, and we look forward to seeing the results of Laury's research in the historically grounded scholarship and performance exemplified by her ensemble Rumbarroco."
The Zajac Memorial Scholarship, funded from many donations from his friends and colleagues during his final illness, provides a biennial award of $1,500 to early music performers and scholars pursuing specialized study in ethnic and/or folk traditions, instruments, or styles, for the purpose of exploring cultural cross-fertilizations in the history of early music.
"Venezuela has a cross-fertilized population, a mixture of Europeans (mostly from Spain and Portugal), Africans, and Amerindians." said Gutiérrez. "As a mestizo, I have been excited to explore how these people influenced one another culturally, especially musically. With my ensemble Rumbarroco, I have been creating programs and recordings that celebrate these wonderful cultural blends in early music."
"I am now engaged in a large project called AfroBaroque, exploring African connections with Iberia and the New World. This includes the 16th- and 17th-century songs called black villancicos. Many of them were part of religious festivals such as Corpus Christi in Mexico and Iberia.
"I propose to use this scholarship for research in Mexico, Colombia, and Venezuela to study scores, iconography, manuscripts, archival records, as well as current Corpus Christi traditions, including how percussion instruments are used for these events.
"I hope my findings will bring black villancicos closer to their original performance mode, giving visibility to people who were highly marginalized. Imagine if these stunning songs, resulting from the cross-fertilization of African, Spanish, and indigenous music, could be brought to life in a historically informed manner that includes indigenous and African traits!"
Born and raised in Venezuela, Laury Gutiérrez received scholarships to study as an undergraduate in the United States and has lived here since that time. Praised as a "first-rate" instrumentalist by the Boston Globe, Laury Gutiérrez holds degrees from Indiana University and Longy School of Music, and has also received fellowships and a scholarship from Boston University, where she did doctoral work in historical performance. She is the founder and director of La Donna Musicale, an internationally acclaimed ensemble that specializes in the performance of early music by women composers. Their four groundbreaking CDs, Antonia Bembo's Psalms, The Pleasures of Love and Libation, and Anna Bon, have received critical acclaim at home and abroad.
Gutiérrez is also founding director of Rumbarroco: a Latin-Baroque fusion ensemble. Rumbarroco's CDs, Latin-Baroque Fusion, I've Found a New Baby: Baroque Meets Afro-Latin Jazz, and Latinas InFusion have been resounding successes with critics and audiences alike. Gutiérrez has been a Fellow at the Radcliffe Institute at Harvard University, and she is a resident scholar at the Brandeis University Women's Studies Research Center.