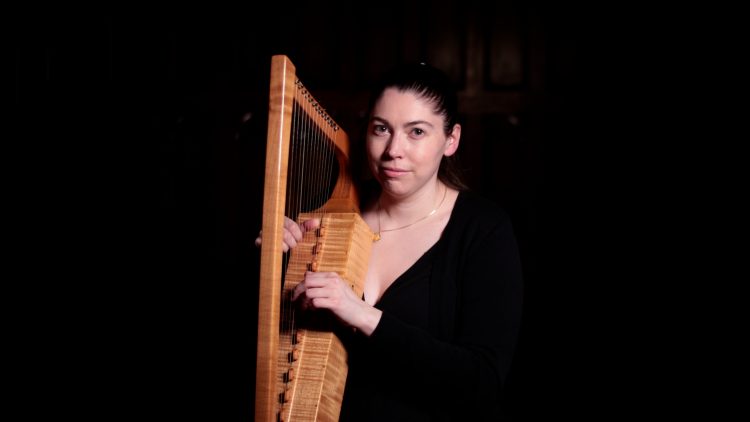 Early Music America has announced the 10th recipient of its biennial Barbara Thornton Memorial scholarship, selected by a jury of musicians who knew or worked with the great medieval music specialist and teacher, Barbara Thornton (1950-1998).
"It is with great pleasure that we announce Anna O'Connell as the recipient of the 10th Barbara Thornton Memorial Scholarship," said executive director Karin Brookes. "This Scholarship, launched 20 years ago in 2001, honors the life and work of Barbara Thornton, who came to Europe from New York in 1970, filled with plans to study early music, and went on to co-found the medieval music ensemble Sequentia with Benjamin Bagby in 1977." 
The biennial Scholarship is awarded by Early Music America to an outstanding and highly motivated young performer of medieval music who seeks to widen their experience through more advanced study and/or auditions in Europe.
Anna is a singer and historical harpist looking to pursue an international career in medieval performance. She would like to further those aspirations by studying performance practices of late-medieval German monody, especially hymnody, as well as explore music of the Iberian peninsula.
"In a year with many highly-qualified candidates, Anna O'Connell demonstrated that she has the self-directed drive and passion for medieval music that make her the ideal fit for the Barbara Thornton Memorial Scholarship," said Benjamin Bagby. "In Anna's case, with her focus on the work of Frauenlob, we find this award very suitable as a way to honor Barbara Thornton's memory and legacy."
"With the Barbara Thornton scholarship, I will seek out several European musicians and ensembles that have been my inspirations," said Anna, "namely Sabine Lutzenberger and the ensemble Per-Sonat and vocalist Patrizia Bovi, in addition to pursuing research related to German monody. I am looking forward to opportunities to interact with other harpists and singers, and gaining firsthand experience with manuscripts I have until now worked with virtually."
Comments from jury members:
Anna's combined skills in performance and research as well as her avid inquisitiveness—particularly in the discovery of early German song—will serve her well as she embarks on a journey exploring medieval music, making it her own, and sharing it with listeners and colleagues. I am very happy to recommend her for this scholarship, and wish her continued success.
Anna O'Connell is a very convincing young artist/scholar who qualifies for the scholarship in many ways. Aside from her outstanding vocal talent, she displays a dedication to the exploration of unusual repertoires in medieval music. We especially noted the detailed quality of her research into German Spruchsangdichtung, a repertoire with many challenges for performers and scholars alike, and the way she put historical information and inspiration into the context of rhetoric. 
Anna expects to graduate with D.M.A. in Historical Performance Practice (Voice) from Case Western Reserve University in 2022. She also holds a M.M. in Choral Conducting from the University of Southern California and a B.S. in Music Education, Voice, and Harp from Providence College.
For more information about the Barbara Thornton Memorial Scholarship, and EMA's other grants and scholarships, visit EMA's Named Biennial Scholarships page..