Early Music America is delighted to announce the second recipient of the Margriet Tindemans Early Strings Scholarship, launched in 2018 to honor the life and work of the late Margriet Tindemans (1951-2014), a master of early stringed instruments and a shining figure in the field of early music.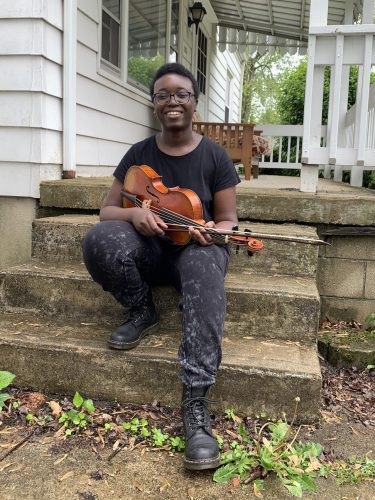 "It is with great pleasure that we announce Tavya McCoy as the second recipient of the Margriet Tindemans Early Strings Scholarship," said executive director Karin Brookes. "This award is only possible due to the support of many generous donors who counted Margriet Tindemans as their musical mentor and friend, and it is designed to honor Margriet's peerless legacy as a dynamic and generous musician and educator."
Tavya was selected by a jury of musicians who knew and worked with Margriet over many years and who provided the following statement:
Tavya McCoy is a gifted and aspiring musician who has shown extraordinary dedication throughout her life to pursuing a career in music, and most recently a career in early music. After making a transition from her study of violin to viola, Tavya quickly demonstrated a positive and eager versatility in adapting 18th-century violin repertoire to viola. Her sonorous performances of baroque repertoire are both skillful and beautifully nuanced. Tavya has furthermore demonstrated an outstanding depth of purpose for her upcoming year abroad by pursuing her program in French, the primary language where she will be studying.
We are confident that Tavya will embrace and experience the additional challenges and rewards that come with being fully immersed in another culture. These are all attributes that Margriet Tindemans lived and valued, and so it seems especially appropriate that Tavya McCoy receive this Scholarship in her name.
The Tindemans Scholarship provides support for graduate study outside North America that focuses on medieval, Renaissance, or Baroque stringed instruments, and awards up to $25,000 to an outstanding and highly motivated young performer of an early bowed instrument who seeks to deepen and widen their experience through study abroad.
Tavya McCoy has been admitted to the Specialized Diploma program in Historical Performance at the Conservatory of Strasbourg, France, as a student of Stéphanie Pfister. "I aim to increase my technical and musical skills on the baroque viola," Tavya said, "while also exploring my various research interests, one of which is the influence of folk and traditional music from Brittany on French baroque music. I am particularly interested in a type of folk song called the gwerz, which is a lament similar to a Scottish air.
"I have also been inspired by groups who have taken a creative approach to the study and performance of Baroque music, such as Barokksolistene, and it is these groups that helped to formulate my interest in baroque music. They not only possess a wonderful sound, but also take on unique musical projects that were exciting to me as a viola student coming from the modern performance world. I hope to produce meaningful work as a musician and researcher in order to make a contribution to the early music field."
Tavya McCoy graduated in 2020 from the University of Illinois at Urbana-Champaign with a M.M. in viola performance. She has a B.A. in Music History and Theory from Mills College in Oakland, CA, where her viola teacher was Aaron Westman, who was pivotal in helping her develop as a violist and in kindling her interest in early music. She has also studied baroque viola with Sarah Darling, Liz Freivogel, Cynthia Miller Freivogel, and Stanley Ritchie. McCoy has studied French at the Université d'Aix-Marseille, and during 2020-21 has been the artistic apprentice to the Baroque Chamber Orchestra of Colorado.