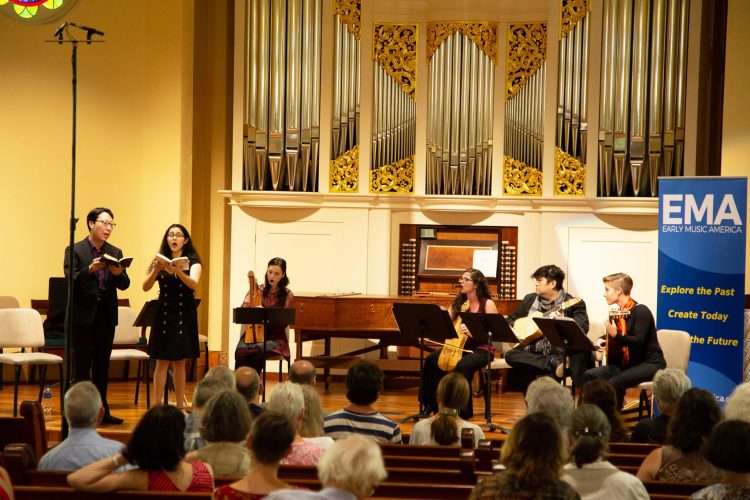 The University of Southern California Collegium Workshop will perform at 4:30pm EDT on Thursday, May 23, 2019 as part of Early Music America's Young Performers Festival, during the Bloomington Early Music Festival.
USC has two official early music ensembles. The Thornton Baroque Sinfonia is an ensemble of period instruments and voices specializing in music from the late 16th through the mid-18th centuries. Classified as one of the official "large ensembles" of the Thornton Music School, the Baroque Sinfonia consists of approximately ten graduate students majoring in early music, at least as many graduate students of modern instruments and voice minoring in early music, and a small but growing number of undergraduate students, all performing four different programs each year.
Members also perform in the USC Collegium Workshop in two annual concerts devoted to medieval and Renaissance music. Both ensembles have performed in festivals in California, and in the Berkeley and Boston Early Music Festivals as winners of Early Music America's College-Level Ensemble Development Grant and participants in past Young Performers Festivals. Their performances have been heard over public radio, and their members, past and present, perform, research, and teach around the world. Their recording of British broadside ballads "D'ye Hear the News," commissioned by the Yale University Press, can be heard online at iTunes U. The ensemble was founded in 1986 by James Tyler and is currently led by early music program director Adam Knight Gilbert.
---
2019 Festival Program
Mi verry joy: Music from the Shores of England and France
The interwoven histories of England and France in the fifteenth and sixteenth centuries profoundly affected their poetry and music. This concert will feature music from the Ritson, Fayrfax and Henry VIII manuscripts in England, and from the Loire Valley chansonniers in France, featuring anonymous unica from the recently discovered Leuven Chansonnier. The repertory will span music from The Hundred Years' War to shortly after the Wars of the Roses. Settings of poems by King Henry VIII and by Duke Charles d'Orléans, who was a prisoner in England for 25 years and wrote verse in French and English, will play a special part in our concert.
Watch USC Collegium's 2018 YPF performance: O virgo splendens: Devotional Music of Iberia