Conductors with roots in early music are taking their expertise to symphony orchestras. There was a time, not so long ago, when modern performers tended to be wary of the early-music movement. Often, these two musical communities stood with their backs to each other, separated by a chilly silence. And occasionally a war of words would erupt. The violinist and conductor Pinchas Zukerman famously dismissed the early-music movement as "an aberration" and "a fad."
Yet the old Cold War stance is gradually giving way to an era of musical détente. Today, even the Juilliard School—the high temple of modern performance practice—has an early-music program. And symphony orchestras increasingly are taking an interest in period performance.
This trend wouldn't be possible without the efforts of certain early-music practitioners. Engaged by orchestras to bring a historically informed sensibility to baroque and classical music, they impart their knowledge of bowing, phrasing, tempo, and other aspects of period style to increasingly curious orchestra members.
It isn't easy to condense years of training in historically informed
performance into just a few rehearsals with non-specialist players—and not everyone in the early-music world would care to attempt it. However, some eagerly accept the challenge. Nicholas McGegan, Jeanne Lamon, and Jeannette Sorrell are three prominent HIP musicians who balance their evangelical zeal for period style with realistic ideas about what can and cannot be accomplished in the context of an orchestra's schedule and skill set. Their goals are similar, yet each takes a different approach to working with modern orchestras.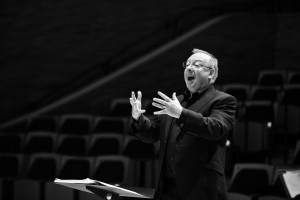 The English-born McGegan adheres most closely to the professional model of the modern orchestral conductor. He has served as music director of San Francisco's Philharmonia Baroque Orchestra since 1985 and also holds positions with the Pasadena Symphony and Australia's Adelaide Symphony. In addition, he guest-conducts extensively. His list of credits includes the New York Philharmonic, Los Angeles Philharmonic, Chicago Symphony, Cleveland Orchestra, and many others. According to McGegan, he's part of a "second generation" of early-music specialists who have stepped into the modern orchestral world. "There's the much older generation—Roger Norrington, for example," he says. "He's been music director in Stuttgart and Salzburg. Then there's Matthew Halls and Harry Bicket, who are doing the same thing. And there are people who do it the other way round. I'm thinking of Simon Rattle. He also conducts the Orchestra of the Age of Enlightenment. So does Mark Elder." McGegan generally conducts from the podium, baton in hand. He's versatile, to say the least: he doesn't always work with early-music specialists, and he doesn't always perform early music. (His repertoire for the 2015-16 season runs the gamut from Henry Purcell to Aaron Copland.) With
modern orchestras, he's been exploring period style for nearly three decades, since he conducted Messiah with the St. Louis Symphony in 1986.
Over the years, he's seen a gradual change in attitudes. "Twenty or thirty years ago," he recalls, "modern orchestras didn't play a lot of early music. Some were hostile to it. And others thought they'd better not play the Brandenburgs because they'd be slammed for not sounding like a period orchestra. But nowadays many violinists have baroque bows in their cases. I find it easy now to go between a modern and period orchestra in the States and the U.K." When rehearsing with modern ensembles, McGegan has honed his approach. "I nearly always show up with my own music, marked and bowed the way I want it to go. To get the articulations I want, I find it easier to do all the preparations. The modern orchestra has fairly limited rehearsal time."
Yet he's aware there are protocols that must be respected. "One thing you always have to do is make sure that the concertmaster and principal cello are sympathetic to what you want to do. If they are antagonistic, you're not going to get very far." McGegan has also learned that too much missionary zeal can raise hackles. "It's very wrong to preach or to say, 'I know how this music goes, and you don't—and this is the way it's going to be.' None of us really know how baroque music sounded, so it's a matter of opinion."


For 33 years, violinist Lamon served as the concertmaster and music director of Toronto's Tafelmusik Baroque Orchestra. (She stepped down last year, but is still the ensemble's chief artistic advisor.) However, she's no stranger to modern orchestras. "It's so much fun," Lamon says of her experiences with these ensembles. "It's been very meaningful for the musicians. If it's approached in a refreshing new way, it's exciting. And the concerts have been well received."That said, she's also concerned about the artistic compromises that can result when modern ensembles try to imitate period style. "Sometimes it can lead to great music making. But sometimes it results in a hybrid, pale version. I'm not a big fan of the hybrid thing we're starting to see. It waters down a lot of what makes baroque music beautiful."
Over two decades, Lamon has led the Detroit Symphony and numerous Canadian orchestras, in Vancouver, Calgary, Winnipeg, and other cities. She's found that modern players' understanding of historically informed performance practice varies greatly from one orchestra to the next. "People are seldom clueless," she says. "But how much they know depends on whether they've had exposure to period style. Some have had xposure, but others have had none. It's about deepening their understanding of the repertoire."
According to Lamon, a single guest appearance with an orchestra that's new to period style will produce only limited results. It's much more effective to establish an ongoing relationship with an orchestra, building on the musicians' knowledge from one concert to the next. She's worked in this way with several orchestras, including Symphony Nova Scotia in Halifax and the Kitchener-Waterloo Symphony in Ontario. Significantly, when Lamon leads a modern orchestra, she doesn't mount a podium, baton in hand. In baroque fashion, she leads with her violin. "Most guest directors are conductors," she says. "And if you're conducting, the downbeat has to be translated into a bow-stroke. But I'm always standing in front of the orchestra, playing. As a result, it's very easy for the strings to follow me. I demonstrate as I play, so I don't have to use a lot of words."
Lamon also has ways of coaxing a more historically informed sound from the winds and percussion. "When I hear the horns playing with a covered, tubby tone, I ask them to make a bright sound. And I ask timpani players to use wooden mallets. In a modern orchestra, some sections tend to hide in the background. But for baroque repertoire, they all need to be very present. That's a huge difference."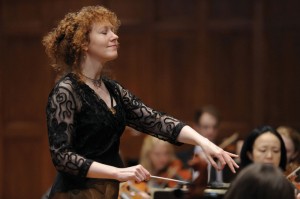 Harpsichordist Sorrell is well known as the director of Apollo's Fire, the Cleveland-based baroque orchestra she founded in 1992. And in her work with modern ensembles—including the Los Angeles Chamber Orchestra and the orchestras of Pittsburgh, Seattle, and St. Louis—she's noticed a change in just the last five years. "It used to be, when I would go to a symphony orchestra, they were quite unaware of the kind of stylistic nuances that we in the early-music world have spent years learning about," says Sorrell. "But in recent years, I've noticed that the concertmasters of the upper-level orchestras already had a sense of baroque style before I spoke to them. They have the sound in their ears. The rest of the players may have less exposure, but they've been very open and excited."
Like McGegan, Sorrell conducts large ensembles from the podium. (In her Apollo's Fire concerts, she's more likely to be found at her harpsichord.) And, like Lamon, she believes that multiple appearances with the same orchestra can lead to a deeper understanding of period style and technique."The second time I was in Pittsburgh," she says, "I asked them to try baroque bows. I brought four bows with me, and all the players tried one. Some people asked for a summer workshop to learn more about baroque style."On one occasion, Sorrell had the luxury of seven rehearsals with Miami's New World Symphony. This allowed her to delve into tuning issues she ordinarily wouldn't approach when working with a modern orchestra. "We got into intonation, playing pure intervals above the base. An F-sharp is different if it's above a D or above a B. That's what we do in Apollo's Fire, but it's not something I'd try to get into with three or four rehearsals."
Ultimately, what do McGegan, Lamon, and Sorrell hope to accomplish through their encounters with modern orchestras? McGegan says his objective is to get a modern orchestra to think like a jazz band. "Romantic orchestras are violin-heavy," he says. "But very often with a baroque orchestra, the whole impetus is that it's driven by the bass
section. In much the same way, a jazz band is led by the rhythm section."
Lamon describes her goal as "taking the music to the next level, whatever that means for a particular group at a particular moment." Sorrell's intention is to bring a baroque sense of Affekt to modern orchestras. "Baroque music is all about rhetoric and drama, andmanipulating the emotions of the audience. There's no reason why symphony players can't cultivate these ideas."
All three agree that bringing period style to modern orchestral performance is an idea whose time has come. Although there are a few holdouts (pace, Zukerman!), mutual respect and a healthy curiosity have become the new normal. The chasm that once separated modern and period performance doesn't look as wide as it was once thought to be. Early-music specialists like McGegan, Lamon, and Sorrell are building bridges.