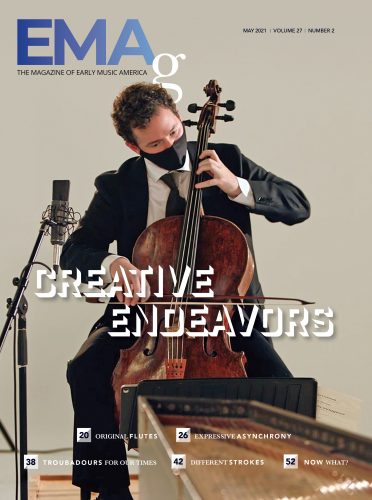 TABLE OF CONTENTS
Features
On the Cover: Creative Endeavors (no subscription required)

A new EMA survey finds that member organizations have responded to the coronavirus pandemic in inventive ways, many of which will continue to be part of their sensibility as they forge post-COVID lives.

Original Flutes by Michael Lynn

The longtime teacher of recorder and baroque flute at the Oberlin Conservatory has been collecting historical flutes for decades. He shares the evolution of the instrument on his website, which he started in 2014.

Expressive Asynchrony by Claire Holden

Is constant togetherness any more appropriate in a historically informed performance of pre- 20th-century repertoire than constant vibrato? The Accordes! Project is taking new approaches to find the answer.

Troubadours for our Times by Laura Zoll

With COVID-forced limitations on gatherings and singing, why not recreate a troubadour competition from the 14th century? The music is perfect for today: solo undertakings suited to the aural difficulties of online platforms.

Different Strokes by Philippa Kiraly

The importance of the bow in performance today is unparalleled. Few professional musicians would quarrel with this, whether playing modern or period instruments. The kind of bow and how it's used are equally crucial.

Now What? by Shannon Mercer

The Canadian soprano ponders the effects of hormonal changes on her artistry and career, exploring layers of pain amid a host of new, fulfilling perspectives.
Departments
From the Editor: The Ultimate Goal
From the Executive Director: No Easy Answers
The Art of the Amateur: Filling in the Void

EMA En Courant – News from Around the Early Music Community

Canto: We Shall All Be Changed by Amanda Powell (no subscription required)
CD & Book Reviews
Letter to the Editor
EMAg Puzzle by Joshua Kosman
Musings: Back to the Future by Thomas Forrest Kelly