The peripatetic and exhausting and fascinating and insanely fulfilling life of an early musician in America.

A prof from Ohio guides collegiate singers in Cambridge, England, in the illuminating tuning system known as Just Intonation.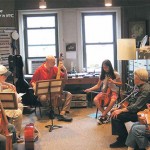 John Mark Rozendaal combines Eastern and Western teaching techniques to introduce the viol to a wide range of learners.