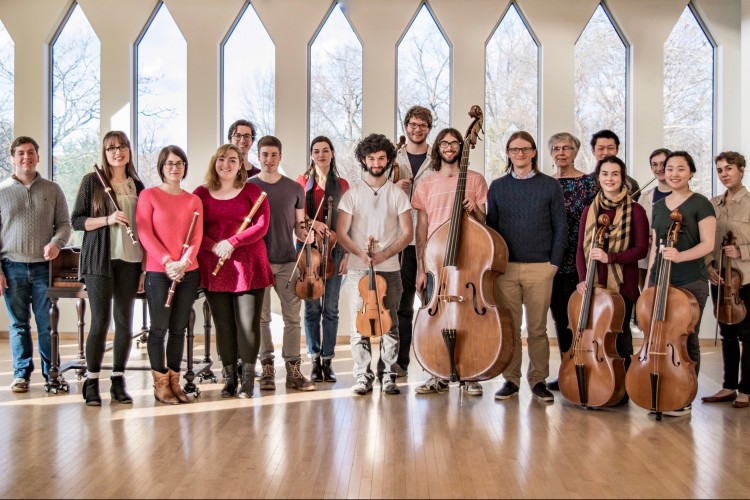 The Historical Performance Department at the Oberlin Conservatory of Music is one of the oldest in the United States and has offered degrees in performance on historical instruments for almost 50 years. Oberlin Baroque's Young Performers Festival concert program will highlight the breadth of repertoire Oberlin students work with on a regular basis.
Michael Lynn, Professor of Recorder and Baroque Flute at Oberlin, writes about the historical performance opportunities there:
What is unusual about the program at Oberlin is that it is centered on the teaching of undergraduate students (there is a small Master's program, with around two students a year). Undergraduate majors can study organ, fortepiano, harpsichord, clavichord, baroque cello, viola da gamba, historical flutes (both transverse and recorders), baroque oboe, and baroque violin. They also have the opportunity to study lute, baroque bassoon, cornetto, natural horn, and other instruments. Each year there are 10-15 majors, some minors, and a large group of students taking secondary lessons, who are generally modern majors taking the baroque version of their instrument. Oberlin also has a baroque orchestra, which performs three times per year, and Collegium Musicum, a vocal ensemble directed by Steven Plank, Professor of Musicology and a board member of Early Music America.
Oberlin Baroque Ensemble, a faculty group, began in 1959, making 2019 its 60th Anniversary. This ensemble continues today with Michael Lynn (baroque flute and recorder), Marilyn McDonald, (baroque violin), Catharina Meints (baroque cello and viola da gamba), and Mark Edwards (harpsichord). Other than Mark, the members have played with the group for 40 years or more. Other surviving members of the group include harpsichordists Lisa Crawford and Webb Wiggins.
During Oberlin's long history, the Conservatory has amassed an incredible collection of early instruments, focused mainly on the baroque period. The collection includes around 20 violas da gamba; 15 baroque violins violas, and baroque cellos; 25 harpsichords; six fortepianos, including several fine antique pianos; and a fine collection of renaissance and baroque recorders and flutes, baroque oboes, baroque bassoons, and lutes. Oberlin is home to one of the finest collections of historical organs in the country.
In addition to these instruments, specifically for the use of students, Oberlin is home to The Frederick R. Selch Collection of American Music History, with some 700 instruments and 9,000 books. The Conservatory Library is often recognized as the best undergraduate music library in the country and it is surpassed only by a few University research libraries.
2018 Young Performers Festival Program
Three Parts on a Ground – Henry Purcell
Pieces pour trois voiles, Livre IV – Marin Marais
Café 1930 – Astor Piazzolla
Bordel 1900 – Piazzolla
Prelude and Fugue in G major, BWV 541 – Johann Sebastian Bach
Sonate pour le Violoncelle – Jean Baptise Barriere
Concert in B minor – Georg Philipp Telemann