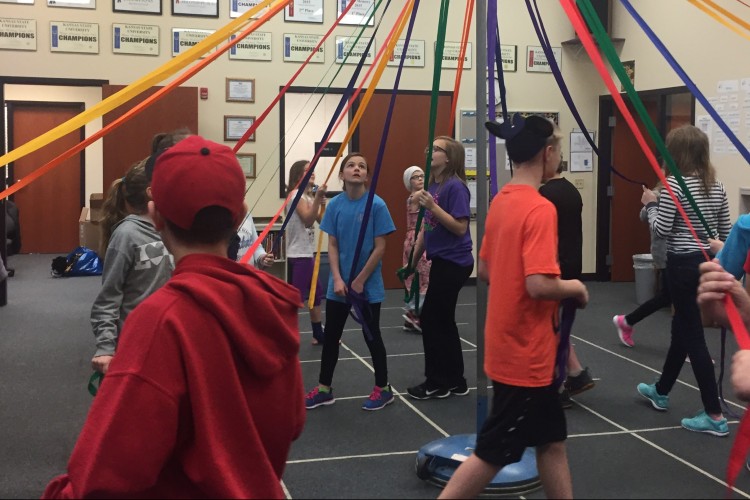 Eighth in our series of guest articles for Early Music Month
by Karis Dolenz
Roles assigned, costumes fitted, dances learned, songs memorized, and instruments rehearsed – the fifth and sixth grade students at St. George Elementary School are ready to present their medieval-themed program, A Night in St. George Hall. 
As teachers in St. George, Kansas, we find that students obtain a deeper level of learning when cross-curricular connections are made between subjects studied in core classes and those in electives. This year's social studies unit focused on the Middle Ages, so it only made sense for us as music educators, to expand upon the rich music, dance, and history learned in social studies by creating a program centered on it.
By integrating primary sources into instruction, students were able to investigate and discover what it was like to live during this exciting period. Classroom discussions were brought to life as students learned dances, read sacred plainchant, played period instruments, and analyzed recordings of music that was popular around this time. A particular class favorite was El Grillo by des Prez, a secular piece detailing a love stuck cricket using the technique of text painting to convey the length that he sings for love.
Herald trumpets and recorders were integrated with traditional elementary classroom Orff instruments (xylophones, bass bars) to provide multiple contexts for creating music. Students expanded on the important social and celebratory role of dance during the Renaissance while learning to weave a maypole and "thread the needle."
The musicians discovered the haunting quality that various musical modes (Ionian, Aeolian, Dorian) had on songs like Scarborough Fair, The Boar's Head, and Greensleeves. Through learning these pieces, students were able to study the context for which they were written and decipher the mysterious lyrics to discern their true meaning. There were many "light bulb moments" when individuals understood the writer's intent and felt a personal connection with words penned over five hundred years ago.
Teaching musical pieces from the Middle Ages and Renaissance has provided my classes multiple opportunities to be challenged as musicians and independent thinkers. I have noted that for many students, their sense of beat and tonal center has only continued to become more confident as we've played around with changing modes and incorporated movement with music. The final presentation from six months of discovery and musical refining will take place March 13th and 14th. The musicians could not be more excited to dress in their period costumes, sing authentic pieces, and bring a bit of history to life!
Karis Dolenz is a first year music educator at St. George Elementary School in St. George, Kansas.