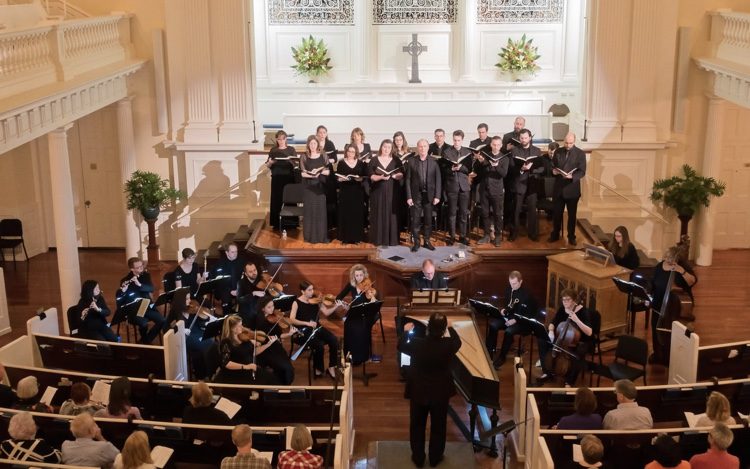 By Perry Tannenbaum
Bach festivals are singing a new song in the Carolinas. After a three-year hiatus, a new Bach Society of Charleston formed in 2015 and revived the Holy City's annual festival in South Carolina. Reprising the Bach Festival of Charleston for a third consecutive year, the society expanded the event from three days to four in February.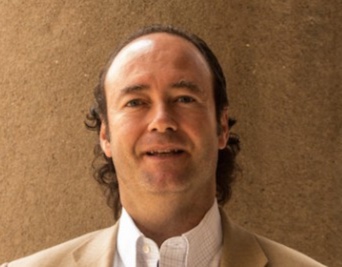 Just a couple of years ago, the North Carolina Bach Festival had shriveled to a single guest-artist performance and one youth concert. Under new leadership in 2017, NC Bach presented four featured artist concerts. Instead of remaining huddled in Raleigh, the festival expanded its reach to include Greensboro and Charlotte. Expansion continued at the 2018 NC Bach Festival, and confidence is running high for next year, when the festival celebrates its 40th anniversary.
More spectacular yet is the meteoric rise of Bach Akademie Charlotte, which didn't even exist a year ago. Two concerts — one in October and another in January — began their first season with hardly a word about the Big Bang to come. Akademie is presenting its first Charlotte Bach Festival June 9-17, when eight major events are being offered at churches in communities ranging from Gastonia to Winston-Salem.
None of the artistic directors at these three festivals was ready to proclaim a new wave of Bach enthusiasm sweeping the region. In the Charlotte area, however, there is definitely something different in the air. Up in Davidson, less than two miles from St. Alban's Episcopal Church, where the Akademie staged its first concert, WDAV has grown to be the No. 1 classical public radio station in the country — partly by dropping news roundups at the top of the hour and partly by adding more Bach.
"Even before we launched our popular Sunday morning program Biscuits and Bach in 2009, audience research and anecdotal feedback made it clear that Baroque music was popular with our listeners, so it's been a large part of the daily music mix, as well," says WDAV general manager and content director Frank Dominguez. "Bach clearly represents the pinnacle of musical achievement in that era."
While Bach hadn't gained a firm foothold in Charlotte before the Akademie's 2018 festival, there were other traces of a footprint besides WDAV. An annual BachFest bloomed at St. Alban's, if only for a few hours, and the Charlotte Symphony ran a string of Bachtoberfests from 2013-15, including lightweight snippets from the Bach family mixed with Wagner, Mozart, Brahms, and — of course — beer.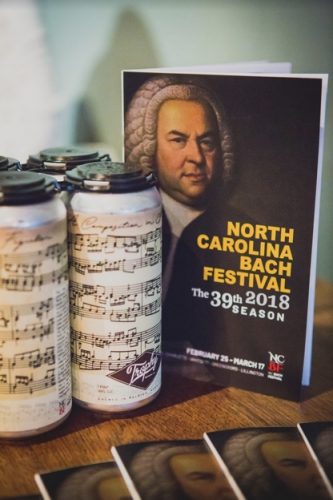 More significantly, the orchestra programmed Bach's B Minor Mass in 2002 and 2009 in its flagship classics series and St. Matthew Passion in 2013. Conducted by Scott Allen Jarrett, then music director at the Oratorio Singers of Charlotte and an assistant conductor at the Charlotte Symphony, this performance of the Passion planted the seed that eventually grew into the Akademie and its Charlotte Bach Festival.
Michael H. Trammell, president of Bach Akademie Charlotte, is on the verge of changing the cultural life of his hometown. He once was a tenor with the Oratorio Singers. In Bach, he found a composer he could connect with more deeply than any he had sung before, and in performing the Passion, he found what he wanted to do with his life.
"I remember finishing the concert cycle and wanting more, so I dove into Bach," says Trammell. "My professional career as a vocalist continued to grow, and I started studying Bach in Germany through several young artist festivals under Helmuth Rilling, The music became very real and tangible as we performed in churches and cities where Bach lived and worked. In actuality, my hometown's cultural life changed me and led me to a broader prospective of classical music and life in general."
At Bach-centric concerts back home, Trammell found audiences that craved more — and a growing group of choral singers who could meet that demand at a high level. He performed several engagements with the North Carolina Baroque Orchestra. Co-founded by recorder player Frances Blaker and her sister, baroque cellist Barbara Blaker Krumdieck, NC Baroque was one of several early-music ensembles in the region that could supply instrumental nectar to the grand idea that was flowering in Trammell's mind.
NC Baroque and WDAV would both be willing to partner in the Akademie endeavor. So would select churches, universities, and concert series. But the Charlotte Bach Festival needed strong leadership if it expected to grow and flourish. Trammell flew up to Boston in an attempt to bring Jarrett, his original mentor, aboard.
Jarrett hadn't languished since leaving the Charlotte Symphony in 2015 after an 11-year stint. He is resident conductor of the Handel and Haydn Society in Boston and music director of the Back Bay Chorale. At Boston University, Jarrett has double duties, directing Sunday services at Marsh Chapel and helming a cantata series.
Nor is he a stranger to Bach festivals. At the Oregon Bach Festival, Jarrett is the director of the Vocal Fellows Program and the assistant chorus master. He also led off the 2017 season from the podium in a performance of St. Matthew Passion, the only conductor besides OBF founder Rilling to have that distinction. This summer, Jarrett is entrusted with another Rilling domain, the Discovery Series, a unique lecture-concert experience that delves into the craft and theology of Bach's music while presenting it.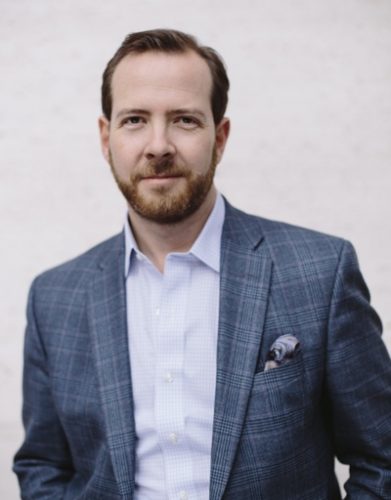 For Trammell, Jarrett was not only a mentor but a clear first choice for Akademie artistic director. For the goal of spreading the musical and pedagogical DNA of Rilling and the Oregon Bach Festival to Charlotte, Jarrett is ideal. With him aboard, all the Bach boxes are checked at the inaugural Charlotte Bach Festival. Two blockbuster evening concerts — the Orchestral Suite No. 1, the "Singet die Herrn" motet, and Cantata 147 on opening night and B Minor Mass the following weekend — bookend the festival.
In between, there are two daytime Bach Experience concerts modeled after Oregon's Discovery Series and showcasing the first two cantatas, BWV 75 and 76, that Bach wrote in the summer of 1723 when he became cantor at the St. Thomas Church in Leipzig. Topping off the Akademie's first large-scale enterprise are an Emerging Artist Program and a Visiting Artist Recital Series, featuring Handel and Haydn principal cellist Guy Fishman and, four nights later, organist Bálint Karosi, winner of the 2008 International J.S. Bach Competition.
Even in the festival's developmental stages, Jarrett has been blown away by the enthusiasm he has witnessed for the newborn Charlotte Bach, both near and far. He thought he would need to beg local universities to send him applicants for the Emerging Artist Program, but he received more than 40 audition tapes from 17 states plus Canada. He was hard-pressed to pick a final four. Krumdieck has played a key role in assembling the festival orchestra, with a trumpet duo that will fly in from New York and DC and a principal oboist, Meg Olin, also from DC.
"Just this morning," Jarrett said the afternoon we spoke, "I got an email from a wonderful flute player who lives in Berkeley, California, whom I've known for a couple of years. He said, 'I see you're doing this thing in Charlotte. I'd love to come and play some time.' So I'm getting emails from folks all across the country who are wanting to take part."
All of the performers are professionals who will earn fees and travel expenses and accommodations, if they're coming from outside the Charlotte vicinity. Seventy-five percent of the festival's first-year budget, Jarrett says, will go to paying the musicians. No wonder he was prepping for a big fundraiser to be held a few days after our interview in mid-May.
While he doesn't see a hot new Bach trend sweeping the Carolinas, Jarrett perceives a longer arc.
"Fifteen years ago, a performance of the St. John Passion was a rarity," Jarrett recalls. "Now I check Facebook every March, and I can hardly find a post that doesn't mention one of the Passions! It seems like people have discovered this repertoire, and they're really doing."
Ricard Bordas, artistic director at Bach Society of Charleston, paints a similar picture — in more vivid detail. When he arrived in 2001, he found it odd that Charleston — founded in 1670, 15 years before Bach's birth, and where Spoleto Festival USA has flourished — had only a handful of early-music instrumentalists and just one baroque violinist.
"A city from the Baroque period," Bordas marveled, "with gorgeous historic churches — one of the most beautiful cities in the world — with very little Baroque music."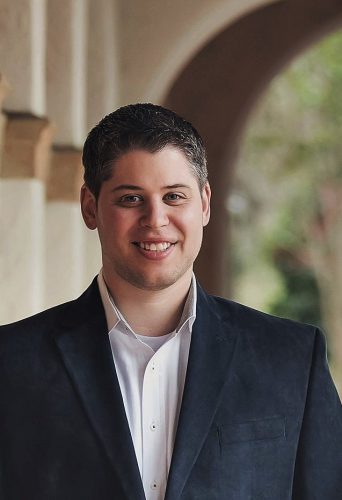 For years afterward, the dream of establishing a baroque music group that could offer major works on period instruments remained out of reach. The first incarnation of Charleston's Bach Festival in 2009 mixed local musicians and choirs with specialists Bordas had met performing as a countertenor at the Boston Early Music Festival.
The Bach Society established a new Charleston Baroque Orchestra and reconfigured the 2016 Bach Festival of Charleston in an all-period-instrument mold. A new Youth Recital Concert was added in 2017, and the Charleston Baroque Voices were formed. The 2018 festival added a fourth day and spread to four locations, including Kiawah Island.
Building on the improvements and expansions of the past two NC Bach Festivals, executive director Roman Placzek plans to dedicate its 40th anniversary to fortifying NCBF's excellent youth program. An accomplished cellist, Placzek doesn't insist on period instruments, welcoming a new Yamaha CFX concert grand piano on the occasion of William Wolfram's complete Goldberg Variations recital and offering two other 2017 concerts at Steinway Piano Galleries in Charlotte and Greensboro.
Nor does he completely scorn the Bachtoberfest concept. When Trophy Brewing Company hosted one of their 2018 special concerts in Raleigh, a new Fuguebier was born, brewed, Placzek says, according to a Bach fugue.
Placzek hadn't heard of the Charlotte Bach Festival before we contacted him, but he was very pleased to learn about it.
"Our missions are different," says Placzek, "but our passion is the same — the great J.S.B. Knowing about this great society offers me a prospect of a possibility of some fabulous cooperation. I am looking forward to contacting their artistic director, Scott Allen Jarrett."
Although their territories will overlap, the Charlotte and the NC festivals are unlikely to collide. The elder Raleigh-based event historically ends on or before Bach's birthday, while the Charlotte fest is sprouting in June, close to the other side of spring.
"The NC Bach Festival is taking place in March," Placzek rejoices. "That's three months away from June. Who can live without Bach that long? Well, we can't! And our wonderful and ever-increasing Charlotte audience clearly can't either. I am convinced the community of Charlotte will get more and more informed, more excited, and seek to be entertained by this great music and ask for more."
Down in Charleston, a countertenor is singing a similar tune.
"I am really excited about the new Charlotte Bach Festival," says Bordas. "It gives a new opportunity for cooperation between the early-music groups in the South. The new festival also adds to the growing Baroque music scene in the Southeast, including Georgia, where you also have the Atlanta Baroque Orchestra, which is already 20 years old. My hope is that this growth of organizations will be followed by even more musicians moving into the area, as well as more programs of early music in schools and universities in the South."
Perry Tannenbaum regularly covers the performing arts scene in Charlotte, N.C., for Creative Loafing and CVNC. His CD and concert reviews have also appeared in American Record Guide and JazzTimes.