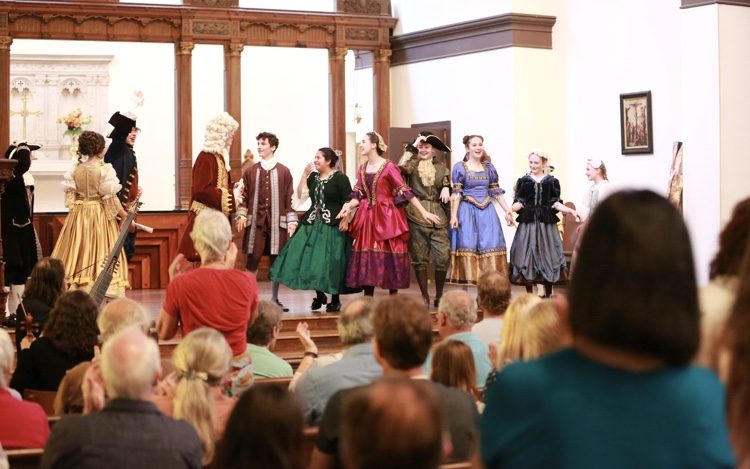 By Karin Brookes
The Berkeley Festival came on the heels of the Bloomington Early Music Festival and ended just this last Sunday. Founded by Robert Cole in 1990, when he was also heading up Cal Performances, the biennial Berkeley Festival and Exhibition have since moved under the umbrella of the San Francisco Early Music Society (SFEMS). Cole announced a few weeks ago that the 2018 festival would be his last.
For the first time in several festivals, Early Music America did not present its Young Performers Festival in Berkeley, which went instead to Bloomington, along with the new Emerging Artists Showcase. EMA was nevertheless well represented in Berkeley, by board members and supporters.
There's no question it's a great legacy Robert Cole leaves. Berkeley and Boston's every-other-year festivals have long been on the schedules of musicians and music lovers alike, and this year's Berkeley Festival had the same schedule of morn-til-night music, all within a few square blocks. "Among the joys of a such an event as the Berkeley Festival," said Cole, "is that one has the pleasure of both non-stop music and seeing old and new musical friends."
It was unfortunate, however, that a 2016 fire at First Congregational Church and construction of new dorms on Bancroft Way adjacent to unofficial festival gathering spot, The Musical Offering, rendered many sidewalks impassable.
In other ways, however, the Festival was more expansive, stretching the boundaries of early music forward to Debussy, courtesy of the Westfield Center for Historical Keyboard Studies.
"My goal as president of SFEMS," said Joyce Johnson Hamilton, "was to help create a sense of community and inclusion during the festival among local, national, and international participants, and I feel we achieved that goal. I am also pleased with the 'range' of our audiences, from their enthusiasm for Sequentia's performances of medieval music to warmly embracing historically informed performances of 19th-century music, as well as Debussy and early Stravinsky!"
The essential problem of a festival like Berkeley's is that you can only be in one place at a time, and the more than 70 fringe events meant that there was significant overlap. I had to leave on Thursday evening, when the festival was in full swing. During the five days I was there, however, I managed to attend:
Seven mainstage concerts, including three that presented younger performers
Four fringe concerts, including EMA board member Derek Tam's Trio Costanoan
One rehearsal of a mainstage concert
One lecture on Dido & Aeneas, presented by new EMA board member Nick Jones
One panel on the past, present, and future of early music festival
One EMA reception, hosted by Nick Jones and myself
Many wonderful conversations with EMA members and donors, who went out of their way to introduce themselves
The Berkeley Exhibition was picking up its pace on the day I left, and I thank EMA board members Nick Jones (again) and Derek Tam and the five EMA members who helped staff the table during the weekend.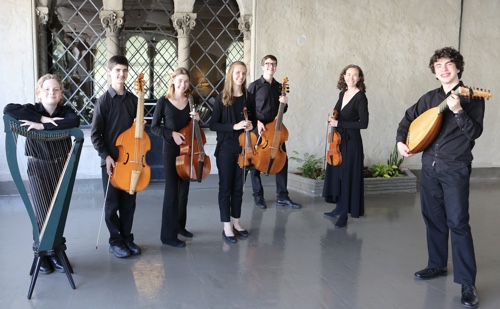 Because I had to miss the performance of Dido & Aeneas by Voices of Music and the San Francisco Girls Chorus (Aeneas was sung by baritone Jesse Blumberg, who joined the board of EMA last month), I made it to a rehearsal earlier in the week.
Another EMA board member, Corey Jamason, professor of harpsichord at San Francisco Conservatory of Music, was in town with his historical performance students for a mainstage program of music mostly by women composers. This seemed to represent an inadvertent theme, certainly of the events I attended: the involvement of youth and women in early music.
On Day One, I dropped in on the 20th-anniversary concert of the Junior Recorder Society East Bay at the Berkeley Art Museum Pacific Film Archive (BAMPFA), an education outreach program of Voices of Music (the very first music I heard in Berkeley was, in fact, a noon carillon performance from the Sather Tower on the UC Berkeley campus), presented with VoM's usual attention to detail and great love for the music. BAMPFA also presented its own festival of early music-related movies.
Seattle Historical Arts for Kids, who opened the Festival with their witty version of Handel's Serse, presented women able to define their own fates, as did the fringe concert by SHAK's Early Music Youth Academy, whose teenagers re-wrote Elizabethan songs from the point of view of women.
"Nasty Women," a program of French Baroque cantatas of retribution by Elisabeth-Claude Jacquet de la Guerre (Judith) and Louis-Nicolas Clérambault (Médée), performed by Christine Brandes and Elizabeth Blumenstock (with Mary Springfels and Katherine Heater), left the audience in no doubt as to who was in charge that evening. The involvement of younger musicians, including ensembles as different from each other as Davis High School Baroque Ensemble and Juilliard415, nevertheless created a palpable sense of energy among the largely gray-haired, but capacity audience.
Many fringe concerts were sparsely attended, however, and ticket sales, though strong, are more challenging every year, according to Cole and Johnson Hamilton. A panel of festival directors from Berkeley, Boston, Vancouver, B.C., and Utrecht highlighted the stark funding discrepancies between the U.S. festivals and those in Canada and Europe.
More than a glimmer of hope was provided by 13-year-old Sebastian Weigel in the Early Music Youth Academy fringe concert as he exuberantly explained why sprezzatura is so important to his study of the Renaissance harp. Now, there's a future director of the Berkeley Festival!
Karin Brookes is Executive Director of Early Music America.