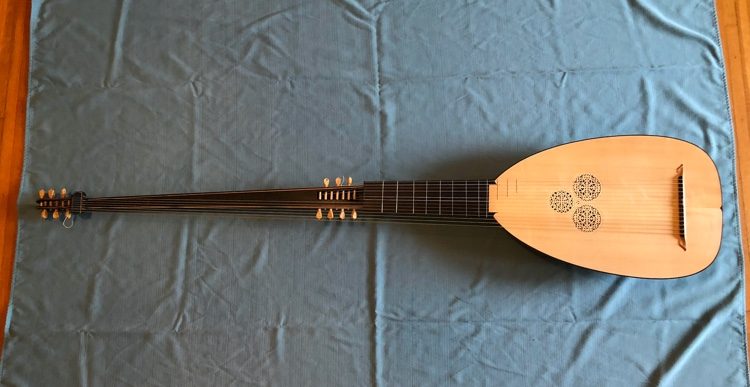 By Janelle Gelfand
CINCINNATI — It took nearly a decade of fundraising, finding the right luthier, and then waiting. But Cincinnati's early-music ensemble Catacoustic Consort finally has its own theorbo.
Before the new instrument could make its Cincinnati debut, there was the trans-Atlantic journey. The tale of transporting a six-foot-long, unwieldy member of the lute family from its maker in the United Kingdom to its new home was almost worthy of a John le Carré spy novel. First came the "hand-off" last August between the London-based lute maker Klaus Jacobsen and Annalisa Pappano, founding artistic director of Catacoustic Consort. They met in front of a small grocery store in Austria, while Jacobsen was vacationing in Northern Italy and Pappano in Germany.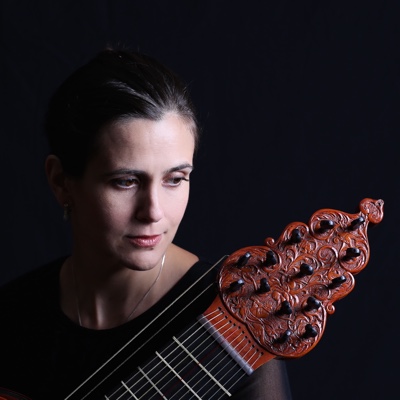 Next came the intricate wrapping of the theorbo in layers of bubble wrap over its case for the plane trip to Cincinnati in checked baggage. (Purchasing a seat for $1,300 was impossible, as it simply wouldn't fit.) The bubble wrap was designed so that security personnel could open and inspect it and rewrap it for each of the journey's three legs. Pappano attached handling instructions, checked the instrument before boarding, and said a prayer.
Knowing the horror stories of musical instruments that are dropped, damaged, or smashed by baggage handlers, she was shaking by the time she unwrapped the theorbo at Cincinnati/Northern Kentucky International Airport. "Everyone gathered around to see what was this thing shaped like a giant spoon," she said.
To her relief, the instrument was intact. Yet the experience reflects her decision to add a theorbo to Catacoustic's collection, which includes a harpsichord, a consort of rental viols, and a baroque harp, besides her own lirone, pardessus, and viola da gamba. Even as musicians depend upon flying with their instruments for their livelihood, they are at risk of arousing the suspicion of airline officials who might banish a fragile guitar, lute, or viola da gamba to checked baggage. Further, airline seats are increasingly expensive and scarce.
"I try to have enough instruments here so that people can borrow when they come," said Pappano, who is in her 17th season of presenting early-music performances in Cincinnati. "We've spent so much money on airplane seats for (smaller-necked) theorbos, we could have bought several theorbos."
The new Jacobsen theorbo will be introduced to the public by master players David Walker and Michael Leopold, both regulars in her series, in a concert of solo music Feb. 10 in a church in the Northside area of Cincinnati. The acquisition was funded by a grant from the Greater Cincinnati Foundation and donations from supporters.
The heyday of the theorbo was the 17th century. Designed to produce a large sound, the theorbo is a plucked string instrument with a rounded sound box like a lute, but with a much longer neck. It is more often heard playing continuo in an ensemble than as a solo instrument. The theorbo is ideal for Pappano's preference for Italian Baroque music, particularly for accompanying vocal monody, a style that continued with the advent of opera. Catacoustic Consort was in the pit for Cincinnati Opera's production of Francesco Cavalli's La Calisto in 2014. The ensemble will return this summer — with two theorbos — for Claudio Monteverdi's L'incoronazione di Poppea.
Jacobsen, who has a four-year waiting list for his work, crafted Pappano's theorbo after an instrument by Matteo Sellas, the most eminent luthier in Venice in the first half of the 17th century. The original is in the Brussels Musical Instrument Collection. Jacobsen said he made the new instrument slightly larger (at six feet, it is a medium-sized theorbo), while preserving the characteristics of the historic instrument.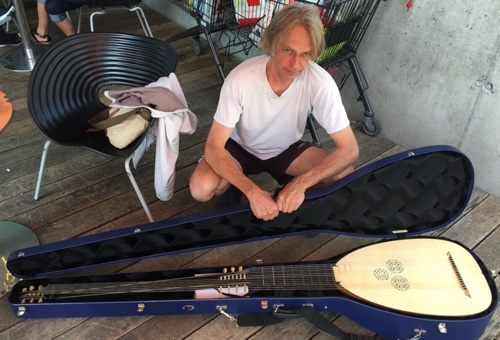 "For modern-day players and instrument makers, the theorbo presents interesting challenges," Jacobsen said. "In the general pursuit of authenticity, we always look closely at the surviving instruments, and when recreating them, we want to adopt all the physical and stylistic characteristics."
Although Jacobsen also has devised a theorbo that folds for travel without losing its tuning, Catacoustic Consort's theorbo doesn't fold. (To see Jacobsen with a folding theorbo, go here.) Just as international security laws have affected air travel with musical instruments since 9/11, new laws governing endangered species of wood have also affected the creation of new instruments.
The new theorbo's back is made of Oregon yew (or taxus). International trade regulations have virtually outlawed the use of exotic hardwoods such as rosewood, snakewood, or Pernambuco, which for years had been the trend in making theorbo backs. In fact, the original theorbo and lute backs were usually made of yew, but today the fine-grained yew that is required can no longer be found in Europe. Consequently, many makers are importing Oregon yew, preferred for its fine grain and straighter growth, Jacobsen said.
He also fears that global warming is contributing to a scarcity of Alpine spruce, which is used for the soundboard, noting that "the very fine grain is the most important feature and obviously it is getting harder to find."
The Catacoustic theorbo, which took six weeks to build, has 14 strings. Its most striking feature, of course, is its long neck. There are two pegboxes: one for the stopped strings on the fingerboard, which is fretted and played by the left hand; the other for the longer bass strings, which are played open. The unusually long neck extension was the only way to achieve the additional low bass before the invention of wire-wound strings.
The shorter strings are tuned in fourths, similar to a guitar. The lower rank is tuned diatonically in an open scale. In addition, the theorbo has what is called "re-entrant tuning," meaning that the top two strings are tuned down an octave. The result, said lutenist Leopold, is a harp-like sound, "in which the strings are ringing over each other." In addition, the very long strings aid in playing slurred or arpeggiated passages.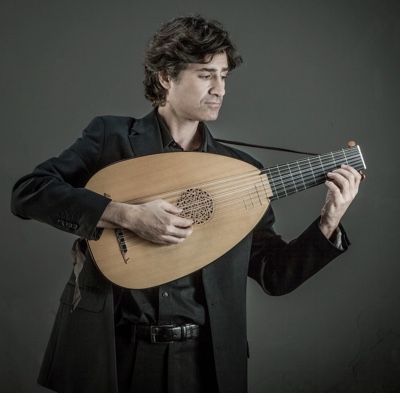 "It creates a unique sound quality. You don't get that on any kind of lute," said Leopold, who first played a theorbo while earning a doctoral degree at L'Istituto di Musica Antica of the Accademia Internazionale della Musica in Milan, Italy.
After getting the new instrument home, it then had to be "broken in," a task performed by lutenist and guitarist Walker. In the process, he has been able to compare the sound quality between his own Jacobsen-made theorbo, which has a rosewood body, and the new instrument. The new theorbo, he says, already is louder than his sweeter-sounding rosewood one.
"Generally, when you get any kind of a new stringed instrument, the instrument is a bit tighter, so you work harder to get the sound to come out," said Walker. "As you play it more and more, it becomes easier to play, the instrument begins to open up, and you begin to get some idea of what it's going to sound like. We're still in the early stages of that."
Just as the community of theorbo players is small, the amount of solo repertoire for the instrument is limited. Leopold, who also owns Jacobsen-made instruments, will perform music by two of the most celebrated Italian composers for the theorbo, Giovanni Girolamo Kapsberger and Alessandro Piccinini. Walker will play pieces by Robert de Visée, the primary French composer for the theorbo, who worked at the court of the French kings Louis XIV and Louis XV.
The concert, Leopold said, will be a chance to hear a rare instrument "up close and personal." He is struck by the timeless quality of the music.
"Although Kapsberger's music is 400 years old, it sounds quite modern. Some of it could be a pop tune of today, and the harmonic progressions sound fresh. (The French music) is beautiful, melodic music. The melodies are quite simple, but dressed up the way the French like to do. It's very approachable. …What draws people to this music is the emotional response that this music provides."
Pappano regularly collaborates with the international community of early-music performers, but she is gratified that there are now more people in the region who are interested in the art form than when she arrived in 2001. She has established a young artist program with the goal of creating a talent pool, and they regularly work with Catacoustic's visiting artists.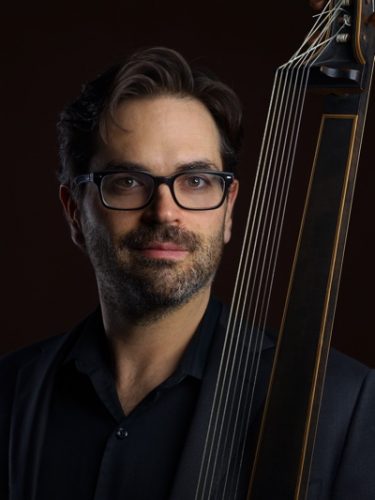 Five years ago, she launched the Cincinnati Early Music Festival, hoping to inspire local groups such as church choirs and harp ensembles to incorporate early music into their programs. Although Catacoustic's festival, which was organized by former board president Alice Nutter, took a break this year, Cincinnati-based guitarist and lutenist Christopher Wilke has announced a month-long Cincinnati Early Music Celebration in February to explore music written before 1750.
Pappano led Catacoustic Consort to the grand prize in the Naxos/Early Music America Live Recording Competition. In 2005, their program of 17th-century Italian laments was released on CD as "The Italian Dramatic Lament" on the Naxos label. The next Catacoustic recordings, scheduled for release this summer, will be another program of early Italian laments for two singers, harp, lirone, and theorbo (although not the new one), and a disc of 18th-century arias for soprano and pardessus.
Like her other concerts, she hopes that listening to music for theorbo will be both an intimate and an inspiring experience for listeners.
"Good theorbo players are in demand, especially ones where the sound projects," she said. "It's a very small, elite group. It's not about having chops. You have to be a sensitive accompanist, empathetic and flexible on that instrument. I am grateful to the theorbo players who have invested in me and in Cincinnati."
Janelle Gelfand, a native of the San Francisco Bay Area, was classical music critic and arts writer for the Cincinnati Enquirer for 26 years. She is now a freelance arts writer, based in Cincinnati.