by Andrew J. Sammut
Published June 8, 2020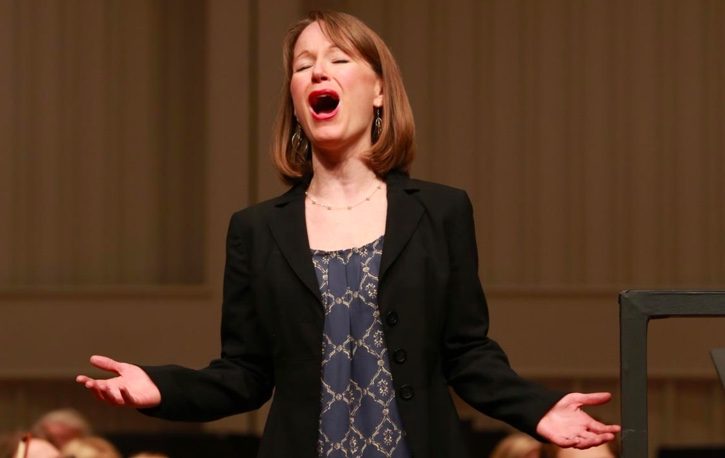 Love and Loss: Songs and arias of Purcell, Bach and Handel. Kathryn Mueller, soprano. Self-released
American soprano Kathryn Mueller has performed and recorded with orchestras and chamber ensembles throughout the United States in repertoire ranging from Monteverdi's Vespers to contemporary premieres. Her first solo recording focuses on music's most basic subject and three of the Baroque era's best-known composers. The songs, theatrical pieces, and cantata arias heard here are all scored for voice and continuo.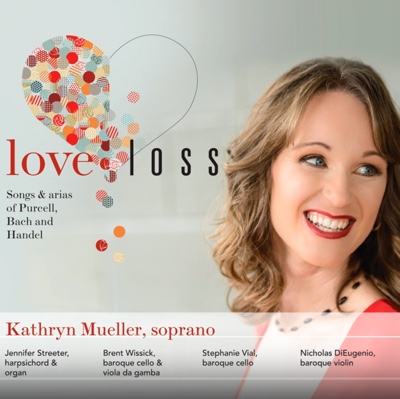 This clear-cut and intimate scoring reflects the soloist's musical priorities. Mueller sings with a gentle timbre, clear diction, and uncluttered phrasing in introverted yet assured interpretations. Her delivery is consistently limpid and direct, indicating deliberate restraint and concern for the text. Purcell's "She That Would Gain a Faithful Lover" advises girls to keep the guys guessing. Mueller's reserved brand of wisdom here comes across as hard-won rather than just coquettish.
"Sweeter Than Roses," composed by Purcell as incidental music for the play Pausanius, begins with a slow, moody minor-key recollection of a kiss followed by a fast, ornate depiction of the ensuing sensation. Mueller shapes Purcell's many melodic curves to highlight the composer's lyrical invention. Her ornaments are confident if similarly unflashy.
Arias from Bach's sacred cantatas are slightly more spirited, but Mueller's interpretations are less about hitting the back of the church than getting to the bottom of the text. "Öffne dich, mein ganzes Herze" from Nun komm der Heiden Heiland (BWV 61) talks about Jesus entering the speaker's open heart. Mueller's reading is more like a peek inside a private moment than a statement to the congregation. Her tone and phrasing also add an inwardly imploring quality to "Komm in mein Herzenhaus" from Ein feste Burg ist unser Gott (BWV 80). "Phoebus eilt" (from Bach's secular wedding cantata Weichet nur betrübte Schatten, BWV 202) finds her gliding through long coloratura lines.
Most of the Handel selections are taken from the composer's early cantatas composed in Italy. Mueller conveys the pastoral informality of these works over their more extroverted semi-operatic side, showing plenty of polish and sheer beauty. High notes in "Intendi ben mio" are well-supported with a little lilt that provide a flirty edge. Mueller's voice takes on added depth in "Ah! Crudele" from the cantata Armida Abbandonata (HWV 105). The distinctly Handelian flourishes that finish "Quel fior che all'alba" (a solo reworking for London audiences of an earlier Italian duet) flow sweetly and assertively. The opening notes of "Voglio darti" (from Quando sperasti o core, HWV 153) pop like silvery brass accents.
Keyboardist Jennifer Streeter subtly and effectively matches Mueller's phrasing and sentiments. On most tracks, she performs on a dry, bright, unidentified model harpsichord placed behind the voice. Her spare voicings fill out rather than fill up the melodic line. She switches to organ for Bach's sacred music. It takes the place of the obbligato violin in "Wer ein wahrer Christ will heißen" (from Wer sich selbst erhöhet, BWV 47), adding a unique color while clarifying contrapuntal interactions.
Two cellists are slightly more to the fore in the mix. Brent Wissick plays on most of the recital, carving out a dolorous ground bass for Purcell's "What A Sad Fate" and switching to a touching gamba in his beloved "Fairest Isle" from King Arthur. Stephanie Vial performs the cello parts on four tracks, including a romping obbligato in "Phoebus eilt." Violinist Nicholas DiEugenio is another sensitive partner isn "Süsse Stille" (HWV 205) from Handel's Neun deutsche Arien. This rare example of Handel writing in German and on a religious subject is another standout track illustrating the disc's intimacy and refinement.
Andrew J. Sammut has written about Baroque music and hot jazz for All About Jazz, Boston Classical Review, The Boston Musical Intelligencer, Early Music America, the IAJRC Journal, and his own blog. He also works as a freelance copy editor and writer and lives in Cambridge, MA, with his wife and dog.
Recent EMA Recording & Book Reviews
Emily Zazulia's valuable 'Where Sight Meets Sound: the Poetics of Late-Medieval Music Writing' explores notational aesthetics in polyphonic music, where it's not obvious how you're meant to sing what's on the page.
Long undervalued, Alessando Scarlatti's vocal writing naturally weds singable lines with the Italian language. Ars Lyrica Houston's colorful new recording of a Scarlatti oratorio, with an outstanding cast, makes a brilliant case for this rarely heard music.
On their latest stellar recording, the Suspicious Cheese Lords focus on Palestrina's 'Missa Illumina oculos meos,' and the lengthy motet by Andreas de Silva on which it's based. World premiere recordings, beautifully sung.