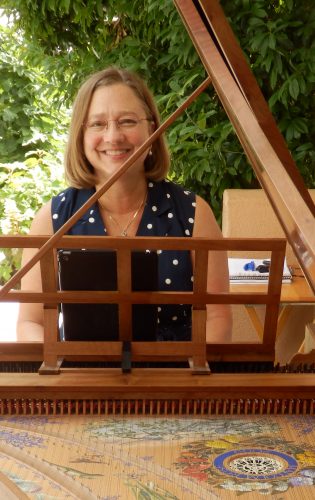 Claire Hammett has recently resettled in America after nearly 40 years working in London as a harpsichord tuner/technician. She was born and raised on a cotton farm in the Mississippi Delta. She progressed from playing piano to harpsichord in her teens. Learning to tune and care for harpsichords was essential as there was no local technician. After received a BFA from Newcomb College, Tulane University in New Orleans in 1978, she spent two formative years post diploma study at the Guildhall School of Music & Drama, London. She found performance stressful but was often asked to tune and repair harpsichords by other artists. This led to more careful instruction from as many harpsichord builders and restorers as possible over the years.
I have enjoyed getting to know a wide variety of harpsichord builders in the States and England, so I can understand best how to repair or regulate their instruments. Knowing the performers is equally important so I can set a temperament they like and get the voicing to suit their technique.
I briefly set up a harpsichord business in Atlanta Georgia before meeting my American husband in Colorado. I was there repairing instruments and he was on sabbatical from teaching Maths at Imperial College. We married and lived in London for 33 years, raising two children. I had a small group of instruments for hire for concerts and recordings. I tuned and maintained harpsichords, chamber organs, fortepianos before 1830, and clavichords. My regular jobs included tuning for Royal College of Music, Cobbe Collection at Hatchlands , The English Concert, The London Handel Players, The London Handel Festival, Wigmore Hall, and many concert venues and churches around London.
London is a very busy place for music, so the instruments and I were out working three to seven days a week. The level of musicianship is staggeringly high, especially considering how many concerts there are every week. This year my husband and I decided it was time to retire from hectic, crowded London. We are now settled on the beach in Pensacola, Florida. I continue to have a collection of modern instruments for hire, including a new Franco Flemish double by Kevin Fryer, a single Flemish by Richard Kingston, a single Italian by David Evans, an Italian virginals by Alan Gotto, a double fretted clavichord after Hubert by Chris Barlow, and a triple fretted clavichord by Richard Taylor. Now I am no longer busy with a steady stream of local concerts, I am available to fly out to tune for recordings or festivals. I can also service or refurbish quality instruments in need of new plectra or strings.
How did you come to the field of Early Music?
Like many of my age, I started lessons on piano but when I first played a harpsichord in my early teens, I loved the sound. My father gave me a Sabathil (straight-sided, "revival" instrument) when I was 16. The instrument led to the music I adore and far more interesting instruments.
What is your most memorable early music experience?
So many fabulous concerts to choose from! One of the earliest was at the first Boston Early Music Festival (1981) sitting in the balcony to the right of the stage with some of the stars of the harpsichord world, including Kenneth Gilbert and Gustav Leonhardt, enjoying the solo concert of Ralph Kirkpatrick. Many enjoy watching the hands of a player, but the best sound is where the lid is projecting it and all the pros knew that.
You're listening to music… what's on your playlist that would surprise us?
Like most harpsichord tuners and players, I don't listen to harpsichord music to relax, I listen too critically. I find lute music most soothing, but enjoy West End (Broadway) musicals for fun.
Unexpectedly, you have two hours of free time later today… what will you do?
Free time is made for harpsichord playing, not careful practice, but playing through old favourites. Then a walk on the sunny beach collecting seashells.