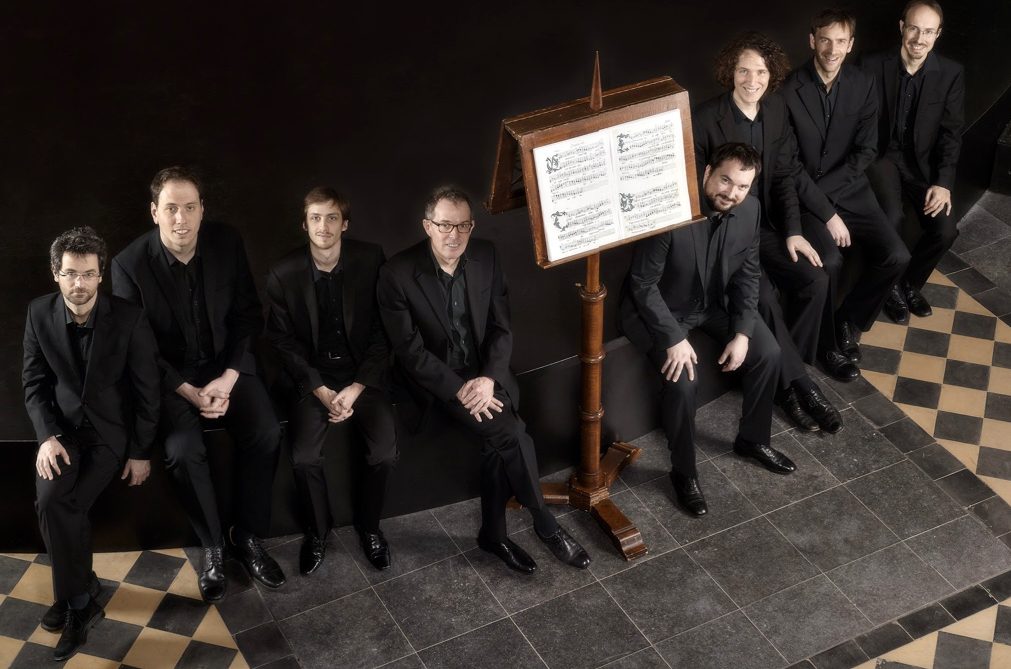 By Kyle MacMillan
Cappella Pratensis likes to buck convention. Or at least modern convention.
Instead of standing in a semi-circle with the singers holding their own songbooks like many choral groups do, the Dutch-based early-music ensemble's eight members group themselves around one oversized book on an ornate music stand.
As unusual as this approach might seem to contemporary audiences, it is no gimmick. It recreates choral performance practices of the 15th and 16th centuries. "We're not making up some trick here," artistic director Stratton Bull said. "This is the way they sang it. This is the way they saw and experienced it."
Cappella Pratensis will return to the United States for a five-city tour that begins Nov. 10 at New York's St. Mary the Virgin Church and culminates Nov. 18 at La Jolla's St. James by-the-Sea Episcopal Church. The a cappella group has visited the U.S. regularly since the early 1990s. "For some reason, there is a connection there," Bull said. "We certainly enjoy it, and apparently audiences enjoy it, too. So, we try to keep that going."
Among the ensemble's stops will be the University of Chicago, where it will be making its third visit. Amy Iwano, executive director of University of Chicago Presents, was captivated by the singers' unusual performance approach when she first heard them in 2012.
"Musically, they are wonderful," she said. "Another reason I was motivated to bring them back is because being here on the university campus, I think about all of my constituents, and some of those are the faculty and students here, and they expressed great interest in having Cappella return."
The morning after Cappella Pratensis' concert in the intimate 474-seat performance hall at the university's Logan Center for the Arts, it will work with students in the school's Early Music Ensemble.
Cappella Pratensis was co-founded in 1987 by Rebecca Stewart, an ethnomusicologist and singer who became its first conductor. Pratensis, which means "of the fields," is the Latin translation of the last name of Josquin des Prez, who is what Bull called the group's "patron saint." The French composer, who was born around 1450-55 and died in 1521, is considered the first master of the high Renaissance style of polyphonic vocal music.
Bull believes the ensemble's predominantly sacred repertoire from the Renaissance resonates with our time because it gives listeners a respite from the hurly-burly of contemporary life and offers a spiritual dimension without any direct connection to a religious institution.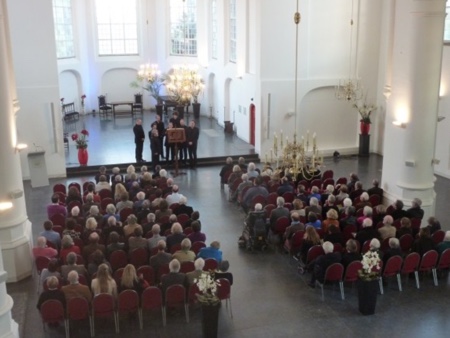 "It's exciting music," he said, "but it's also very deep and meditative music. And people seem to react to this incredibly well. They get in the hall and maybe they thought, 'Oh, this is some old church music,' and they realize that this is amazing art music, but it's also got a satisfying sense of stillness and profundity."
The Canadian native joined Cappella Pratensis in 1988, became co-artistic director in 2004, and took over as sole artistic director four years later. As a student countertenor, he was drawn to The Hague's rich early-music milieu and pursued studies at the city's Royal Conservatory. He planned to focus on Baroque music but was soon taken with the Renaissance, learning to work from original sources and to bring a historically informed approach linguistically and stylistically to works of that era.
Bull, like the group he leads, focuses on the music of the Low Countries — a region that roughly runs from Picardy in the north of France to the Netherlands. "It's such an incredibly rich repertoire," he said. "The Low Countries were kind of Mecca for music in the 15th and 16th centuries — comparable to German-speaking areas in the 19th century."
Bull is particularly interested in the Duchy of Brabant, a state of the Holy Roman Empire established in 1183. That once-powerful region stretches across parts of present-day Belgium and Holland and includes such cities as Brussels and Antwerp. He serves on the staff of the Alamire Foundation, an international study center for music of the Low Countries in Leuven, Belgium, where he resides. Cappella Pratensis is based just across the Dutch border in the town of 's-Hertogenbosch. Both are situated within borders of the long-defunct duchy.
The practice of Cappella Pratensis members performing clumped together in front of one big song book eliminates virtually any separation among the singers (seven for this American tour). "You have the vibrations," Bull said, "the sounds of the other singers who are very physically close to you, and you have a kind of focus because all the voices and all the eyes are directed to this one point, toward this large book. It creates a kind of large vibration within the group that you don't get when you are standing separately in a line."
The notes in the book are large enough to be seen from a distance, and they are presented in the fashion of the 15th and 16th centuries with no bar lines and the notes close together. In addition, each vocal line is notated separately, so that each singer can zero in on his part. In polyphony, the clarity of each musical line is critical, and this historical method of notation allows each singer to have a clear sense of the flow and contour of his part.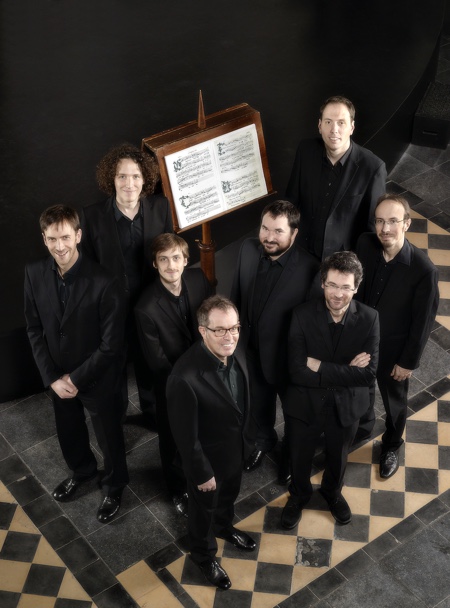 And, yes, "his" is correct here. All of the members of Cappella Pratensis are men, because the group sings primarily liturgical music, which was originally sung entirely by men. Countertenors sing the top part. The group has done some programs of secular music, and it adds female singers as needed for those.
Cappella Pratensis always presents thematic programs. "To me, it's crucial," Bull said. "There needs to be a story, something more than 'This is wonderful music. You should listen to these nice pieces.'" Sometimes the group re-creates a Mass that was performed in a particular place or presents music that was sung for a specific event.
But for this tour, it is going a different direction. The program, which consists primarily of art songs, is titled The Imitation Game: Emulation, Competition and Homage at the Time of Josquin. It explores a tendency in music of this period to borrow elements from earlier works and build on them in some way.
Bull compared the process loosely to what hip-hop artists do today when they "sample" earlier recordings: "'Well, that was great, but I'm going to add a voice.' Or 'I'm going to add a canon or do some trick takes what you did and goes a step further.' It's kind of a double effect of showing esteem for your predecessor and at the same time showing that you can do it even better than they did."
The program was assembled by Peter de Laurentiis, an Italian musicologist and tenor who has performed with Cappella Pratensis since 2010. He also serves as an associate researcher at the Alamire Foundation and has developed other programs for the ensemble. De Laurentiis has long been interested in this subject; his master's thesis examined composers that Pierre de la Rue, a noted Renaissance composer, imitated.
Particularly influential on de Laurentiis was Howard Mayer Brown's milestone article published in 1982, Emulation, Competition and Homage: Imitation and Theories of Imitation in the Renaissance. Brown, who died in 1993, was a professor of music at the University of Chicago, and de Laurentiis was delighted to learn that Cappella Pratensis will be performing on the Howard Mayer Brown International Early Music Series in Chicago. "That was a nice coincidence," he said.
Though many of the composers on the program, like Johannes Ockeghem, are hardly household names, they were major figures in their time and are well known in early-music circles. By far the most famous composer on The Imitation Game program is Josquin des Prez, who has a work featured in each of the musical groupings.
"Josquin was something of a legend in his time already," Bull said. "Everybody had to deal with him. It's a bit like Beethoven in the 19th century. There was no getting around Beethoven. You had to somehow deal with what he did to musical forms. And that's also the case with Josquin in the 16th century."
Typical of the imitative groupings on the program is the fourth, which begins with des Prez's Faulte d'Argent for five voices. In his version, Bull said, the writing is sparse, with abundant duets and clear contours. Adriaan Willaert (circa 1490-1562) reworked the earlier version, keeping the canon but adding another voice and enhancing its complexity, creating his own Faulte d'Argent in the process.
"In Willaert's, everybody's singing all the time," Bull said, "and the imitation is just rolling around through all of the voices. So, he creates a very different texture, but he has taken one element out of Josquin and made it all pervasive in the piece."
The University of Chicago Presents' Iwano admits with a chuckle that she does worry that Cappella Pretensis' program might be a bit too esoteric or specialized for general audiences. But she had similar fears when she was new to her position and heard the group for the first time, and they proved groundless. "I was really surprised at how many people turned out," she said.
De Laurentiis worked hard to make sure that The Imitation Game can be enjoyed by specialists and casual music lovers alike. "When I chose the pieces for the program," he said, "first of all, I chose pieces that I thought were absolutely beautiful, stunningly beautiful. At the first level, the appreciation should be that these are all masterworks, and we try to perform them as best we can."
Kyle MacMillan served as the classical music critic for the Denver Post from 2000 through 2011. He is now a freelance journalist in Chicago, where he contributes regularly to the Chicago Sun-Times and Modern Luxury and writes for such national publications as the Wall Street Journal, Opera News, Chamber Music, and Early Music America.
Cappella Pratensis 2018 American Tour
Nov. 10: Church of St. Mary the Virgin, New York, NY. For information, go here.
Nov. 11: University of Chicago Presents, Chicago, IL. For information, go here.
Nov. 15: Mississippi Academy of Ancient Music, Edwards, MS. For information, go here.
Nov. 17: Getty Center, Los Angeles, CA. For information, go here.
Nov. 18: St. James by-the-Sea Episcopal Church, La Jolla, CA. For information, go here.