by
Published April 16, 2019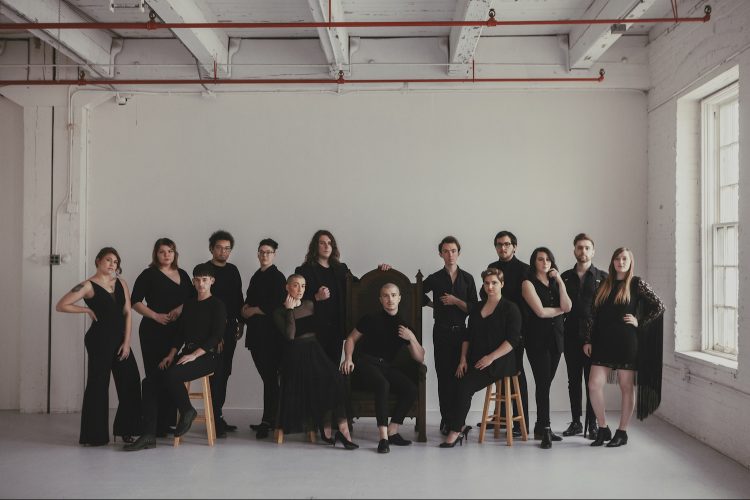 Aperi Animam will perform at 7:00pm EDT on Friday, May 24, 2019 at First Presbyterian Church, Bloomington, as part of the Early Music America's Emerging Artists Showcase during the Bloomington Early Music Festival.
Biography
Aperi Animam is an emerging vocal ensemble, engaged in the exploration of music from the medieval, Renaissance, and early Baroque eras. Aperi Animam presents historically-informed performances under a 21st-century light.
Since their conception in January 2017, artistic director Daniel Koplitz has encouraged a collaborative approach to consort-singing and does not conduct in performance. Instead, the ensemble performs and rehearses as chamber musicians with each member contributing artistically to the piece or narrative at hand. While there is careful attention to historical performance practice, Aperi Animam approaches early music performance with experimentation and intimacy, and they aim to stretch the boundaries of traditional choral concerts.
The duodectet has collaborated with Milwaukee Opera Theatre, Plymouth Chorale, Nordic Brass, and Hesternus. They have been featured on the Milwaukee Fringe Festival and have performed through the University of Milwaukee, the Milwaukee Art Museum, the Grace Lutheran concert series, Holy Hill Basilica, and Early Music Now. In addition, APERI ANIMAM has opened for the world-renowned Flanders Recorder Quartet and worked in a masterclass setting with both the British vocal ensemble The Queen's Six and members of Piffaro. Currently, they hold residency at the Cathedral of Saint John the Evangelist in Milwaukee.
---
2019 Showcase Program
Libera nos: Music on tribulation & salvation
A meditative concert of Renaissance choral music recounting the Jewish exile to Babylon
When practicing Catholicism was punishable by imprisonment or death in Elizabethan England, Catholic composers sought refuge in and drew inspiration from scriptural texts on the Babylonian captivity, comparing themselves to the exiled Israelites. This program of motets recounts their stories—that of the Israelites, the English Catholics, and all of those who have suffered from persecution and intolerance. It evokes the transition from suffering to deliverance, both physically and spiritually, and compels us to reflect upon our faults and wrongdoings and turn toward betterment and righteousness. This program is dedicated to the Jewish and Muslim peoples across the world who have been massacred in mass shootings, particularly in Pittsburgh, Pennsylvania this past October and Christchurch, New Zealand in March. May they rest in peace.
The Lamentations of Jeremiah I + II –Thomas Tallis (c. 1505-1585)
Emendemus in melius -William Byrd (c. 1540-1623)
Manus tuae fecerunt me –Robert White (c. 1538-1574)
Miserere nostri Domine –Thomas Tallis
Haec dicit Dominus –William Byrd
Suscepimus Deus / Justitia / Magnus Dominus