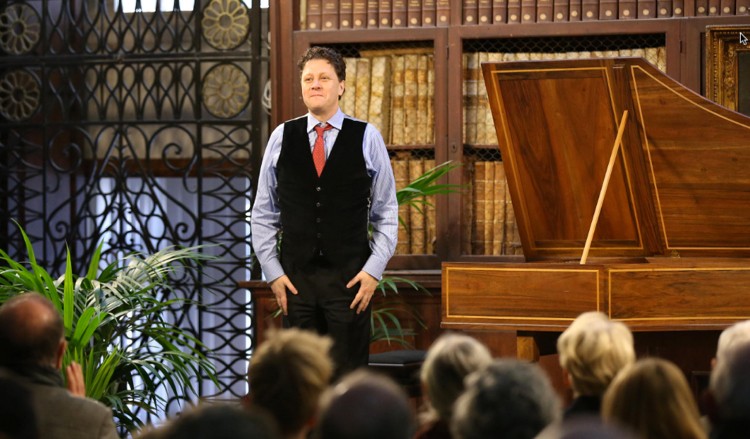 By Kyle MacMillan
Jory Vinikour is the Renaissance man of Baroque music. While some harpsichordists focus on solo careers and others make their marks performing with orchestras and opera companies, the Chicago-based dynamo does all that and more. Indeed, it is safe to say that very few, if any other, of today's top harpsichordists can match the whirlwind, all-encompassing nature of his career, which includes performances on nearly 50 audio recordings and DVDs. "I don't wish to be immodest," he said, "but I really do believe that is the case."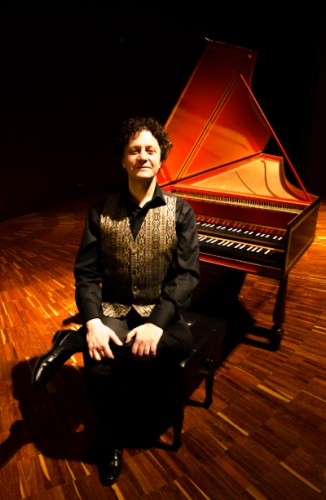 Vinikour appears in recitals across Europe and North America and regularly records solo albums, such as his latest release, Johann Sebastian Bach's Partitas, BWV 825-830, on the Solo Luminus label. In addition to accompanying noted singers and instrumentalists like countertenor David Daniels and lutenist Jakob Lindberg, he has performed with orchestras ranging from the Los Angeles Chamber Orchestra to Philharmonia Baroque Orchestra, in some cases conducting from the keyboard. He serves as regular harpsichordist for the Haymarket Opera Company in Chicago and has taken part in more than 45 opera productions worldwide, sometimes doubling as head vocal coach and assistant conductor. In between, he manages to squeeze in time to serve as artistic director of the Chicago Bach Ensemble and Great Lakes Baroque, an early-music series in a suburb of Milwaukee.
As if all that weren't enough, Vinikour has begun conducting opera. He made his debut last August leading a production of Handel's Agrippina staged by the Berkeley, CA-based West Edge Opera and followed that in November with the Chicago Opera Theater's production of Purcell's The Fairy Queen. "What authenticity there is in this updating comes from the stylish sounds Jory Vinikour elicits from the 17 period instrument players of Chicago's Haymarket Opera Orchestra," wrote Chicago Tribune music critic John von Rhein about the latter. "Conducting from the harpsichord, he sharpens rhythms deftly, supports vocal lines securely and refines textures sensitively. He has a considerable amount to do and does it all expertly."
Perhaps because of the sheer breadth of his activities or because his professional life was centered in Europe until 2013, Vinikour's name might not be that familiar — at least not yet — to audiences in the United States. But he is certainly well known and respected within the field. For example, Canadian conductor and Philadelphia Orchestra music director Yannick Nézet-Séguin has worked with the harpsichordist on two opera recordings, including a 2016 release of The Marriage of Figaro for Deutsche Grammophon. "He is so creative on the keyboard, it is incredible," said Nézet-Séguin, who will become music director of the Metropolitan Opera in 2020-21. "Everybody around him gets inspired by his imagination, by his thorough knowledge of the styles and by his musical freedom."
Vinikour has received his share of honors, including two Grammy Award nominations. The first came in 2012 for his recording of the complete harpsichord works of Rameau. "I don't think I slept for three days," Vinikour said. "I couldn't believe it." The second came two years later, when he went in a very different direction, releasing an album titled Toccatas: Modern American Music for Harpsichord. It features works by Henry Cowell, Patricia Morehead, Ned Rorem, and Mel Powell, and shows that Vinikour is equally at home in contemporary repertoire.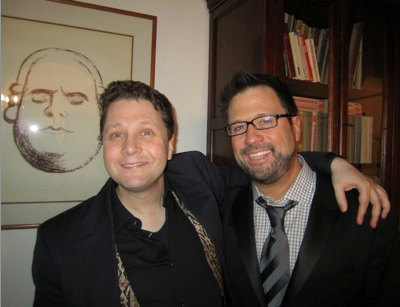 The 53-year-old harpsichordist grew up in Mount Prospect, IL, a northwestern suburb of Chicago, and his family enrolled him in piano when he was 5 or 6. He quickly showed aptitude for the instrument, and by the time he was in high school, he was studying with Emilio V. del Rosario Jr., a respected teacher for more than 40 years at the Music Institute of Chicago.
Although he was fascinated with the harpsichord and Baroque music from his earliest days, Vinikour did not have an opportunity to really pursue those interests until he began piano studies in 1981 at Baltimore's Peabody Conservatory, where he minored in harpsichord performance. "I went through the whole piano repertoire, but I always felt a real draw to this earlier period — Bach and before as opposed to Bach and after," he said.
After two years, he switched to the Mannes College of Music (now Mannes School of Music) in New York, where he earned his bachelor's degree in 1986 in piano performance and master's degree in harpsichord in 1988. Following two years of post-graduate studies at Rutgers University with Charlotte Mattax, he won a Fulbright Scholarship for further exploration of the harpsichord abroad. He chose Paris, where he had been a 1987 prize winner at the Paris International Harpsichord Competition and met Huguette Dreyfus, a legendary French harpsichordist, who died in May 2016. When his scholarship ended, Vinikour decided to remain in France.
Ask him what appeals to him about the harpsichord, and he has a quick one-word reply: everything. Pushed for specifics, Vinikour points to the "purity" of the instrument's plucked-string sound and the musical traditions associated with it. "I have very, very limited patience or admiration for even the greatest of pianists playing Bach," he said. "I never thought that was the ideal instrument to communicate that polyphonic repertoire."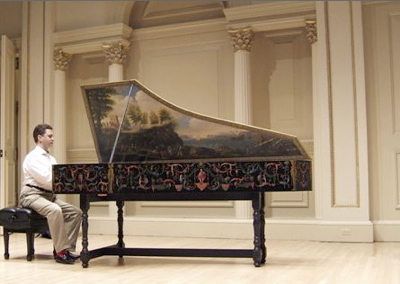 Vinikour is also drawn to the diversity of sounds that can be produced by harpsichords, depending on their makers or national schools. He points out that an 18th-century German harpsichord by Johann Adolph Hass in the Yale Collection of Musical Instruments conjures a "very different sonic universe" than a French instrument on which one might perform the music of Rameau or François Couperin. He owns several harpsichords, the finest being a modern copy by Tony Chinnery of a 1769 French harpsichord in the Raymond Russell Collection of Early Keyboard Instruments at the University of Edinburgh. Others include an Italian-style instrument and a 1940s one made by the famed French company Pleyel.
But along with the joys of playing harpsichord come challenges. One is the limited volume the instrument produces (a reason it was eventually superseded by the piano). Performers either have to stick to smaller, more intimate venues, a limitation that can eliminate them from consideration for some concert series, or contend with the inevitable compromises that come with amplification. At the same time, the traditional repertoire for harpsichord tends to be far less familiar than the Beethoven sonatas or Chopin mazurkas for piano. And when harpsichordists do play familiar repertoire, such as works by Bach, many listeners are more used to hearing it on piano. So, Vinikour said, "every audience member who says, 'Oh, my goodness, I just couldn't imagine it could be this rich' or that it's not mechanical, that it's not tinny — this feels like a victory to any harpsichordist, of course."
In 2013, Vinikour moved back to his native Chicago, and he since has made that city his base of operations. "It felt like time to do something different," he said. "My partner felt that with the Grammy nomination I had received that maybe it was time to try to develop something in the United States." But he is no way giving up on France. He retains dual citizenship and returns to the country often. The two have kept a pied à terre in Chalon-sur-Saône, a town in the Burgundy region where Vinikour taught for six years at a national music school.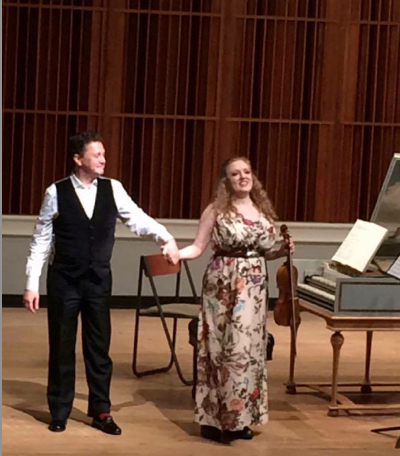 His return has been a boon for Chicago's Baroque scene, according to Craig Trompeter, a viola da gamba player and the founder of Haymarket, which is devoted to 17th- and 18th-century opera with period music and staging. "We're so lucky to have him," he said. "He sets the bar very high and all of us have to rise to meet him there, if we can."
As soon as Haymarket has its new season schedule nailed down, the first person who gets a call is Vinikour, who serves as its harpsichordist whenever time permits. In January, he traveled with the company to the Valletta International Baroque Festival in Malta to present San Giovanni Battista, an oratorio by Alessandro Stradella. And he will be in the orchestra pit in the fall when the company stages its biggest production to date, Marin Marais' Ariane et Bachus, a full-scale French opera complete with dancers. "He's a dream to play with," Trompeter said. "He's not punching the time clock. He's very invested in everything he does. I can't say enough good things."
On top of his performing, Vinikour also composes the embellishments several singers, including such heavy-hitters as Vivica Genaux, Rolando Villazón, and Anne Sofie von Otter, use when performing Baroque music. "I think we all profit greatly from Jory's fun, exciting, spot-on variations, which seem to just flow out of him," mezzo-soprano von Otter said via e-mail.
At the request of conductor Marc Minkowski, Vinikour first created such embellishments for a 1997 recording of Handel's Ariodante featuring Les Musiciens du Louvre with von Otter and other major soloists, such as tenor Richard Croft. "I immediately took to Jory, who has a quick mind, a naughty sense of humor and is so musical," said von Otter, who has gone on to record and perform with him in other contexts. For that opera and all the requests he has received since, Vinikour tries to create what he described as "stylistic, idiomatic and idiosyncratic" ornaments. "I'm thinking about what the singer I'm working with is capable of accomplishing, but I'm also trying to remain within the language of the composer," he said.
Mezzo-soprano Genaux met Vinikour in 2008 during a presentation of Handel's oratorio Il trionfo del tempo e del disinganno at the Teatro Real in Madrid, where she said the two quickly "hit it off." He helped her with ornaments for that piece and has continued with many projects since, including the four Baroque arias Genaux performed Feb. 9-11 with the Chicago Symphony Orchestra and violinist-conductor Fabio Biondi. "He's phenomenal," Genaux said of Vinikour. "You can always count on him for his knowledge."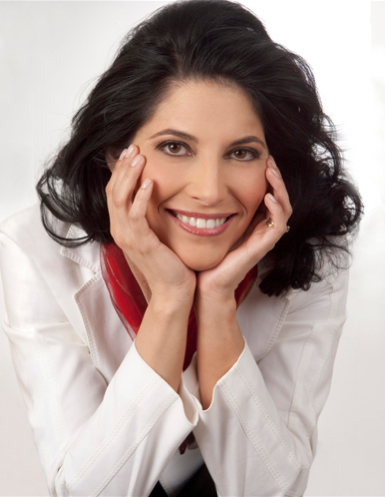 Vinikour will be as busy as ever in 2017 with his usual broad range of activities. In the second half of the year, he is set to record Bach's six Sonatas for Violin and Obbligato Harpsichord, BWV 1014-1019, with Rachel Barton Pine on the Cedille label. "I absolutely love his Bach playing," Pine said, "and I'm very close to that repertoire, and I always thought if I were to record it with anybody, Jory is the person I'd want to record it with."
Other projects include a recording of contemporary harpsichord concertos with the Chicago Philharmonic, set for release in 2018 — what he called a "kind of a dream project" — and an album of duetti da camera by Agostino Steffani, an Italian Baroque composer Vinikour believes should be better known. The latter will be recorded in mid-February in Sono Luminus' Boyce, VA, studio. In addition to serving as harpsichordist, he is overseeing the choice of repertoire and his instrumental partners and soloists, which will include soprano Andréanne Brisson Paquin and countertenor José Lemos.
But much of his time in the near future will go toward his new emphasis on opera conducting. Because of his extensive experience in the field, Vinikour is convinced he is ready for this challenge. "There's a moment where I thought, 'Shouldn't I just be doing it?'" he said. Like William Christie and other harpsichordist-conductors, Vinikour leads from the keyboard, which he says allows for natural communication with the singers and a chamber-music-like connection with the orchestra that makes him less a maestro and more a "first among equals."
He is set to lead Capitol Opera Richmond's production of Mozart's Bastien und Bastienne this month and next. And in January 2018 at the Florentine Opera in Milwaukee, Vinikour will conduct a double bill of John Blow's Venus and Adonis and Purcell's Dido and Aeneas. "I do want to do more of it," he said of opera conducting, "and I feel absolutely at home in it."
Kyle MacMillan served as music critic for the Denver Post from 2000 through 2011. He currently freelances in Chicago, writing for Chamber Music and Listen magazines and such other publications and websites as the Chicago Sun-Times and Classical Voice North America.