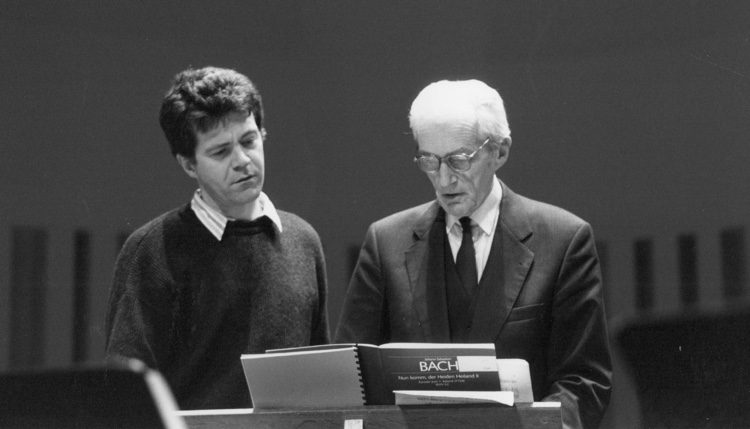 Johann Sebastian Bach: Suites, Partitas, Sonatas. Transcribed for Harpsichord by Gustav Leonhardt. Edited by Siebe Henstra. Bärenreiter-Verlag, 2017, BA 11829.
By Mark Kroll
EDITION REVIEW — Transcriptions or arrangements occupy an important place in music history, for both performers and composers, and serve many useful purposes. They give the composer an opportunity to get more mileage from his works by re-using them in different idioms, provide insights into the structure of a piece and, perhaps most importantly, are fun to perform (what keyboard player wouldn't enjoy the chance to play Beethoven's entire Ninth Symphony?). The terms transcriptions and arrangements are generally considered to be interchangeable, except by some pedants and dictionary writers, who are still arguing whether to say tomAto or tomAHto.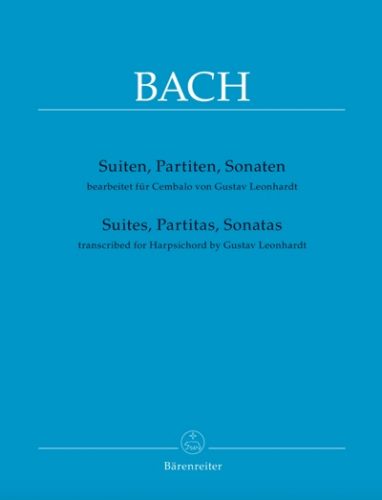 The history of the genre is also long. We have keyboards settings of Lassus' "Bon Jour Mon Coeur," Charles Avison's orchestral arrangements of D. Scarlatti and Geminiani sonatas, Brahms' left-hand piano transcription of the Bach Chaconne in D minor (BWV 1004), and orchestral versions of keyboard music of F. Couperin and Rameau by Richard Strauss and Respighi, respectively. Bach himself was certainly no stranger to arranging. Notable examples include the Trio Sonata for Two Flutes and Basso Continuo/Sonata for Viola da Gamba and Harpsichord in G major (BWV 1039/1027); the Brandenburg Concerto No. 4 (BWV 1049) in a setting for two flutes and concertino harpsichord (BWV 1057); and numerous keyboard transcriptions of concerti by Vivaldi, Marcello, and others.
I am a big fan of arrangements. I have performed, published, and edited many, written on the subject (see "Old Wine in New Wineskins," Early Music America, 9/2, 2003) and even made a few of my own, including transcribing Elizabethan virginal pieces for the Canadian Brass. Another such fan was Gustav Leonhardt, as can be seen by his harpsichord transcriptions of Bach's unaccompanied violin sonatas and partitas, and suites for solo cello published by Bärenreiter. Several of these were also arranged by Bach, as Skip Sempé writes in the preface: "In 1758, Jacob Adlung described three sonatas and three partitas for solo violin which 'could even be played on the keyboard as well'." The editorial commentary by the editor, harpsichordist and organist Siebe Henstra, is even more informative, telling us that "testimonials and notated versions of Bach's unaccompanied violin works in the hand of Bach's pupil, Johann Christof Altnikol" provide evidence of Bach's keyboard arrangements. These include the sonata BWV 1013 as BWV 964, although its authenticity is not certain, and an 18th-century version of the Adagio of BWV 1005, as BWV 968.
The current edition is therefore a welcome addition to the keyboard player's library. It contains Leonhardt's transcriptions for solo harpsichord of several of Bach's unaccompanied works for strings: the violin partitas BWV 1002 (B minor, transcribed in E minor), 1004 (D minor/G minor), and 1006 (E major/A major), the violin sonatas BWV 1001 (G minor/D minor) and three movements of BWV 1005 (C major/G major); and the unaccompanied cello suites, BWV 1010, 1011, and 1012, all keys retained. There is also a keyboard version of the Allemande from the partita for solo flute in A minor, BWV 1013, and a Sarabande in C minor, "nach Sarabande aus Suite für Laute(nwerk) c-Moll BWV 997."
The edition is clear, spacious, and handsome, as one has come to expect from Bärenreiter, and Henstra's editorial practices are laudable. For example, she writes: "The notation of Leonhardt's elegant manuscript has been reproduced as faithfully as possible," adding that because most of Leonhardt's original, revised, and corrected version were dated, "these dates have been reproduced in their original form and the same places as found in the manuscripts."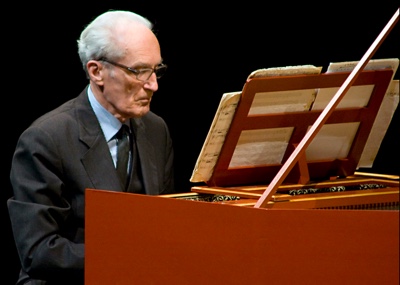 The editor has also chosen to incorporate Leonhardt's "additional slurs…rather than revert to articulation and phrasing marks found in eighteenth-century sources of these unaccompanied violin and cello works." Henstra also retained "the beaming of notes in Leonhardt's manuscripts…as it sometimes indicate [sic] [1] certain phrasings or articulations," as well as his notation for "over-legato," although "it has in some cases been combined into a single voice with the notes under a single stem and ties."
There are also four facsimiles in Leonhardt's hand that feature his style of notation and the various corrections and changes in pencil he made over the years. They include the Loure from BWV 1006, the closing measure of the Courante and the complete Sarabande from BWV 1010, the Prelude from BWV 1011, and the Allemande from BWV 1012.
Leonhardt is quoted in the edition as saying: "I think Bach would have forgiven me for embarking on these transcriptions. Whether he would have forgiven the way I did it is, of course, another matter."
We can of course "forgive" him for adding these pieces to the repertoire, and thank Bärenreiter for publishing them.
Mark Kroll, professor emeritus at Boston University, is a harpsichordist, fortepianist, scholar, and educator. His publications include editions of the music of Hummel, Geminiani, Avison, and Francesco Scarlatti, and books about the harpsichord, the Beethoven violin sonatas, and Ignaz Moscheles. He is recording the complete pièces de clavecin of F. Couperin for Centaur Records.
[1] This grammatical error is probably a slight mistranslation from the presumed original German, which reads: "Die Balkung der Noten wurde ebenfalls aus den Aufzeichnungen Leonhardts ubernommen, da sie an einigen Stellen bestimmte Phrasierungen oder Artkulationen anzeigt."