by Philippa Kiraly
Published March 9, 2020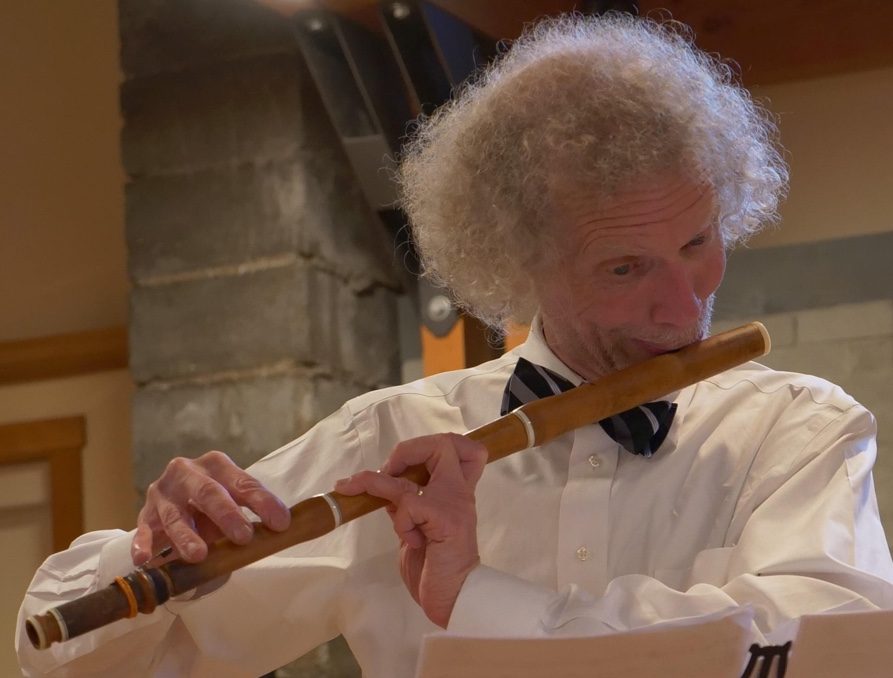 Update on 3/14/2020: Salish Sea Early Music Festival concerts in March and April featuring Oleg Timofeyev, Anne Röhrig, and Bernward Lohr have been postponed to the 2021 festival.
The blueprint for the Salish Sea Early Music Festival is unusual. There is no board. There are no volunteers. There is little rehearsal. There are no concert tickets. The budget is miniscule. The musicians have no set salary but get a percentage of the take.
The players are some of the best in their fields in the U.S, Canada, and Germany. Several have been teaming with flutist Jeffrey Cohan, the festival's lynchpin, for decades. Harpsichordist Elisabeth Wright, harpsichordist and fortepianist Hans-Jürgen Schnoor, and viola da gamba player Susie Napper have been playing with him for 40 years.
How does it work?
The Salish Sea Early Music Festival, which began in 2011 and this season is an EMA Affiliate organization, is the latest incarnation of several other early-music series, exclusively using period instruments, developed by Cohan that have succeeded each other over the years. Among the series was Concert Spirituel, which he began in Seattle in the late 1970s and continued in Chicago before returning to Seattle and running the Cascade Early Music Festival for several years on the east side of Washington State.
SSEMF, which runs from the New Year through May, this season is presenting eight programs — 73 concerts, as compared with 83 last year, due to the loss of one venue — of music from three centuries. Each program is performed during 8-10 days in as many as 11 locations around Puget Sound, from Tacoma in the south to Vancouver in British Columbia in the north and on a half dozen islands in small churches serving tiny communities.
"Finding venues takes lots of conversations," says Cohan. Over the years, he has checked out good places for early music in each location, though he occasionally loses one. "Usually, the pastor moves on. There used to be a lovely little Fritz organ in one, but the new pastor wasn't interested. Or, for instance, a regulator comes out and requires a million in insurance."
The musicians gather at Cohan's house, rehearse briefly, and head off to the first performance. "It's always an intense experience," says harpsichordist Wright, "putting together a lot of music in a short time and then giving so many concerts within a week or so, traveling with harpsichord (sometimes lying underneath it in Jeff's car), and then needing to tune and retune, sometimes twice a day after ferry-hopping, on top of performing."
Why would so many superb performers choose to return again and again to play these programs? The answer is Cohan. Among many other awards, the Iowa native won the Erwin Bodky Award in Boston in 1977 and the highest prize given at the Flanders Festival International Concours Musica Antiqua in Bruges, Belgium, with lutenist Stephen Stubbs the following year. He won both of them only two years after he took up baroque flute, and he was the only American to win both. (He previously had played modern flute and studied the shakuhachi and the South Indian flute.)
However, Cohan's playing skills are not the whole story.
Asked to substitute for an unavailable guitarist at a 2000 concert in Davenport, IA, lutenist Oleg Timofeyev, from Iowa City, was initially dubious, not knowing Cohan and particularly the idea of only receiving a percentage of the take.
"The moment we produced the first sounds, I knew that I would follow this man anywhere, and — of course! — there were things much more important than immediate financial gratification," says Timofeyev. "We've been performing together regularly for two decades now. Jeff is a person of unsurpassed musical charisma. It doesn't mean that everybody loves his style. But there is a small 'army' of musicians like me who would gladly follow him to the Moon, should there be an edition of one of his festivals there."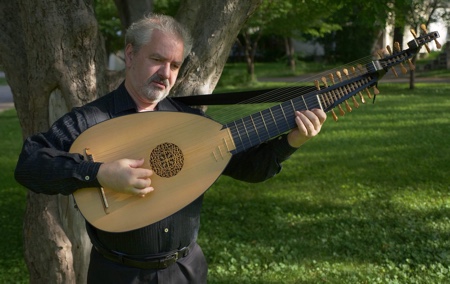 He continues: "Whatever this man touches comes to life, be it Renaissance, Baroque, Classical, or super–contemporary, still work-in-progress."
According to Napper, the reason she keeps coming back is that she enjoys it so much. "What's fun about the tour is the opportunity to be experimental. With virtually no rehearsals, we're improvising, interpreting, and performing without knowing what will happen next. It's also great to have many performances in small venues to learn new repertoire without too much stress."
Accommodations are often at Cohan's house in Anacortes, which is centrally located on the coast and a ferry gateway for the islands, or with friends of his or, very occasionally, at a bed and breakfast. Transport is by car, ferry, sometimes bus. "I stay in a creaky house owned by absentee friends of Jeff squatted by lovely ex-beekeepers," says Napper.
Usually with four musicians or less per program, they often can all cram into one car — they need two with the harpsichord — for trips out and back on the last ferry home
The musicians, including Cohan, share the take equally, as does the venue (one location refuses to take anything). An unattended donation basket sits near the entrance with a suggestion of $15-$25, though Cohan says people can be very generous: "That's what keeps us going." Program leaflets sit beside the basket, but as a rule there are no program notes. Cohan does not have the time to write them, though he would love a volunteer to take on the task. However, he often talks about the music during the concert, recently describing how he came to discover the flute quartets of Louis XIV in a box at an archive in Germany and wangled permission to copy them for a January group of performances this year.
In most cases, each of Cohan's programs requires a different flute. At the moment, Cohan owns about a dozen Renaissance, baroque, and eight-key instruments in pitches from A=386 to A=440, and he is always on the lookout for more. "I want a flute for every niche," he says, explaining that the flute was changing so quickly over the centuries his programs cover that only a few years made a difference. A Renaissance flute is as different from a baroque flute as it is from a modern flute, he says.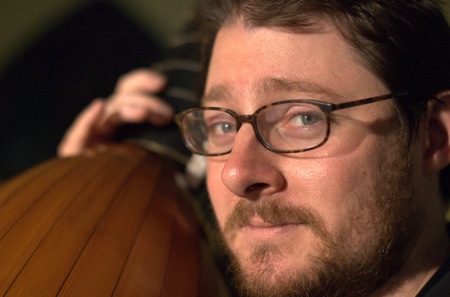 It's Cohan's attention to the details of time, style, and place where the music was conceived — and the instruments it was played on — that draws musicians, as well as his research into rarely performed works. "Jeff plays in such a nuanced and sensitive manner and brings it out in his collaborators that I'm not bashing my theorbo to smithereens when I play with him," says theorbo player John Lenti. "I especially enjoy his approach to [Jacques-Martin] Hotteterre and other Louis XIV repertoire. It's challenging music-making, and we frequently play at interesting pitches and with a level of stylistic detail that most groups don't bother with."
The small churches used for the most of the series' performing spaces, sometimes in very isolated areas, will bring in from a very low number of people to about 75 per concert. The performances are much appreciated in these places, which rarely hear classical music live, let alone of this caliber.
The budget covers travel expenses, whether for a plane ticket from Germany or gas from Portland, as well as baggage costs, ferry tickets, and the few hotels and bed and breakfasts.
"Whatever is left we split among the performers, but I can never tell exactly how much until the end of the season," says Cohan, "so I estimate and give everyone something after each concert, and at the end I share out what is left. I've never been wrong."
The other aspects that draw the musicians back again and again are the camaraderie, the repertoire, and the musical "winging it" (Napper) at such a high level, something all the musicians comment on, not to mention Cohan's breakfast of sourdough cornmeal blueberry pancakes.
"I am doing this for our friendship and the music," says harpsichordist and fortepianist Schnoor, who has played with Cohan since the mid-1970s. "It's always a great pleasure. I'm staying at Jeff's house — financially that has been never the point."
As Napper says, "I don't do it for the money, but if you do 10 concerts over a week, in fact it comes to almost the same financially as rehearsing for a week and then playing a couple of concerts. Co-op concerts agree with me, but it's hardly cooperative as Jeff does all the prep work, printed programs, organizing the travel, etc., etc."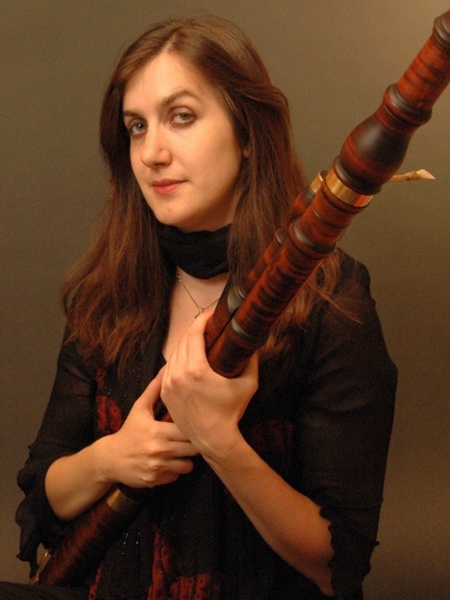 Timofeyev finds Cohan's approach to music remarkably refreshing, "Every time it is a little different. In fact, part of my career I spend with Romani musicians, who are notorious for not playing the same passage twice the same way. Jeff has his own logic, but he is not predictable. I lucked out: Jeff and I are on the same wavelength. A lot of times we do not have to discuss our choices. They seem to come naturally to both of us."
Bassoonist Anna Marsh, from south of Seattle, says it is both rewarding and exhausting to play one of these programs. What gets her through? "Good snacks, a good attitude, and very grateful and enthusiastic audiences. And different repertoire that I rarely play in other situations."
This season, the series includes programs from Italian canzonas by Buonamente and Merula to Mozart and early Beethoven, one with Telemann specialists baroque violinist Anne Roehrig and harpsichordist Bernward Lohr of Musica Alta Ripa, and music heard on Dr. Charles Burney's travels.
Timofeyev sums up for all the musicians: "All I know is that for several days I do nothing but music, and at the end my roundtrip ticket from Iowa to Seattle is covered, and I bring some dough back to buy food or more guitars."
Philippa Kiraly has been a freelance classical music critic since 1980. She has written for the Akron Beacon Journal, the Seattle Post-Intelligencer, City Arts, and The Sun Break, and now contributes to BachTrack and Sybaritic Singer.
Recent EMA Features
Meet Nuova Pratica, a stylish ensemble with a progressive-retro attitude. They reject the notion that everything's already been said in the Baroque language. By re-opening the book on Baroque composition, their new works are at turns fresh, varied, and imaginative.
The innovative, cross-cultural work of Salamone Rossi, a Jewish musician at the Gonzaga court in Mantua, has long stirred controversy and strong opinion. The Bay Area's Philharmonia Baroque Orchestra will perform Rossi's 1623 'Songs of Solomon,' a set of Psalm settings in Hebrew in the Italian polyphonic style.
With the season in full swing and the holidays fast approaching, it's a good time to revisit one of the most-read EMA stories of 2023. First published in January, it's a top-10 list of "home stay" dos and don'ts. An early-music host shares his tips for making a home stay easy and low-stress for everyone. Share it with anyone who invites musicians into their house...and traveling musicians will be grateful.