by Aaron Keebaugh
Published June 12, 2023
Ronde de Saisons: Musique Pour Quatour de Violes. Science Ficta. New Focus Recordings FCR922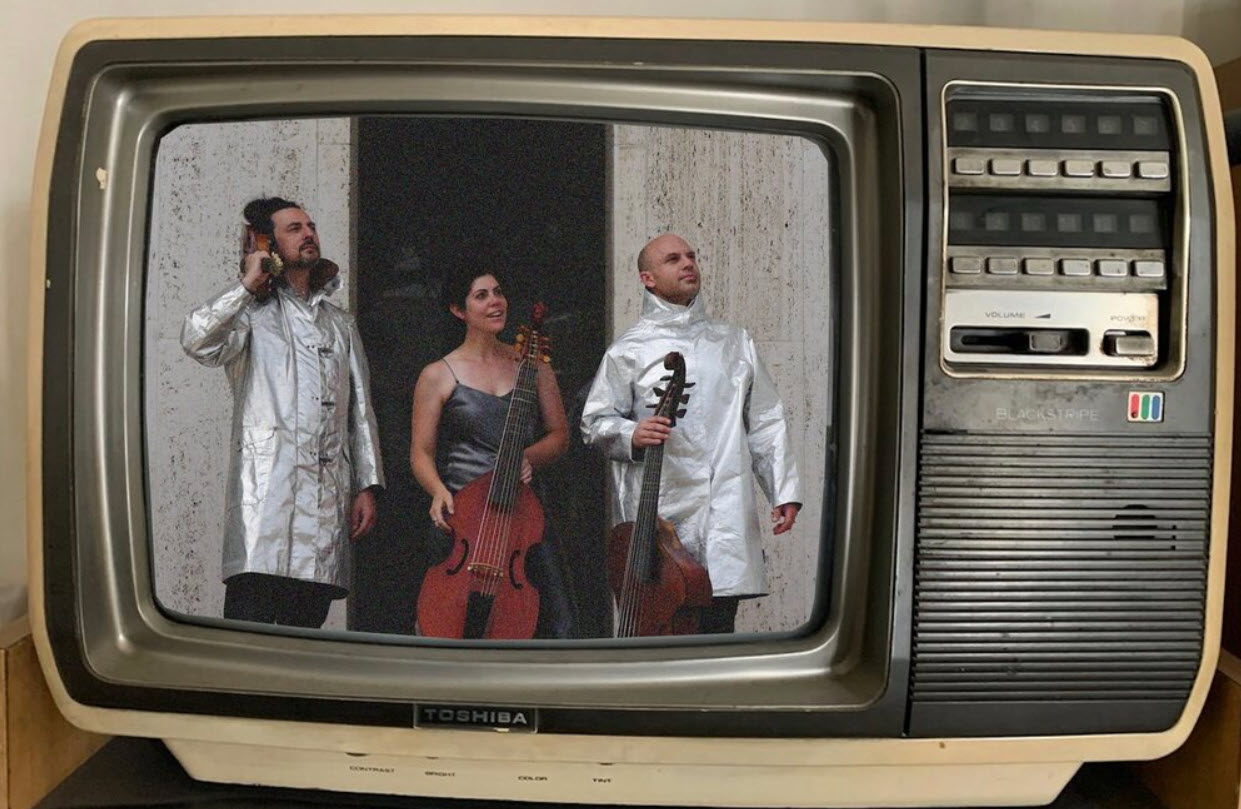 In March of 1895, the Société des Instruments Anciens gathered at the Salle Pleyel in Paris with what seemed to be a novelty. Louis Diémer, Jules Delsart, Louis van Waefelghem, and Laurent Grillet were respected musicians in the mainstream. But that evening, they performed on period instruments in one of the earliest commercial attempts at historical performance practice.
Subsequent concerts in London proved successful, and they regularly performed music by Bach, Rameau, Couperin, Handel, and Marais alongside lesser-known French and Italian composers.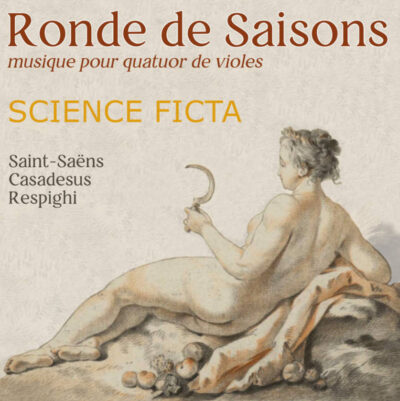 By 1901, the Société reimagined itself as a consort of viols. Heading this new look with an old name were esteemed composers Camille Saint-Saëns and Henri Casadesus, whose name soon led to a scandal in early-music circles.
But while Casadesus was undone by passing off his own compositions as lost works by Mozart and C.P.E. Bach (some were even recorded under false attribution), the Société des Instruments Anciens continued to perform a heady mix of both old and new music under his guide until 1939.
The rich legacy of this unique ensemble is the impetus for Ronde de Saisons, a recording from the adventurous viol ensemble Science Ficta that, for the first time, brings together works written for the Société, performed on the quinton, viola d'amore, tenor viola da gamba, and bass viola da gamba.
Science Ficta—with core members Loren Ludwig, Caitlin Hedge, Kivie Cahn-Lipman, and Doug Balliett—explores, as they put it, "the thorniest polyphonic challenges." The ensemble's "arcane but rewarding repertory comprises new commissions, music from forgotten (but wonderful) chapters of the early-music revival, and a wealth of 16th-century works that have been unjustly neglected by modern performers and listeners."
The sound quality in this revival of a revival is rich and dark yet clear as spring water. Opening the recording, Casadesus' Quatour en Si Mineur teems with suave vocal flourishes. Winding chromaticism reveals as much romantic heft as the sprightly rhythms tilt everything toward Baroque flamboyance. Science Ficta walks that balance with panache. Gentle iambic rhythms in the Scherzando bound with rustic swagger, while the Choral unfolds in warm tones that glow from generous dynamic shading.
The album takes its title from Casadesus' Ronde de Saisons, at the program's end, offering a wider play between darkness and light. Like a compact retooling of Vivaldi, each movement depicts a season through fitting musical gestures. "Printemps" glows like sunshine, "L'Été" frolics through zestful pizzicatos. Even "L'Hiver" unfolds in a display of jovial dexterity. Fleeting darkness is audible in "Automne," where dusky harmonies smooth into a silvery ensemble sonority. Science Ficta manages to inject vitality through steady tempos. Their refusal to push and pull the momentum allows Casadesus' rhythms to come off with just enough force.
Similarly, Ottorino Respighi's Quartetto in Re Maggiore speaks with a zeal far beyond the capabilities of standard historical instruments. That's due to the musicians striking a balance between playfulness and solace, flair and introspection.
Unlike Respighi's more familiar String Quartet No. 3 in D for modern instruments, this lesser-known work was conceived in 1906 specifically for period instruments. Yet the composer's affection for the juicy depths of late Romanticism remains evident. The fugal themes sound in a serene blend, a gentle splash of color within a rigid frame. The Largo, with its languid lines, is sumptuous, even momentarily robust. The dance movements—a jaunty Minuetto and wild Tambourin—jump out with a slight edge to the tone which drives the intensity forward.
The disc's other fresh discovery is Saint-Saëns' "Le Papillon et L'étoile," in Kivie Cahn-Lipman's arrangement for viols. Dolorous tones bring delight by underlining the lyricism of Tracy Cowart's somber, even yearning contralto. The effect may not be academic in the strictest sense. But Science Ficta reveals that obscure gems like these can take a new polish—remarkably by looking to the past.
Aaron Keebaugh has written for The Musical Times, Corymbus, The Classical Review, and The Arts Fuse, for which he serves as regular classical critic. A musicologist, he teaches at North Shore Community College in Danvers, Mass.
Recent EMA Recording & Book Reviews
In 2016, Jordi Savall assembled a group of immigrant musicians with a fundamental mission: to preserve and revive precious musical traditions from a range of under-stress cultures, from Syrian and Kurdish to Armenian, Sudanese, Afghan, and Moroccan. The resulting live performance was captured as 'Oriente Lux,' bridging gaps and making connections.
Jeannette Sorrell's adaptation of Handel's popular 'Israel in Egypt' cuts, re-orders, restores, and replaces music and text throughout the oratorio. But Handel didn't leave us with a 'definitive' edition, and Sorrell's version is so artistically logical that someone new to the work might not know anything is missing. Apollo's Fire and the outstanding vocal and instrumental soloists make a compelling case.
People who love Wagner operas can separate his music from his toxic beliefs. Yet J.S. Bach's 'superlative ability to move listeners' and status as 'a pinnacle of Western art' brushes aside the composer's harsh theology and often intolerant personal philosophy. In this collection of essays, Bach scholar Michael Marissen warns us to 'not soften or assimilate this figure to our own preferences, no matter how much we find inspiration, solace, or transcendence in his art.'