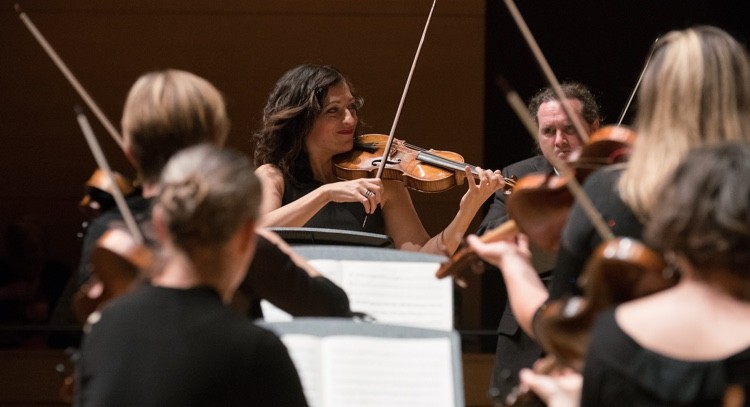 By Colin Eatock
It's a September night in Koerner Hall at Toronto's Royal Conservatory of Music, and there's a sense of anticipation in the air for a program billed as "A Joyous Welcome." Onstage, Elisa Citterio is leading Tafelmusik, while also serving as soloist in "Summer" from Vivaldi's Four Seasons. The Italian violinist's interpretation is dramatic, emphasizing abrupt changes in tempo and texture. And also dramatic is her stage presence, as she swiftly turns to divide her attention between her new orchestra and her new audience.
For virtually the entire 38-year history of the Tafelmusik Baroque Orchestra and Chamber Choir, the organization was headed by one person: Jeanne Lamon. She took charge back in 1981, when the ensemble was a mere fledgling, and led it to international renown. Lamon wasn't just a violinist, a concertmaster, and a music director; she was also an evangelist for early music in Toronto. Her leadership was committed, steadfast, and sometimes audacious, and she became almost inseparably connected with the Tafelmusik brand. But all things must come to an end, and in 2012 Lamon announced she would step down as music director at the end of 2014. Tafelmusik's musicians and fans were forced to contemplate a Tafelmusik headed not by Lamon, but by — well, whom?
As is standard operating procedure for orchestras in this situation, Tafelmusik formed a committee and began a formal search for a new music director. A number of guests were brought in to display their musical abilities and proclivities. And in November 2015, Citterio — already well known in Europe, but almost unheard of in North America — flew in to Toronto from Milan to lead a Tafelmusik program of Corelli concerti grossi. When she returned the following autumn for a second engagement, local critics suspected something was up and descended on the concert to offer their opinions. Toronto's Globe and Mail, implicitly comparing her to Lamon, credited Citterio with a "quirkier, more varied, more stylish sound." Other reviewers used such words as "inspiring" and "brilliant." Following this concert, Tafelmusik's search committee made the unanimous decision to offer the position of music director to Citterio.
The day after her debut as Tafelmusik's new music director in "A Joyous Welcome," Citterio sat down backstage at Koerner Hall to talk about herself and her new position. In her early 40s, she has an athletic physique and strong Mediterranean features, framed by shoulder-length black hair. And while her onstage presence exudes confidence, in person her manner is careful and cautious. Partly, this is due to her command of the English language — which she speaks better than she thinks she does — but also by a sense that she's finding her way in a new city, in a new country. Indeed, she was still looking for an apartment in Toronto for herself, her husband, and their baby girl. "Toronto is about three times more expensive than Milan," she notes.
Citterio was born in Brescia into a family of musicians. "My mother loved Baroque music," she recalls, "especially Bach. In my home, we listened to a lot of Bach — to all the cantatas. And when she finished the cycles, she started again." She can also remember the first time, in her teens, that she heard a recording of Ensemble 415, performing a Corelli concerto she was studying. She ran to her mother to complain that the ensemble was playing at the wrong pitch. "But I was fascinated," she adds. "I didn't know there was such a different musical world. In the following years, I looked for more recordings of baroque ensembles."
Today, Citterio's extensive credits include performances with Ensemble 415 — and also Il Giardino Armonico, Europa Galante, L'Accademia Bizantina, Zefiro, La Risonanza and others. Yet for all her devotion to Baroque music, she is a remarkably versatile musician: from 2004 until last year, she was a member of the Orchestra of La Scala. "Playing both baroque and modern violin is like having two different lives," she explains. "It was very difficult, for the first five years, to switch from one to the other. But after a while it became like changing shoes. But I haven't played any modern violin since the birth of my daughter. We'll see what the future holds."
Although Citterio has traveled across five centuries, musically speaking, her geographic travels have been more limited. She has focused on a European career — so much so that only through chance did she become a blip on the Tafelmusik search committee's radar. She credits Stefano Marcocchi, an Italian violist who joined Tafelmusik a couple of years ago, with putting her name forward. Citterio was subsequently invited to see if she and the orchestra were simpatico. The idea was a bit of a stretch, as Citterio had never even heard Tafelmusik in a live performance. "The last time they were in Italy, I had friends who went, and were very excited by what they heard. But I only knew Tafelmusik through recordings."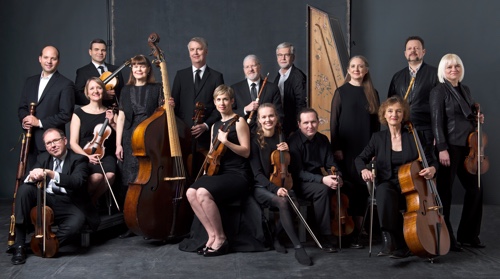 Arriving in Toronto, Citterio found Tafelmusik's ways of doing things surprising. "I arrived at the first rehearsal, and the orchestra already knew their parts! In Italy, it's understood that the first rehearsal is for learning the notes and the bowings. But here, people are ready to play." She continues: "I wasn't really thinking about moving my home to Canada, but after the first concert, I was very impressed by the Tafelmusik musicians — how they work, how they study, how they play. When you work with musicians like this, you learn something new every time."
When offered the position of music director, Citterio was given three months to say yea or nay. "I was happy and excited by this news," she says. "But I took some time to reply because this choice involved my family. My husband had to resign from his job. He had a good job, in security systems — it was a new job, and it was perfect for him. Also, my daughter had just been born. So it took a month to say yes." Also, with her new commitment, she's had to cancel some European engagements to focus on Tafelmuisk.
At this point, Citterio has led 15 Tafelmusik performances and also played with the orchestra in Opera Atelier's production of Charpentier's Medea. (Tafelmusik is the pit band for all Opera Atelier productions in Toronto.) So now that Tafelmusik is officially "hers," how does she feel about the ensemble she has inherited? "The strength of Tafelmusik is the preparation — and the fact that the musicians play the same way, because they've been playing together for so many years. Weakness? It's difficult to say. I think they can be more daring, and take more risks — in ways that are positive for the music, and not just for show. And I have my own ideas, but it could take some time for things to change, because I want to respect their sensibilities and knowledge."
Just as Citterio is new to North America, so is Tafelmusik new to the idea of regime change. While it remains to be seen what will develop, Tafelmusik has taken a bold step, looking across the Atlantic for a music director who is little known on this side of the pond. In so doing, the organization will surely strengthen its connections to Europe — and Toronto will become a little more Italian.
Citterio's next concerts with Tafelmusik are "Elisa's Italian adventure," Oct. 11-15 — an all-Italian program of works by Fontana, Marini, Castello, Steffani, Locatelli, Breschianello, and Vivaldi.
Colin Eatock is a Toronto-based writer and composer.