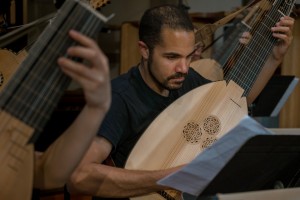 Summer Workshop Scholarship Reflection
Lute and Theorbo player, Joseph Harris
Tafelmusik Summer Baroque Institute 2017
I did not know what to expect when I boarded the plane in my hometown of Oklahoma City, Oklahoma and headed to Toronto Canada to attend Tafelmusik Summer Baroque Institute (TBSI).  Although I had attended the Lute Society Festival in 2016, which generally focused on the lute family of instruments, I had a feeling that this would be a much different experience because at TSBI the lutes were in a minority compared to the number of singers, wind, keyboard, and string players attending.
Frankly, TBSI blew my mind.  I have never had an opportunity to hear baroque music played on period instruments at such extraordinarily high levels compared to what I experienced in Toronto.  The Tafelmusik Ensemble gave several concerts which were totally amazing.  The participants, who came from almost all parts of the globe, were outstanding musicians as well.  In addition, the logistics and organization of the institute were executed very well by a team of dedicated personnel handling all the functions necessary to coordinate such a large-scale event.  Indeed, I'm not sure if I'll ever be in another situation where there are 16 harpsichords in one building!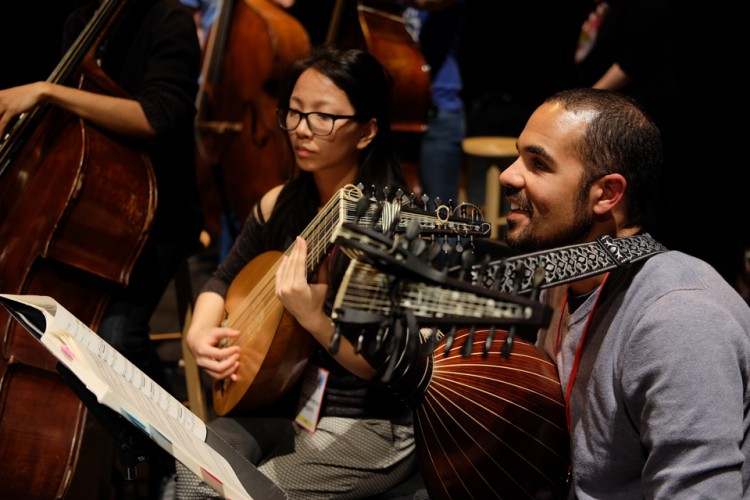 At TBSI, the schedule of lectures and classes were very intense, with something important happening nearly every hour of each work day.  I attended lectures covering historical performance practice, tuning and temperament, baroque acting techniques (which is totally relevant to musicians), continuo accompaniment on recitatives, ground bass improvisation, continuo on the lute and theorbo, music research methods and much more.  The schedule was packed full of valuable classes to attend, and evening performances to enjoy.
The ensemble playing was one of the best parts of my experience for those two weeks.  TBSI has multiple ensembles which range in size from solo song accompaniment on the lute, to the grand finale concert which is comprised of every participant at TBSI.  I played the music of Telemann, Johann Christoph Bach, Monteverdi, Barbara Strozzi, Purcell, Rameau and much more.  In addition, we read through the entire JS. Bach St. John's Passion, which was awe inspiring. In each of our ensembles we were assigned a faculty coach who guided us in our interpretation which was very helpful. I learned so much not only from the coaches, but also my fellow participants, as well who were all amazing and brought much to the table.
The highlight of the two-week experience for me personally was being able to study with the Tafelmusik lutenist and theorbist, Lucas Harris.  I learned so much from him in the daily masterclasses both on the baroque lute and the theorbo.  Continuo on the theorbo is a challenge, and Lucas worked with the class to guide us in the complicated decisions we must make in order to be an effective continuo accompanists. There was a lot of information to digest in only two weeks, but Lucas presented the concepts in an easy-to-understand way which I found to be very effective. Studying with one of the most experienced continuo players active today was exceedingly helpful to me, and I am a much better theorbo player today because of it. In addition, I received helpful coaching with my solo German baroque lute repertoire in private lessons which was fantastic.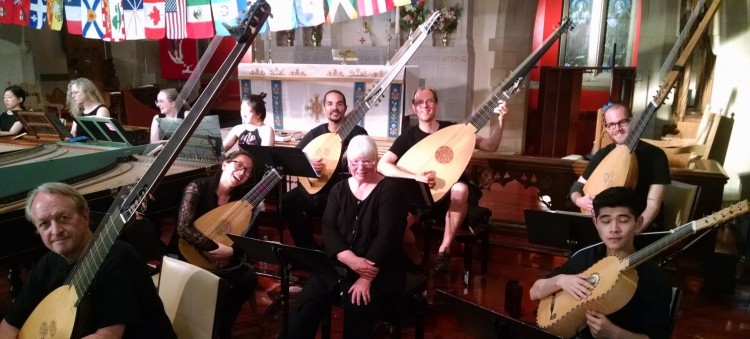 Overall, attending TBSI was life changing for me.  My experience at TBSI gave me insight as to just how totally fun ensemble playing can be when you are working with musicians who share your passion and love for the music. I came away from the institute feeling inspired and encouraged to move forward with my efforts to continue my education and training in early music. I am humbly grateful to Early Music America for generously awarding me the Summer Workshop Scholarship, which in part made my trip to TSBI possible. I had an unforgettable time, and I can totally recommend that any musicians wanting valuable training, inspiration, and an overall fun experience, to give the Tafelmusik Summer Baroque Institute your consideration.
---
Joseph Harris is a baroque lute specialist currently studying at Oklahoma City University under lutenist and professor Kyle Patterson. Joseph's primary area of study is 18th century German solo and chamber music written for the 11 and 13 course baroque lutes. Joseph also plays continuo on theorbo and regularly appears as an accompanist in university recitals and performances. In 2016, Joseph was awarded the Lute Society of America Student Scholarship to attend the Cleveland summer Lute Festival, and in 2017 was awarded the Early Music America Summer Workshop Scholarship to attend the Tafelmusik Summer Baroque Institute, in Toronto, Ontario. Joseph has played in masterclasses given by Hopkinson Smith, Lucas Harris, Robert Barto, Nigel North and Paul O'dette. Joseph is driven by his unrivaled passion for baroque music and especially the music of the 18th century lute.  His long-term vision includes bringing the rare music of the lute to new audiences worldwide and preserving the lute and its' music for future generations. Joseph plays on 13 course lutes made by Chadwick Neal, of Columbus Ohio, and Travis Carey, of Vancouver, BC, and a 14 course theorbo by Mel Wong of San Francisco, CA.
Joseph is a 2017 EMA Summer Workshop Scholarship recipient. Early Music America offers scholarships annually to students at all levels of experience to support attendance at early music workshops in the United States and Canada. EMA scholarships and grants are funded through membership dues and the support of generous donors.
​
​Learn more on our Summer Workshop Scholarship page.